Marine vVeteran Marine Sgt. Kirstie Ennis just walked across Britain in tribute to her fallen comrades — with some help from Prince Harry along the way.
On Nov. 1, Ennis completed the 1,000-mile, 72-day trek march at Buckingham Palace on Saturday. She completed the journey with Walking with the Wounded, a UK-based charity dedicated to assisting injured veterans, along with fellow Marine veteran Andrew Bement, two British Royal Marines and a couple two British Aarmy veterans.
Ennis, who delayed amputation of her left leg below the knee in order to complete the trek, embraced Prince Harry when she reached the royal palace,[[is that correct? yes, Buckingham Palace is the royal palace ]] and bequeathed him the last of 25 dog tags she had made in memory of her fallen Marine Corps comrades colleagues, according to People magazine.
Ennis told Marine Corps Times she undertook the charity walk both to honor her fallen Marine brothers and sisters as well as to continue to support veterans – on both sides of the Atlantic.
"As allies, we're family, we shed blood together, we served toe-to-heel together," she said. "Just like these guys would have our back when we were in combat, I wanted to have their six on the homefront."

After being told less than three years ago that she'd never walk again Ennis, who following a helicopter crash in Afghanistan, Ennis was told that she'd never walk again,  said that it was a struggle to stay physically and mentally engaged during the months-long journey.
"You bite the bullet and you grit your teeth and you keep going," she said.
On June 23, 2012, a Sgt. Ennis's CH-53D/E Super ea Stallion Ennis was aboard went down during went down on a combat resupply run to Forward Operating Base Now Zad, Afghanistan. All eight people aboard of the crew and passengers survived, but the crash left Ennis with a shattered jaw, broken leg bones, burns, cervical and lumbar spine damage, traumatic brain injury and a hearing impairment.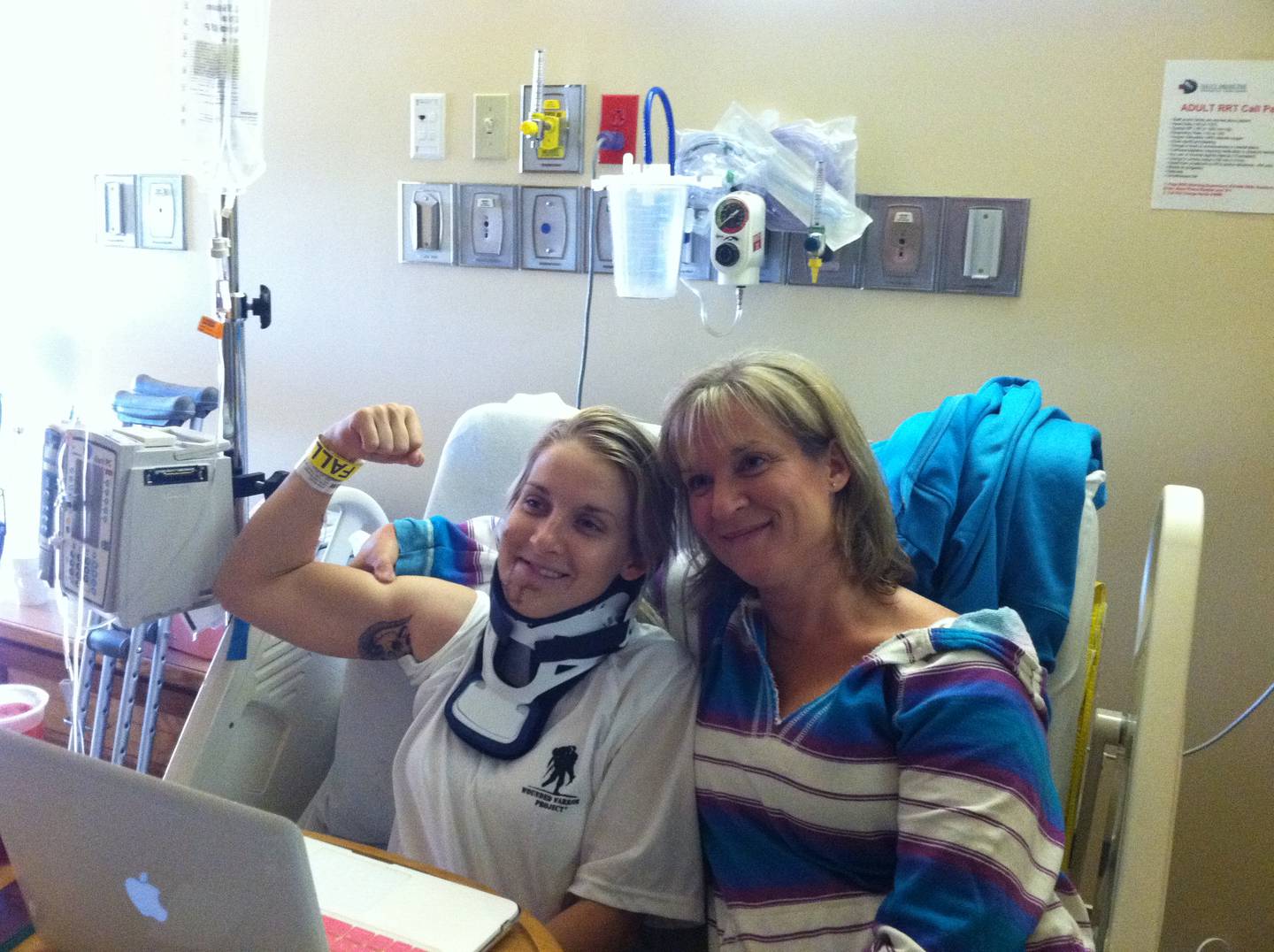 Marine veteran Kirstie Ennis recovers from one of 38 surgeries following a helicopter crash in Afghanistan.
Photo Credit: Courtesy Kirstie Ennis
After 38 reconstructive surgeries and years of speech, vestibular and cognitive therapy later, the 24-year-old U.S. Paralympic Team snowboarderhas just hoofed it across Scotland, Wales and England. The former airframe mechanic and aerial observer/gunner [[Is that correct? it is]] Ennis was forced to medically retire from the Corps in on May 31, 2014.
"Naturally, like all Marines, if you told me no, I can't do something, I'm going to do it," Ennis said. the former helicopter door gunner and airframe mechanic said.
Finding purpose
With her military career at an end, Ennis said she struggled to reorient herself.
The first year of recovery was terrible, she said. Physically, she was progressing well, but mentally and emotionally she "had a lot to work through."
"I'm one of the lucky ones, I made it home," she said. "I have my buddies that never made it home, and that's when you realize they gave the ultimate sacrifice, and one thing we can do in this lifetime is to honor them."
Ennis made this her mission and channeled her drive into competitive sports.
She took three gold medals in swimming for the Marine Corps Wounded Warrior Regiment at the 2013 Warrior Games. She has completed triathlons and an Ironman competition. She learned to snowboard and competed in a boardercross competition with Disabled Sports USA.
"At the end of the day, I still wanted to be involved with a part of my military family, to feel like I was contributing to helping protect and serve my military brothers and sisters," she said.
When the Bob Woodruff Foundation, which had helped provide Ennis with an Intrepid Dynamic Exoskeletal Orthosis leg brace, approached her at a dinner banquet and pitched the idea of participating in the walk, Ennis didn't miss a beat.
She saw the project as an amazing opportunity to honor the fallen of both countries who had given their lives for complete strangers, she said.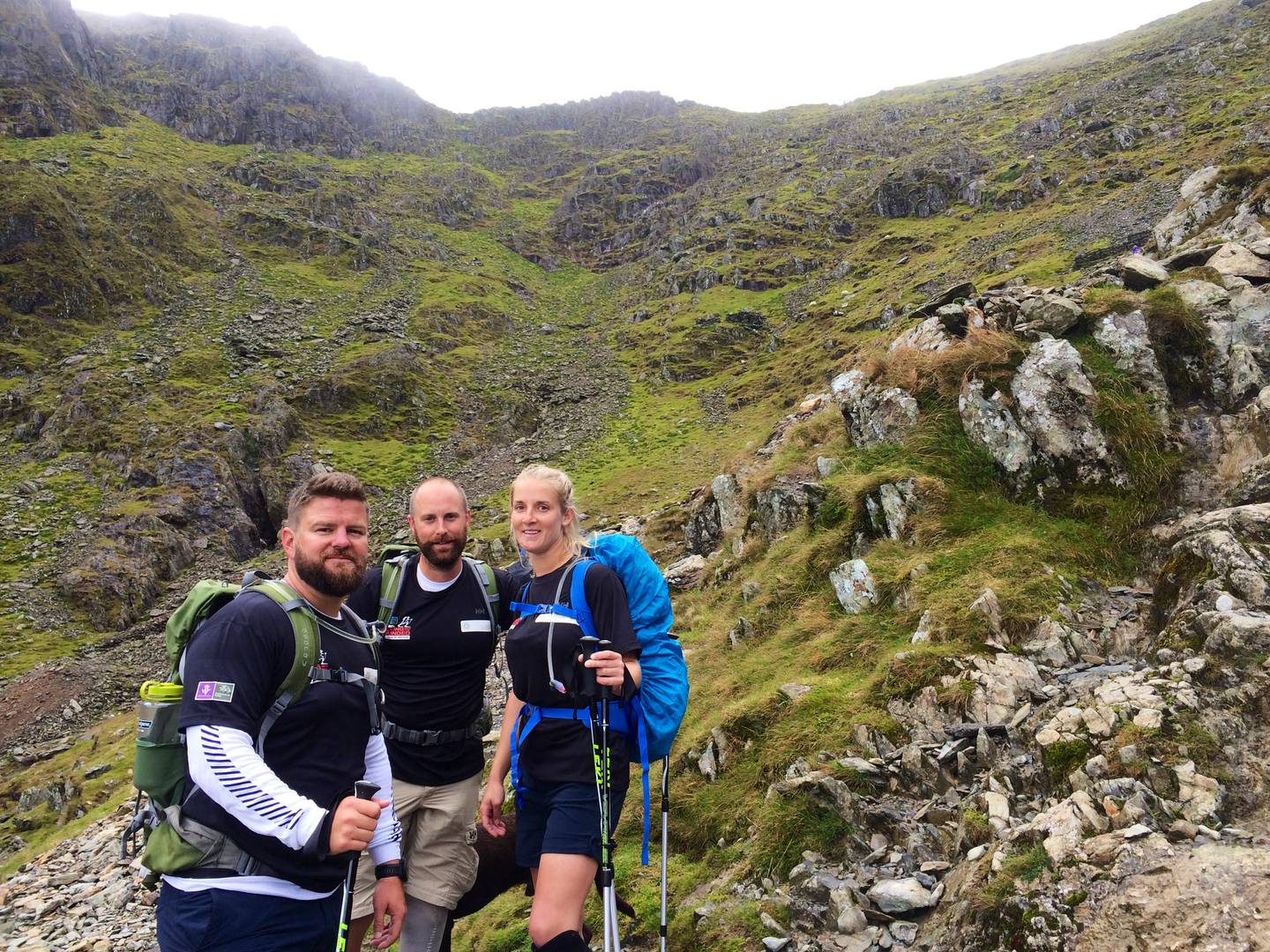 Marine veteran Kirstie Ennis is walking across Britain in tribute to her fallen Marine comrades
Photo Credit: Courtesy Kirstie Ennis
"When I found out about it, it absolutely meant the world to me because I could do it," she said. "At the same time, I wanted to be able to gain the confidence of doing something that everybody told me I couldn't do."
Once she was committed to the project, the Bob Woodruff Foundation sent her to London in June to link up with her teammates for the expedition, each of whom are also coping with wounds sustained in the line of duty.
Remembering the fallen
The team began their trek Aug. 22 in the Scottish highlands and zigzagged across the island at approximately 20 miles per day.
About pproximately every 40 miles, Ennis stopped to hang one of 25 dog tags she custom-made for each of her Marine Corps comrades lleagues either killed in action or lost to suicide after deployment. At each spot, she also left behind a along with a poem concluding "rest easy, brother; we'll take it from here."
"The significance for me is that someone comes along and picks up that dog tag that has my buddy's name, ... extraction date and USMC," she said. "It doesn't give away too much of the story, but it gives [them] enough for someone to have an insight into his life, so his legacy carries on."
One such dog tag bears the name of her friend and colleague Cpl. Joey Logan, who was killed in action in a separate helicopter crash six months before her own.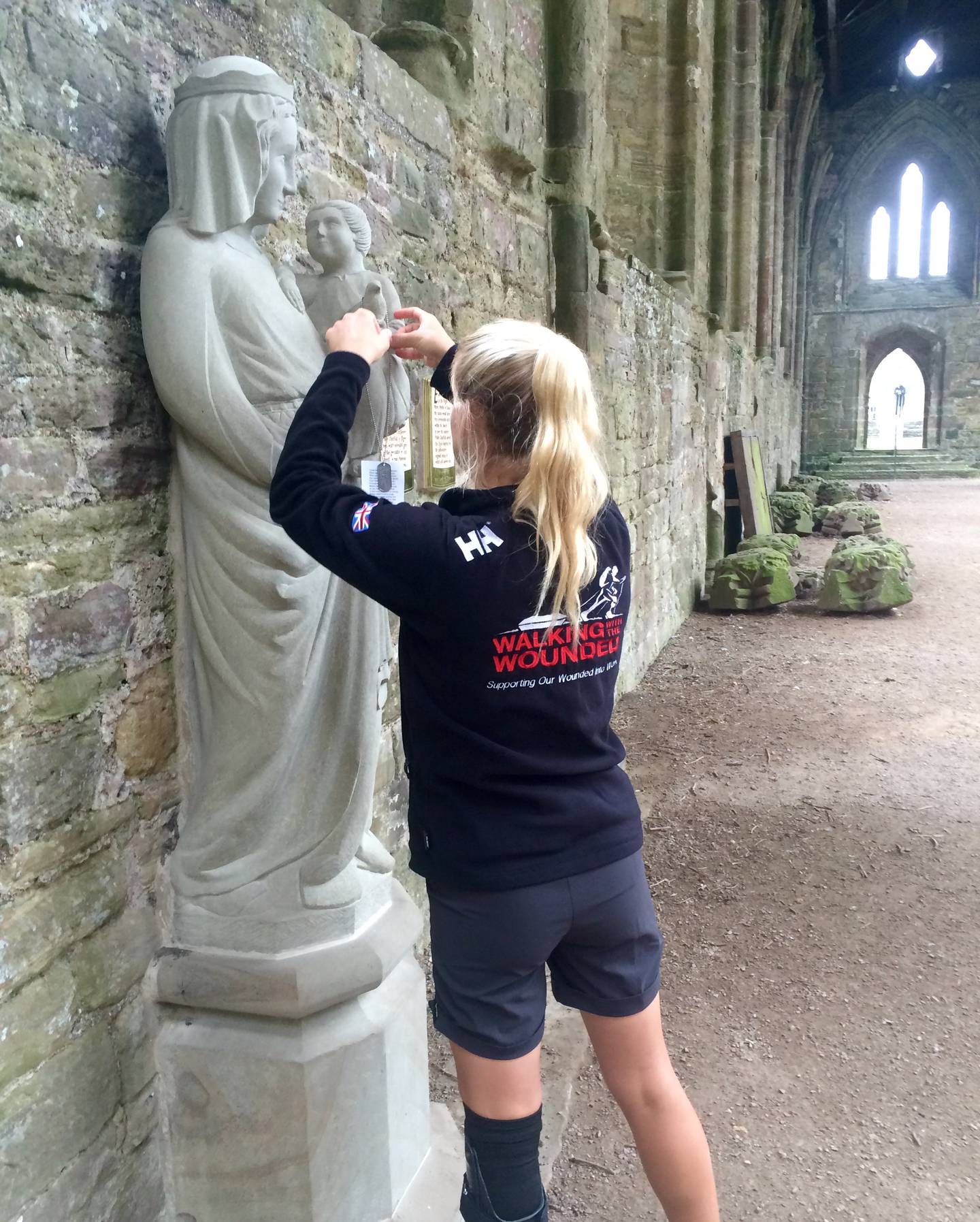 Marine veteran Kirstie Ennis leaves a dogtag in memory of a fallen Marine.
Photo Credit: Courtesy Kirstie Ennis
About six weeks into the team's On Sep. 30, the 40th day of the walk, Prince Harry [correct?]]Henry – himself an Apache helicopter pilot in Afghanistan and a supporter of veterans' issues – caught up with the crew Ennis and her team at Craven Arms, a small town about 10 miles east of the Welsh border. Harry, an Apache helicopter pilot with the British Army Air Corps, has deployed to Afghanistan and is a champion of veterans issues.
"I just looked at him and said, 'Would you be interested in being part of this?' and he said he'd be absolutely honored," Ennis said.
They walked together, then placed Logan's dog tag atop a war memorial outside of Stokesay Castle and said a few quiet words in memorial to the fallen Marine.
"He basically wanted to be part of it because he[Prince Harry] wanted the families to know that their sons' sacrifices haven't gone unnoticed," she said. "He helped me honor [Logan], celebrate my brother's life."
Ennis and her teammates will now travel to New York in time to celebrate the Marine Corps birthday and speak at the Bob Woodruff Foundation's ninth annual Stand Up for Heroes fundraising gala along with Bruce Springsteen, Seth Meyers and Jon Stewart.
She Ennis has one more surgery to go, and will then aims to get back to pick back up snowboarding with the U.S. Paralympic Team, with which she's currently ranked fifth 5th internationally in women's boardercross, a competitive team snowboard sport. [[can we add a brief description of what that is please?]].
"That's the main goal: 2018 South Korea," she said. "So hopefully after my surgery I'll be able to pick up where I left off and keep going."
Along the way she'll Ennis is also working toward completing also soon complete her final six courses towards her master's in business administration through National University, which will complement the 2012 bachelors in psychology and a 2013 masters in human behavior she's already completed at the school.
Share: