CHEYENNE, Wyo. — One of the most stressful and least glamorous jobs in the U.S. Air Force during the Cold War went to the men and women who stood ready 'round the clock to launch one of the deadliest weapons ever made, the Peacekeeper nuclear missile.
A few years from now, one of the nuclear launch centers where these workers, known as missileers, were stationed, will be open to visitors. The Air Force has been restoring the missile alert facility, called Quebec-01, as a state historic site. The facility, located on the lonesome southeast Wyoming prairie, was active as recently as a decade ago.
"What they're going to encounter is basically what it looked like when the last missileers went up the elevator when it was decommissioned," said Milward Simpson, director of the Wyoming Department of State Parks and Natural Resources.
Quebec-01 will be the only public tourism site directly associated with the Peacekeeper, which carried 10 warheads. Some credit the 50 Peacekeepers under the purview of the 90th Missile Wing at F.E. WarrenAir Force Base with helping to end the Cold War.
Wyoming officials hope to draw at least 50,000 people a year to Quebec-01, a stone's throw off Interstate 25 and half an hour north of Cheyenne. Other preserved sites associated with the missile era in the Great Plains and Rocky Mountain states include the Ronald Reagan Minuteman Missile site in North Dakota, the Minuteman Missile National Historic Site in South Dakota, and Missile Site Park near Greeley, Colorado.
Crowds of strangers weren't exactly desirable when these sites were active.
"If you parked your car at the 39-mile marker and were lingering a little too long, maybe you'd get some company," Simpson said.
The Air Force decommissioned the Peacekeepers in 2005. Since then, all Peacekeeper silos have been destroyed and their five missile alert facilities disabled under the START II treaty. The Air Force has set aside Quebec-01 for preservation and begun gathering up computers and other hardware for an interpretive re-installation.
"We have conducted a comprehensive search of all the old equipment that used to be in there. And lo and behold, we probably have about 90 percent of it," said Travis Beckwith, cultural resources manager at F.E. Warren Air Force Base on the outskirts of Cheyenne.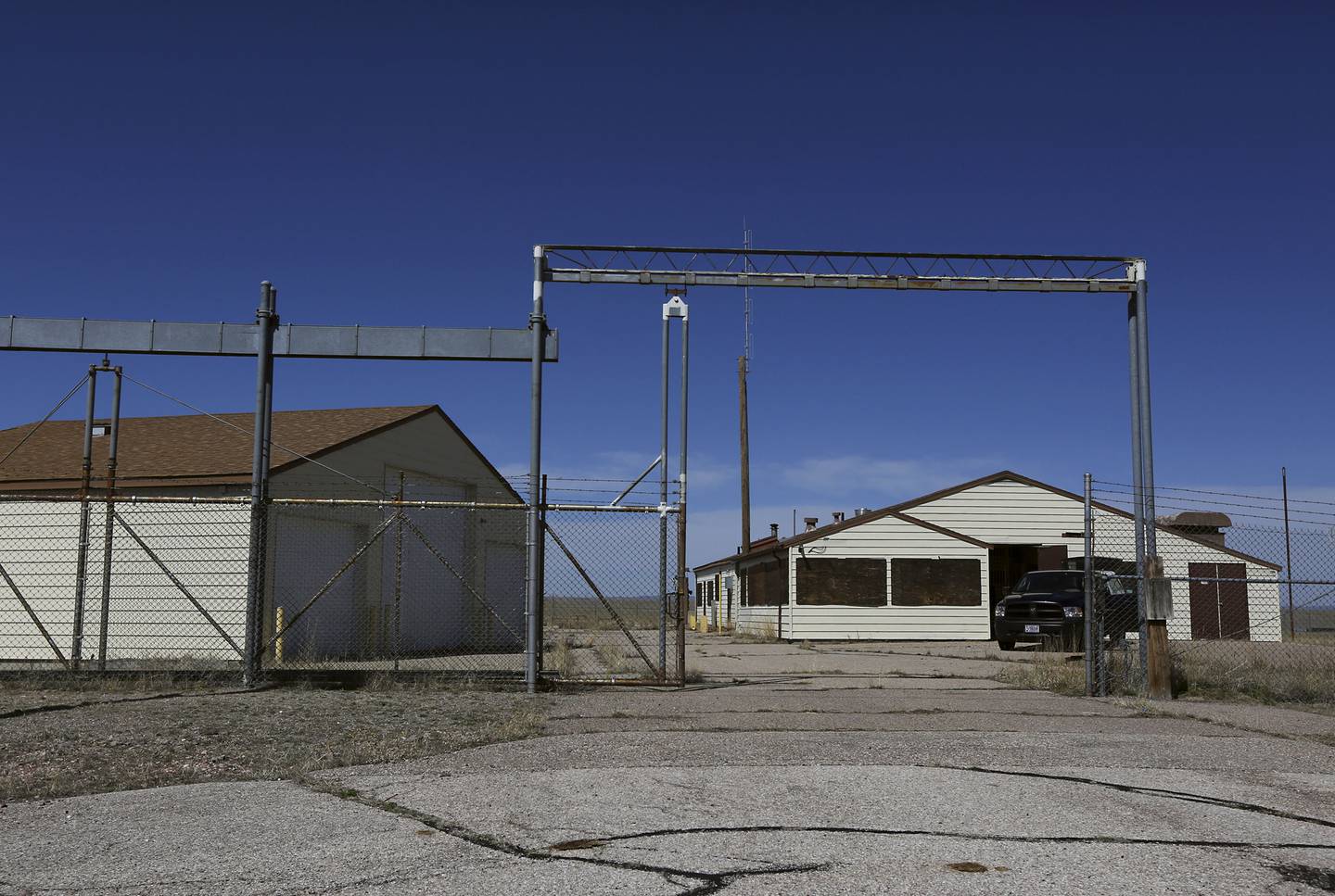 A nondescript building that served as living quarters for security forces and staff, along with a garage for armored vehicles, atop the underground launch control center at the Air Force's Quebec-01 Missile Alert Facility north of Cheyenne, Wyo.
Photo Credit: lan Rogers/The Casper Star-Tribune via AP
Quebec-01 started out as a Minuteman I missile alert facility in the mid-1960s. It became a Minuteman III facility in the mid-1970s and finally a Peacekeeper site in the mid-1980s.
Seventy feet underground, buckled in chairs behind a 5-foot-thick steel-and-concrete blast door, pairs of missileers worked 24-hour shifts every few days. Their home away from home was a steel-reinforced concrete capsule inside a concrete bunker called a launch control center.
The capsule sat on four heavy springs, shock protection from nuclear blasts. Should the worst come to pass, an escape tunnel led upward but stopped short of the surface.
"They give you a shovel and you have to try and dig your way out," said Todd Thibodeau, planning coordinator for the state parks department. "It's questionable how well this would work. But they really did try to think of a lot of things as they were putting this together."
The missileers' routine included drilling for launch. The procedure required the two missileers to simultaneously turn launch keys spread too far apart for either to turn by themselves.
The missiles themselves weren't near Quebec-01 but in silos miles away.
Morale among the young staff seemed high though some were barely away from home for the first time, said Danny Sprong, a former Air Force facilities manager who inspected the sites.
"They needed a little supervision sometimes. 'Hey, you need to get up and polish your boots, get your chow and take a shower,'" Sprong said.
Up on the surface, a facilities manager, cook, communications specialist and security personnel provided support for the pair in the launch control center below. They worked in a building resembling a ranch house with a kitchen, bathroom, bedroom for sleeping between duty, and recreation room with pool and foosball tables.
The Air Force plans to transfer Quebec-01 to Wyoming in 2017. State officials hope to open the historic site to the public in 2019.
Quebec-01 will honor the missileers who continue to this day oversee F.E. Warren's 150 Minuteman III missiles from similar facilities, said Sprong.
"They're the foundation of our defense. They're the last of the line," he said.
Share: