The massive recall of prisoner-made combat helmets for the Army and Marine Corps was actually three times as big as initial reports indicated, a new investigation has found. 

The Defense Department recalled 129,000 Advanced Combat Helmets and Lightweight Marine Corps Helmets in 2010 due to a number of defects and fears soldier and Marines' lives were at risk. Initial reports put that number at only about 40,000-plus.

The  U.S.Department of Justice Inspector General conducted two joint investigations into the controversy and a new report issued Wednesday details a number of disturbing findings: 


Prisoners were making helmets with crude, makeshift tools.
Helmets were made with "degraded or unauthorized ballistic materials" and expired paint.
Helmets were found to have deformities.
Random quality checks were compromised, with helmet-swapping to ensures tests were passed.
And despite the rejection of some helmets, they were still sold to the Defense Department.
While posing a risk to service members, "These investigations did not develop any information to indicate military personnel sustained injury or death as a result of the defective ACH helmets.
Criminal charges are not being pursued, according to the investigative summary. The losses to the federal government reached $19 million, according to the report. A $3 million civil settlementwas made with primary contractor ArmorSource, LLC, in March. ArmorSource remains a significant helmet supplier for the Pentagon with millions in contracts, according to usaspending.gov, a government contract database.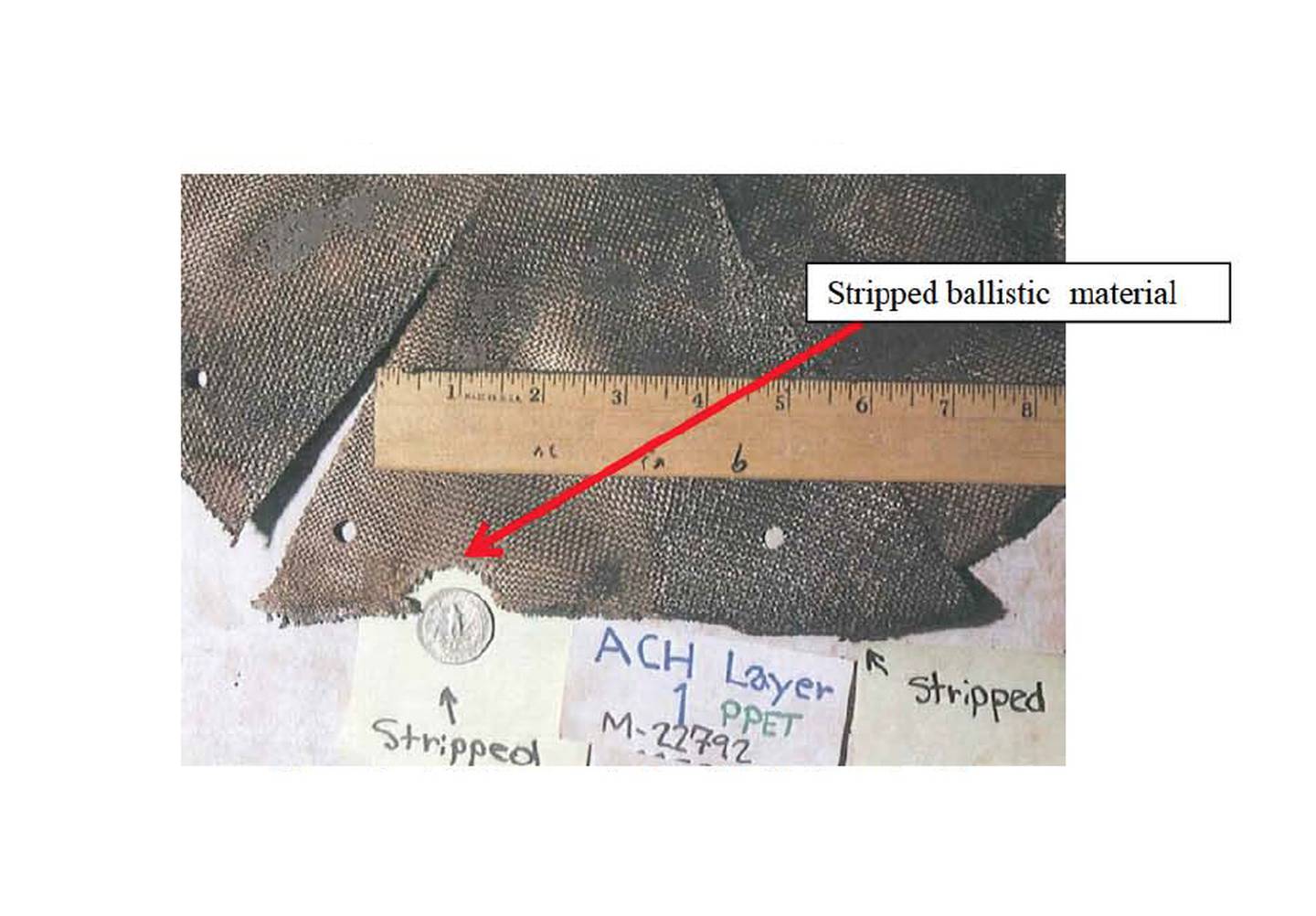 Pictures from a Department of Justice Inspector General report show the damaged ballistic material used to make combat helmets that were ultimately recalled after the discovery of shoddy manufacturing and fraud.
Photo Credit: Department of Justice

The recalled helmets were produced from 2006 to 2009 by Federal Prison Industries, a wholly-owned government corporation and inmate re-entry program branded as UNICOR. ArmorSource subcontracted the manufacturing to FPI after winning the Pentagon contract because of the contract's production capacity requirements, according to spokesman Paul Garcia. ArmorSource no longer works with FPI, Garcia said.

In an email to Army Times, Garcia touted the quality of work the company conducts at its factory in Hebron, Ohio, which opened in 2008.  In the settlement, Garcia said, ArmorSource "was not found guilty of any wrongdoing or fraud regarding its ACH contract." 

An official with the Federal Bureau of Prisons said FPI remains an "important program" that puts 17,500 inmates to work each year.

"FPI is committed to meeting or exceeding all applicable quality assurance standards and contract requirements for the Department of Defense.  Immediately after FPI leadership became aware of the manufacturing concerns surrounding the LMCH and the ACH helmets, FPI began taking corrective action," said spokesman Justin Long. 

Army spokesman Dave Foster stressed in an email the Army's proactive response upon learning of the problems. It immediately implemented a quarantine on the ArmorSource helmets and issued a stop work order on the contract on Feb. 3, 2010, he said. After testing in March and April revealed ballistic defects, a recall was issued on May 13, 2010. There were enough helmets from other contracts to compensate for the recalled helmets. 

Marine Corps spokeswoman Barb Hamby said in an emailed statement that none of the LMCHs found defective were ever issued to Marines. She distanced Marine Corps Systems Command from the purchase, saying it "has never entered into a contract to ArmorSource for helmets." (The ArmorSource LMCH contract was with the Defense Logistics Agency, whereas the ACH contract was with the Department of the Army.)

The report said a surprise inspection of FPI's Beaumont, Texas, facility on Jan. 26, 2010, discovered various contract violations, including use of makeshift hatchets and "scew tools."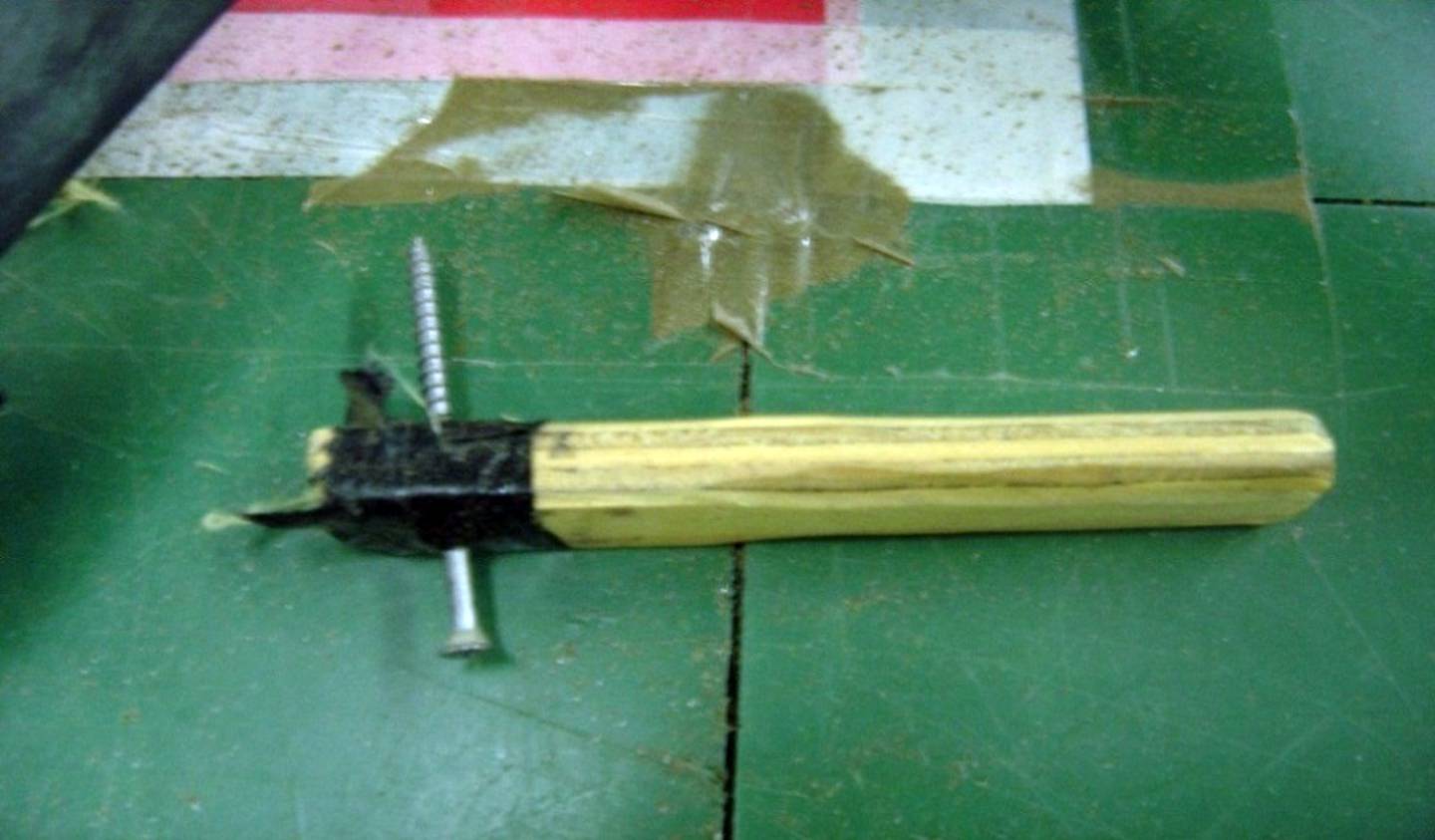 During a surprise inspection, investigators found prison inmates working on combat helmets openly using makeshift tools, like this screw-through-a-stick tool, that did not conform to manufacturing requirements, damaged helmets, and presented a risk to those supervising the prisoners.
Photo Credit: Department of Justice

More than 126,000 Advanced Combat Helmets were recalled in May of 2010, along with the first 3,000 Lightweight Marine Combat Helmets produced under a separate subcontract awarded to FPI in 2008.


A Justice Department press release Wednesday said whistle-blower allegations from within FPI prompted the investigations led by the DoJ IG, with help from Defense Criminal Investigative Services and elements of the Army. 


A March press release from the Department of Justice announced ArmorSource agreed to pay $3 million to resolve the allegations under the False Claims Act. It also announced that whistleblowers Melessa Ponzio and Sharon Clubb, FPI employees, would receive $450,000. Under the FCA, restitution may be awarded to whistle-blowers who sue on behalf of the federal government.


The report said the 3,000 LMCHs that had been delivered hadn't yet been paid for "because more than half of them were deemed to be defective." Another 20,000 LMCHs had been made at FPI's Beaumont, Texas, facility but not delivered, and were "ultimately quarantined."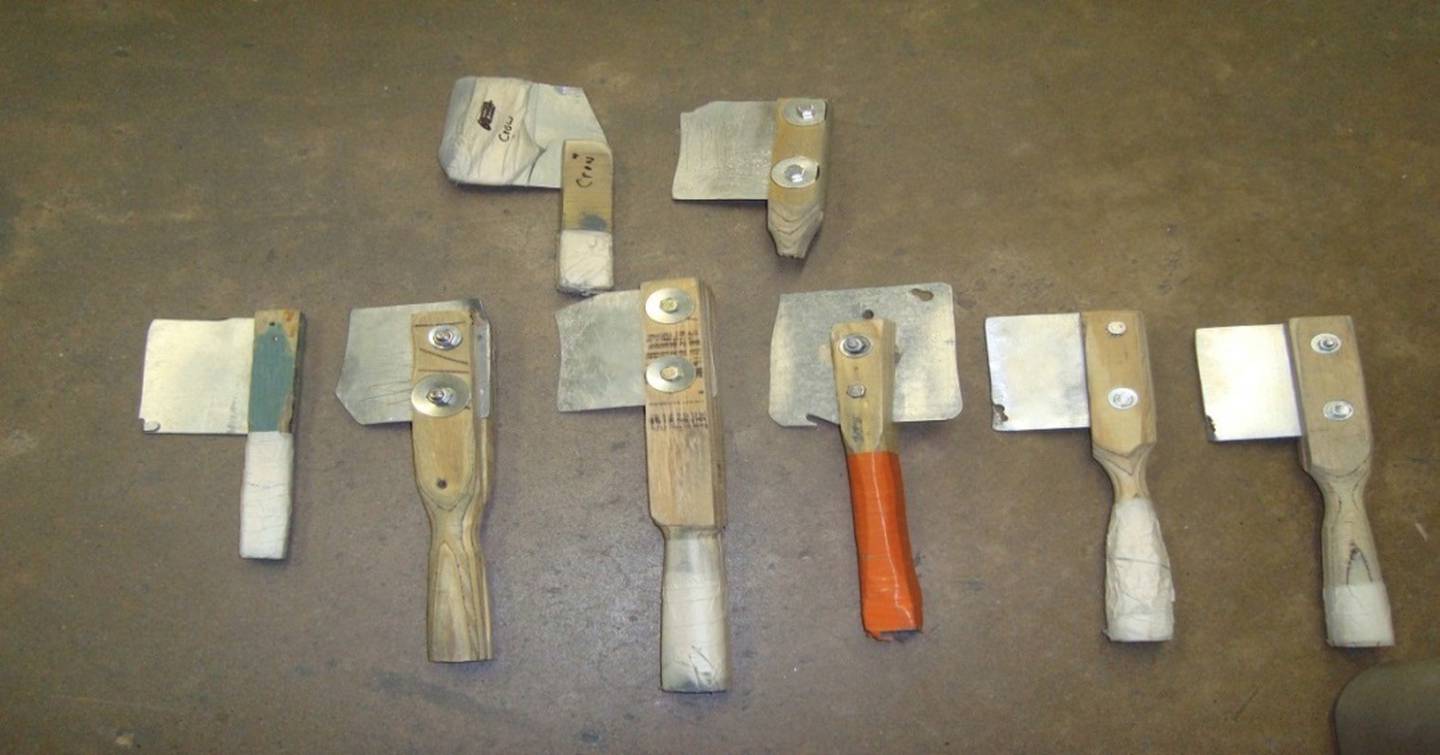 During a surprise inspection, investigators found prison inmates working on combat helmets openly using makeshift tools, like these paint-scraping hatchets, that did not conform to manufacturing requirements, damaged helmets, and presented a risk to those supervising the prisoners.
Photo Credit: Department of Justice

Investigators discovered manufacturing documents altered by inmates at direction of FPI staff. The report also said Defense Contract Management Agency inspectors "did not perform proper inspections, lacked training, and submitted false inspection records." Further deficiencies in helmets and processes included:
Finished ACHs were pried apart and scrap Kevlar was added to ear sections, after which the shells were re-pressed.
Helmets were re-pressed to removed blisters and bubbles (a violation of contract specs).
LMCHs had edging failures.
ACHs had paint adhesion failures.
FPI did not obtain approval from the Pentagon before changing the manufacturing process.
FPI staff signed inmate-prepared LMCH Certificates of Conformance months after delivery, falsely certifying compliance with contract specifications.
LMCH serial numbers were switched or altered.
Share: