TWENTYNINE PALMS, Calif. — On a stretch of California desert the size of Rhode Island at the Marine Corps Air Ground Combat Center Twentynine Palms here Marine Corps Air Ground Combat Center, thousands of Marines train for combat each year. And the ammunition casings, shells and bomb fragments fired in these exercises are making the Marine Corps millions of dollars each year.
"You have tank parts, you have 120 tank rounds that are made up of aluminum, you have 40mm rounds. Everything that's made out of aluminum is sitting back there in that pile," said Jay Jones, work leader for the seven-person team at the Qualitative Recycling Program's range sustainment branch. "Believe it or not, an airplane crashed out here one year, and it stayed out there. Once the investigation was over, we went out and got it brought back. Someone's probably driving around a car [made from] it now."
The Qualified Recycling Program started in 2000 and collected over 5.6 million pounds of range residue last year. The recycling program manages trash and household recyclables as well as exploded munitions and hazardous materials from across the base. Items are collected, sorted, processed and recycled or sold to government-approved contractors for profit, saving the base removal costs.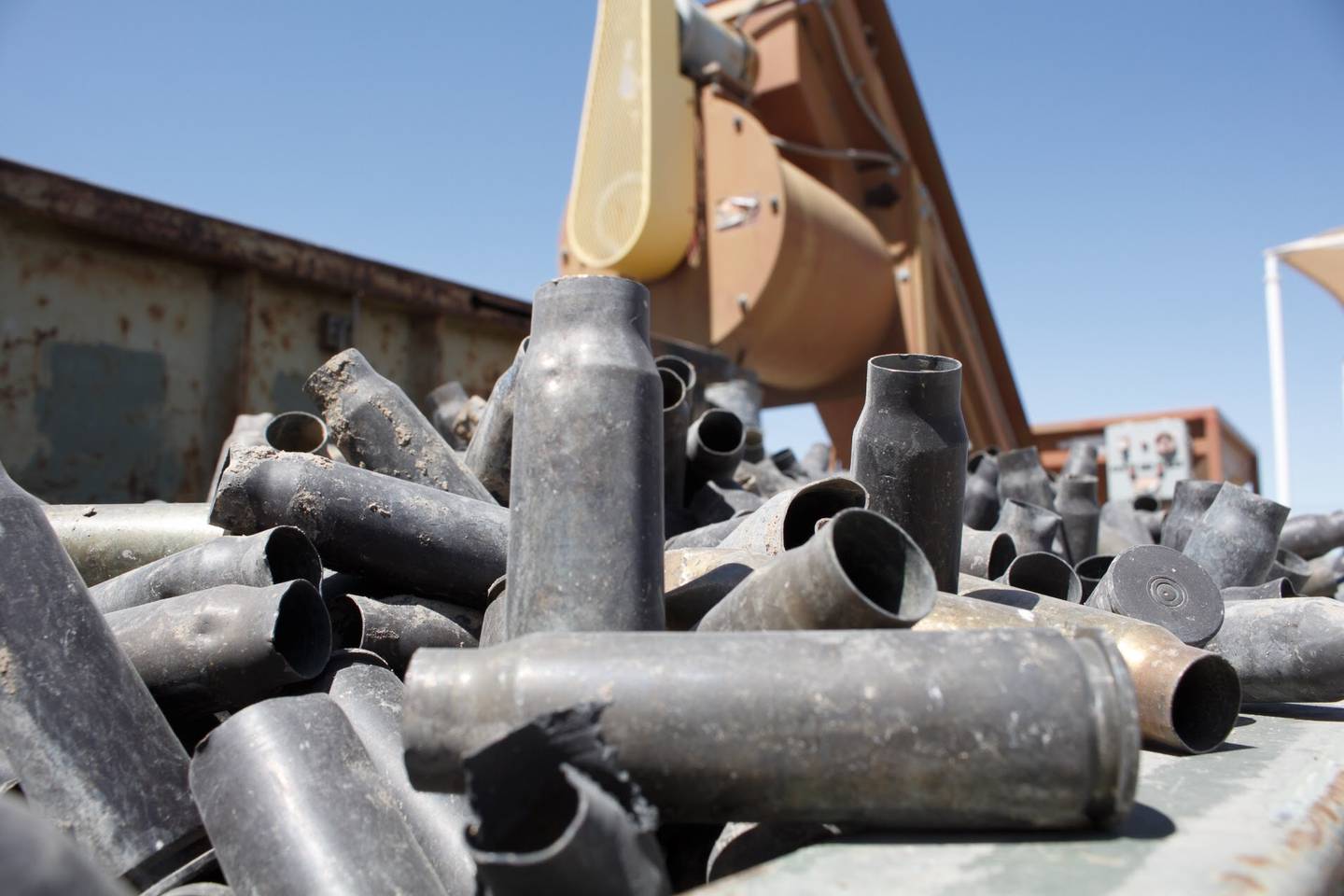 Heaping piles of raw munition materials lie waiting to be sorted at the range residue branch of the recycling center.
Photo Credit: Amina Ismail/Medill
Last year, the program Qualified Recycling Program amassed $2.5 million in profit. Half of this amount went toward labor, maintenance and upgrade costs for the recycling program, and half went into the base's Marine Welfare Program.
Range sustainment
Heaping piles of shells and casings lay sorted in material-specific containers at the range sustainment branch, which processes some 900,000 pounds of spent munitions from across the base each year.
"Everything that's been shot at, shot up, blown up, that's what we recycle in here," Jones said. "The Marines themselves bring it in, plus we have contractors that go in and they bring in the bigger pieces of gear. The blown up tanks, the airplane."
Every unit that trains at the base's live-fire ranges must return expended ammo to the range sustainment branch. Staff members sort them into piles by raw material and conduct quality assurance checks for live ordinances.
Norman Troy, an explosives ordinance specialist who supervises the range sustainment branch, said he identifies each spent munition by sight based on its fusing system and does not consider his job a risk to his life.
"We make sure nothing is live," Troy said. "It's once in a very blue moon does something unexploded come in that's dangerous. And if it does come in, then we call the explosives ordinance disposal, and they come down. And they'll hopefully go blow it up somewhere."
Hazardous materials
The hazardous materials branch acts as the Qualified Recycling Program's innovative hub. Branch staff process and recycle hazardous materials from across the base, including oil, grease, paint and anti-freeze. According to Patrick Mills, program manager for hazardous materials, the major cost-saving component is are the recycling of anti-freeze and the reconditioning of batteries.
Every piece of military rolling stock uses batteries worth $300 to $500. Texas company PulseTech donated machines that recondition the batteries by using an ultrasonic technology that breaks up phosphates that cocoon the lead plates within the batteries. These machines cost $5,000 a piece, but using them saves the Marine Corps up to $1.5 million dollars a year.
Projects like this have caught the eye of think tanks that work with Mills and his team to maximize their technologies.
"DARPA (the Defense Advanced Research Projects Agency) is one of the many different think tanks," said Mills. "They find technology, they try to do a cross application to a [Defense Department of Defense] use, for example, and then they would find guys like us who like to step out on the edge of that limb. And that's what I do."
Maximizing technology is a key driver of innovation for the branch, which reduced the amount of hazardous waste shipped off-site in 2014 by 192 tons compared with the previous year.
"We are going through a fiscal tsunami right now," Mills said. "We just fought two long sustained wars. Not one, but two. And we're still fighting other different neo-intensive operations. There's ISIS."
"The think tank, basically they're trying to get us out of a Stone Age into new cutting-edge technology. The battery's one example," Mills added.
Illegal scrappers
The recycling program staffers aren't the only ones who see the lucrative potential of the Marine Corps' leftovers. The Marines training at Twentynine Palms from dawn until dusk have turned the arid sand into a goldmine of metals primed for scrappers, who sneak onto base property illegally, collect discharged munitions, and sell them for profit to local recycling centers.
"They have the ability to just pick up as much as they can pick up," Troy said. "They're looking for high-value material. So our brass is a high-value material."
Besides latent threats these scrappers face like unintentionally stumbling across a live-fire training exercise, Troy said there are also risks of unexploded ordnance in the field. Scrappers can unintentionally set off explosions when searching for materials.
"There have been a couple of incidents where they'd go out and find somebody," he said. "They found a couple scrappers that had died near their vehicle. They found a few vehicles that had been stranded out there that had materials in the back that were unsafe."
Troy said the recycling center cooperates with San Bernardino County Sheriffs Office and the conservation law enforcement officer Russell Elswick to prosecute scrappers who have illegally taken metal materials from the base.
For its environmental efforts including recycling and water reclamation, the Twentynine Palms MCAGCC was awarded the 2015 Secretary of Defense Environmental Non-Industrial Installation Award.
Share: