Nearly seven years after the award was approved, the family of fallen Marine Sgt. Rafael Peralta will hold his Navy Cross next month. But not for long.
In 2004, Peralta, 25, was killed in 2004 by grabbed a grenade tossed by an enemy during a building-clearing mission in Fallujah, Iraq. According to his 2008 Navy Cross citation, Peralta grabbed the grenade and pulled the grenade into his body, absorbing the blast to protect his fellow Marines. nearby. Those His superiors put him in for ctions would make him a candidate for the military's highest award for valor — the Medal of Honor — but a succession of defense secretaries have all determined that the evidence of Peralta's heroism is not conclusive enough to meet the high standard for that award.
Supporters repeatedly pushed to have Peralta's award upgraded and for 10 years. And during that span, but over Over a period of 10 ten years and decisions by three separate Defense Department leaders, the fallen Marine's Peralta's family has opted not to receive his Navy Cross, insisting he earned the Medal of Honor.
But now family members have agreed to say they will accept the award and will do so at a June 8 at a Camp Pendleton, California ceremony presided over by Navy Secretary Ray Mabus.
Peralta's mother, two sisters and brother plan to attend the ceremony, along with Marine veteran Nicholas Jones, who says claims Peralta saved his life.
Officials with I Marine Expeditionary Force confirmed that plans for a ceremony, saying existed and said details were still being worked out.
Peralta's sister, Icelda Peralta-Donald, said the family had a change of heart last October family's thinking had changed during the keel-laying ceremony for the Navy destroyer Rafael Peralta. last October. Navy officials told Peralta's mother, Rosa, that it was traditional for the family to donate a personal item for the ship in honor of its namesake.
"That was her motivation to receive the Navy Cross," Peralta-Donald said. "She feels that it will take Rafa's spirit and keep all the crew members safe. She feels that it will belong there."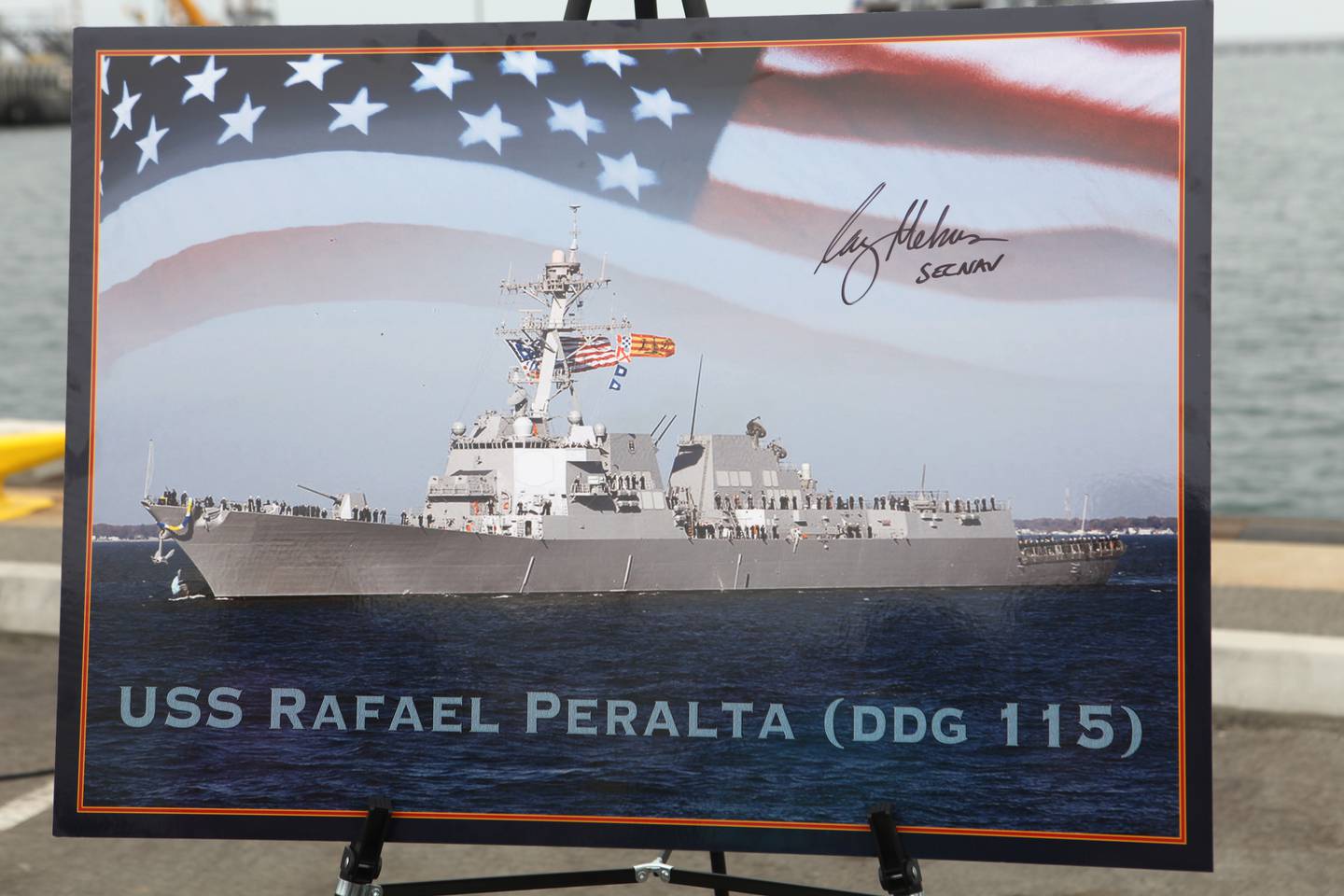 A photo of the newly named Navy destroyer Rafael Peralta is displayed during a ceremony in San Diego.
Photo Credit: Lance Cpl. Anna Albrecht/Marine Corps
The family plans to treasure the Navy Cross over the summer and donate it to the ship for its Oct. 31 christening, Peralta-Donald said.
She said the Marine Corps had quickly assented when her brother Ricardo reached out to officials and explained the family's interest in holding a ceremony.
The only challenge, she said, had been finding free time in Mabus' schedule to present the award.
In some ways, the ceremony will bring some closure to a long period of waiting and uncertainty for the family. A new effort to award Peralta the Medal of Honor was launched in 2013 by Rep. Duncan Hunter, R-Calif.ornia, who released new photos of the Marine's shrapnel-scarred rifle and unearthed additional witness statements from a Marine and Navy corpsmen who had been near the compound where Peralta died.
But last year then-Defense Secretary Chuck Hagel announced last year that he would not reopen the case, saying the new evidence still did not meet the "beyond a reasonable doubt" standard.
A February 2014 Washington Post story stirred expose surfaced new controversy, quoting two Marine witnesses who claimed the story of Peralta's heroism was made up shortly after his death by grieving comrades. Other eyewitnesses told Marine Corps Times they stood by their accounts of the fallen Marine's bravery.
Peralta-Donald said the family's decision to accept the Navy Cross was not a concession or an indication that they would stop pursuing a higher award.
"Deep in our hearts we still believe somebody will do the right thing and upgrade to the Medal of Honor," she said.
Current Defense Secretary Ashton Carter has never been asked to consider the Peralta case, so there remains the possibility of a new review decision in coming years.
But Peralta-Donald acknowledged the toll the uncertainty had taken on her family and said it was time to treasure the honors Sgt. Peralta had been accorded.
"Right now, I think my mom is tired. She just wants to put an end to all this," she said. "When we went to see the ship, and it was amazing. It changed the spirit of everything."
Share: