About Some 200 East Coast Marines spent several days testing from II Marine Expeditionary Force became product testers for new gear that could make them more self-sufficient in the field, during the Corps' annual expo on energy-saving technologies.
Held at Camp Lejeune, North Carolina, from June 23-25, the annual Expeditionary Energy Concepts — previously known as ExFOB — gave Marines the chance to grok prototypes of gear that may someday support them in austere environments the field. This year, the more than 30 products technologies on display were aimed at helping small teams of Marines work smarter and lighter in an uncertain environments.
With smaller teams of Marines expected to deploy for weeks at a time with little access to resupply or logistics support during future missions, lightweight gear that makes them self-sustainable is vital. Technology that can help Marines generate their own energy and purify their own water, for example, would reduce the need for heavy generators, batteries and hydration systems.
Marines Troops tested out a handful of all-terrain vehicles developed by the military and private corporations to run on hybrid or electric power and cover long distances loaded down with gear. They also examined an array of wearable power systems, including a backpack-and-knee-brace combination designed to harvest energy from human motion and filter water at the same time, and body armor plates with a lightweight battery built in.
"[The Marines] get briefed on all the different technologies, check the gear and ask questions," said Col. Jim Caley, head of the Marines' Expeditionary Energy Office. "Some of the Marines have come back with their own gear to try out some of this stuff to see if it will work on them. Some of the companies' gear out here, they think is really cool and they're really excited about."
Popular items, Caley said, among the product testers, Caley said, included the vehicle prototypes, which promise to reduce the amount of gear and equipment Marines need to hump into theater, and the body armor plate, which was developed with input from Marine visitors to last year's Modern Day Marine Expo in Quantico, Virginia.
All the Marine testers, who hail from about 20 different military occupational specialties throughout II Marine Expeditionary Force, were asked to fill out evaluation forms on each piece of gear they field-tested. These evaluations, Caley said, will be considered alongside feedback from Navy engineers to determine the products that will be selected for which technologies to select for future testing and product development.
Feedback from Marines of every rank was crucial to developing the right kind of technology to support Marines in theater, he said.
"We want to buy gear that works for corporals and lieutenants," Caley said, "not for crusty old colonels."
Caley emphasized that the Marine Corps has yet to complete the evaluation process and select any of the prototypes on display at E2C for further testing. The Expeditionary Energy Office will complete a report from the event as early as October of this year, he said, and testing could start begin on the most promising concepts within eight months.
To date, five technologies that originated at previous expos ExFOB/E2C have been fielded to Marine ground troops, including lightweight portable solar panels that recharge batteries and a thermal tent liner that can keep a shelter cool without using generator power.
Here's a look at some of the gear Marines tested during the expo.
Ballistically Rated Conformal Wearable Battery, by ICCN+Palladium
It looks like a standard ballistic plate, but it can replace the batteries troops lug hump into the field and keep them safe at the same time. Designed at the suggestion of Quantico Marines, this battery-and-body-armor combination would eliminate about four pounds of weight from a service member's pack, said Capt. Anthony Ripley, Science and Technology lead for the Expeditionary Energy Office.
The prototype can charge and discharge energy simultaneously, reducing time Marines might spend idle and extending the battery's performance.
Tactical Long Endurance UAS (TaLEUAS), by Naval Research Lab and Naval Postgraduate School
It's a bird, it's a plane, it's ... a solar and thermal-powered drone glider.
The TaLEUAS system relies on sensors that locates local thermals in the atmosphere, allowing the gliders to fly further and reducing the need for external energy sources. Officials with Naval Research Lab and Naval Postgraduate School are developing the gliders to climb to high altitudes for intelligence, surveillance and reconnaissance missions and are working to create better, more robust energy storage systems.
A concept demonstration is set to take place later this year, with the a final demonstration of a finished product expected next year.
Joint Infantry Company Prototype, by Naval Surface Warfare Center – Dahlgren Division, Naval Research Lab
A recipient of the Breakthrough Award for Innovation from Popular Mechanics, the Joint Infantry Company Prototype looks like a concept straight out of science fiction.
An external, wearable system, it promises to harvests kinetic energy from troops' movement with a specially designed backpack and knee braces. At the same time, the prototype includes an advanced water filtration system that will let Marines collect water from an available source and quickly make it drinkable. The wearable system also includes a power manager device that allows troops to see just how much battery energy they have left and manage it accordingly.
A 2017 side-by-side comparison test to determine how much better an infantry company functions with the systems, compared to one without it, is tentatively expected to take place in the Asia-Pacific region with Marine Corps and Army participation.
eXV-1™, by MILSPRAY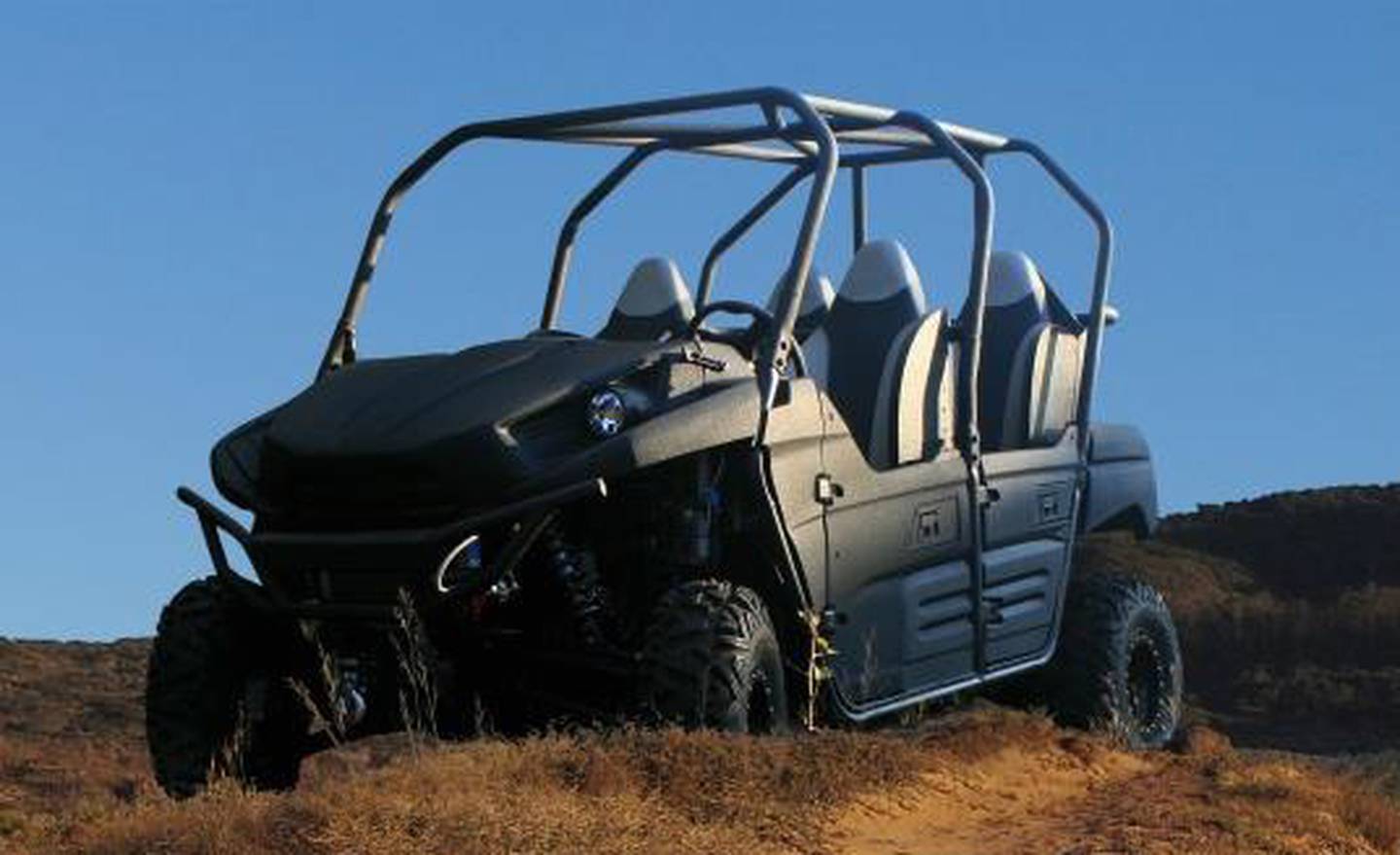 eXV-1
Photo Credit: Courtesy
One of several hybrid all-terrain vehicles on display at the expo, the eXV-1 derives power from an electric motor paired with high-performance lithium-polymer batteries, allowing the vehicle to drive quietly and without traditional fuel sources.
The vehicle is small enough to fit inside a KC-130 or MV-22B Osprey, and, with the help of a built-in on-board generator, has a range of 300 miles. The vehicle is built for hostile missions with light ballistic armor and a special coating that helps to mask infrared signatures.
Share: