The commandant of the Marine Corps is directing top leaders to conduct a full review of the service's fitness and body composition standards.
Gen. Robert Neller signed an all-Marine message Monday instructing the Corps' Training and Education Command to complete a comprehensive review of several pieces of the service's fitness program. The review will include a look at the scoring on the physical and combat fitness tests as well as body composition rules like height, weight and body fat standards for all Marines.
The review could lead to changes to scoring or events on Corps-wide fitness tests or the dreaded tape test, which measures Marines' body fat percentages.
"After listening and talking with Marines at all levels across the Corps, I'm convinced that we need a comprehensive and holistic review of our physical fitness evaluations and body composition standards," Neller said. "I want to make sure these efforts are mutually supportive and relevant to keeping Marines fit and ready."
Neller recently wrapped up a tour of several Marine bases where he heard a lot of opinions from Marines, said Lt. Col. Eric Dent, a spokesman for the commandant. As Marines train, some expressed concern about how bulking up could negatively impact their careers.
"Marines are getting stronger, and I think it was just time in the commandant's mind for a review," Dent said.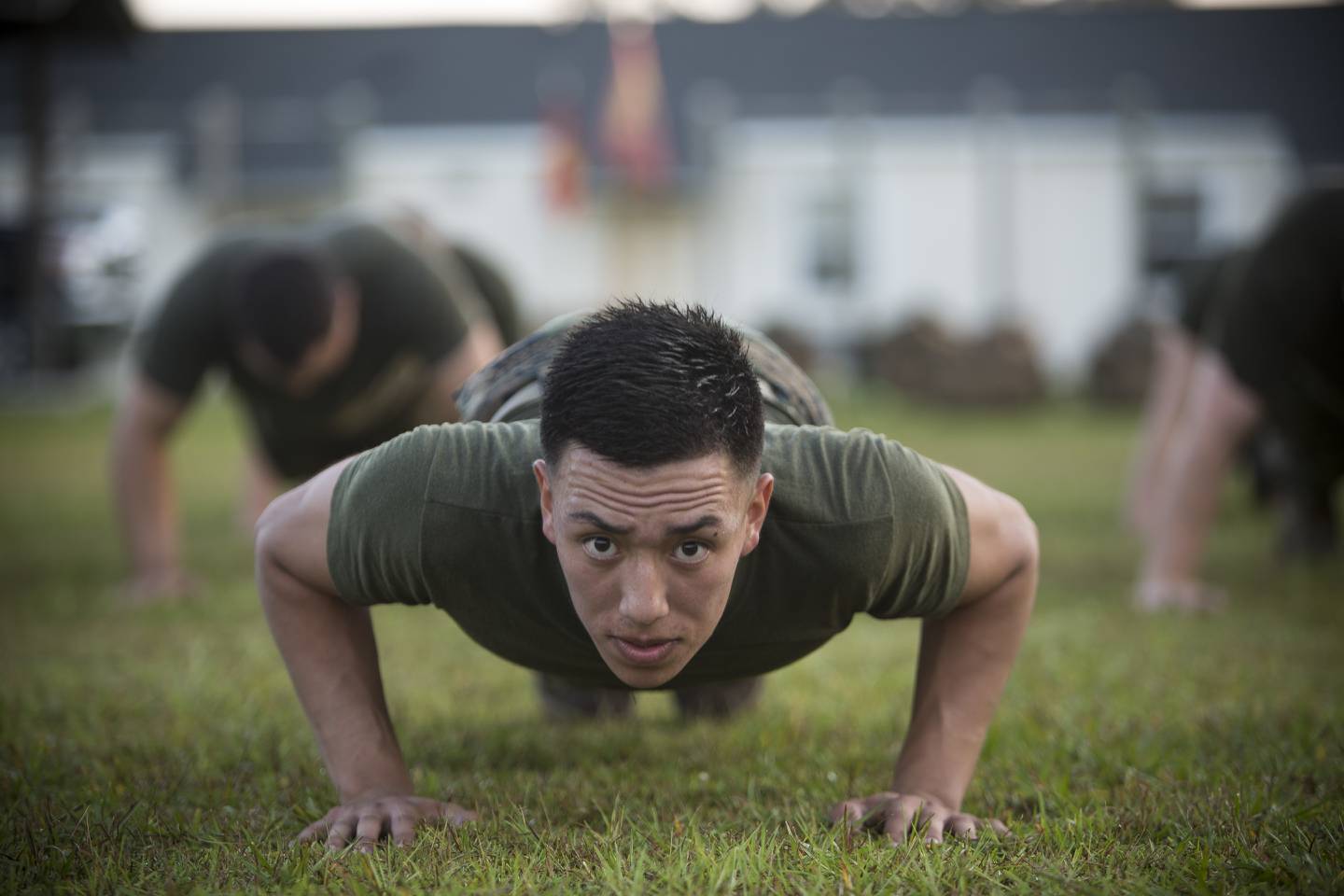 Lance Cpl. Adrian Correa Jr. does pushups after completing the obstacle course on Camp Geiger, N.C. A new Corps-wide review could lead to changes to the service's physical fitness tests and body composition rules.
Photo Credit: Cpl. Andrew Kuppers/Marine Corps
Neller will make sure things like physical training, fitness test scoring and body composition rules are all "working in concert," he added.
Neller tasked TECOM officials with completing the review and delivering their recommendations by July 1. The review will be "supported by experts from the fields of medicine and exercise science with inputs from our leadership and operating forces," according to a Marine news release.
The goal, Neller wrote, is to "[ensure] the overall health and fitness of our Corps." Fitness test scoring and body composition standards must be relevant, challenging and encourage behaviors that enhance cardiovascular capacity, muscular strength, flexibility, agility and the reduction of injuries, he said.
"As each of us must be physically ready to answer the call in any clime or place, we must continue to train hard but smart, and push ourselves to reach the highest level of personal fitness," the ALMAR said.
During the review period, male and female Marines must continue meeting current fitness requirements.
"All Marines are encouraged to continue all forms of resistance training as a means for developing dynamic upper body strength, but females will maintain the current option of either flexed arm hang or pull-ups during scored PFTs until any new policy is implemented," Neller wrote.
Share: