Marines are prepared to fight in any clime and place — including the ice hockey rink.
Fifteen members of the newly-formed All-Marine Ice Hockey Team hit the ice Thursday  will take to the ice Jan. 15-17 in their first show of force at the three-day 6th annual International Fire, Police and Military Winter Games hockey tournament in Lewiston, Maine. Proceeds collected during the tournament will go with proceeds going to Shriners Hospitals for Children.
It will also be the first time any of the 37-man team will compete together to meet their objective of raising money for charity, team manager and captain Sgt. Tyler Bluder told Marine Corps Times.
"We love hockey, but what better a way to play than with a bunch of Marines doing something we know how to do for a good cause," Bluder said.
Like his teammates, the 30-year-old aviation ordnance systems technician has had a life-long passion for the game, and the majority of them have played at the juniors level, in college clubs or even for division-ranked universities.
They're active-duty, Reserve reservist and prior service Marines, coming from Hawaii, Alaska and both the East and West coasts.
Being Marines, they also bring the specific skill set of strong discipline, impeccable work ethic and dedicated professionalism to the ice, team coach and founder Maj. Scot Kleinman said.
"The Marine Corps is an elite warfighting organization, and we're an elite hockey organization," said Kleinman, who works by day as the operations officer for the Marine Corps' western recruiting region. "Of course we have fun, but we expect this of our guys."
Kleinman initially approached the Corps three years ago to get a hockey team off the ground, but was told it was too expensive and not going to happen.
Undeterred, he contacted Semper Fit at Marine Corps Community Services in Quantico, Virginia, and was told they couldn't provide any money, but could issue a Marine Corps-wide administrative message to help him recruit.
MARADMIN aradmin409/15, released in last August, put the call out across the force for applicants to the team, requiring command endorsement and specifying that funding for temporary assigned duty was not available to travel to games.
"Marines selected to the All-Marine Ice Hockey team will not receive funding for temporary additional duty" to attend events, the message specifically states.
Applications came rolling in, including Bluder's.
Recognizing that expenses would be out-of-pocket, he volunteered to manage the program on his own time and set out to solicit private donations to offset costs.
Bluder also set up a site on the application 'Team App' which allows team members to talk, coordinate and sort out uniform and gear issues.
"One of the best parts about this is we have a full sense of camaraderie," he said. "None of us have met each other before, but as Marines we're going out to play and put the effort out; we won't give up on each other."
Bluder also soon found out that they were not the first All-Marine Ice Hockey team.
In 1984, Marines Jeff Kolcon and Michael Hernbrott at Camp Pendleton founded the first at Camp Pendleton, California, as profiled in a 2011 USA Hockey Magazine story.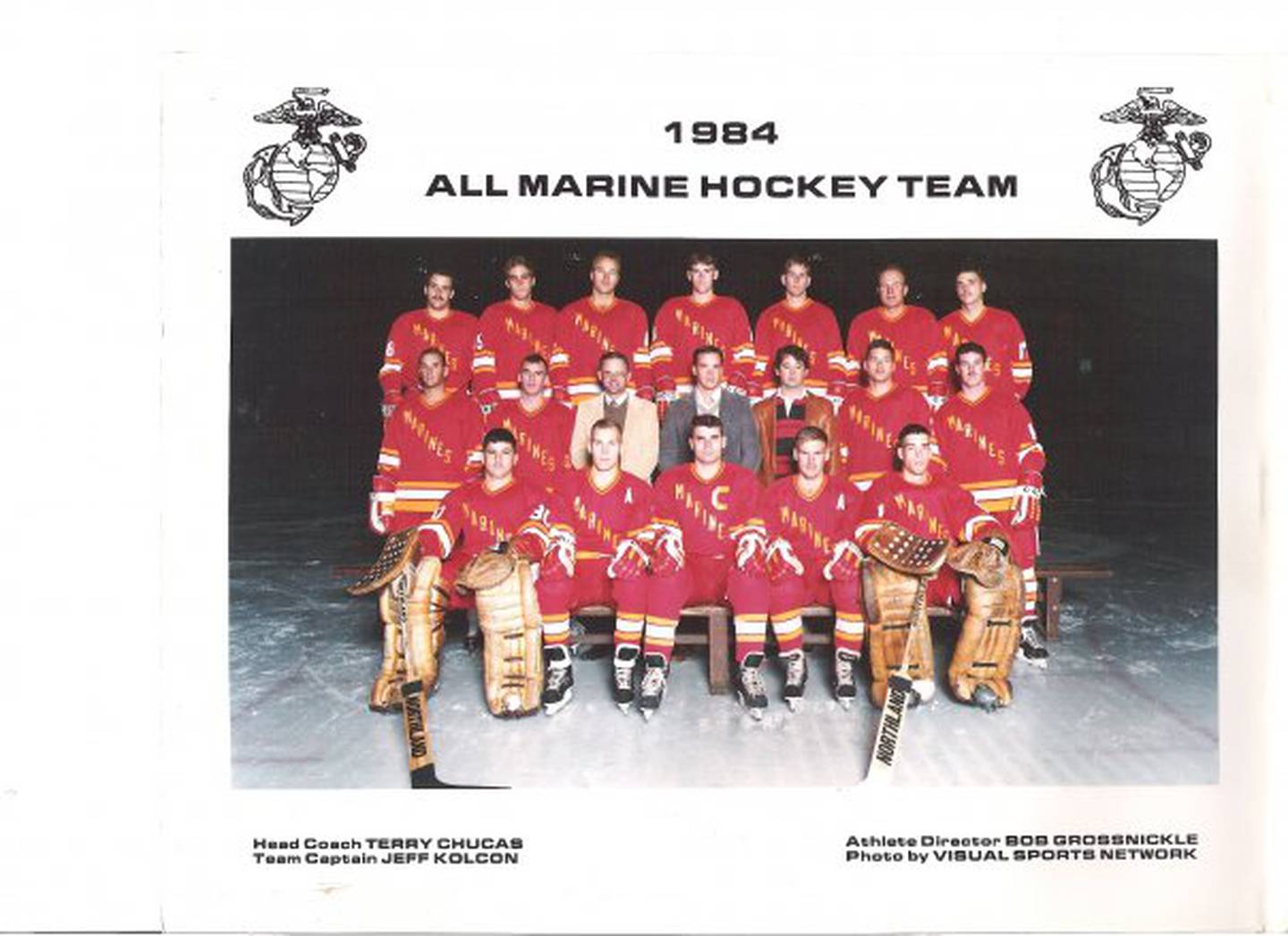 The last time the Corps had an all-Marine ice hockey team was in the mid-1980s, but the Marines on the new team got similar jerseys to follow tradition.
Photo Credit: Courtesy of Sgt. Tyler Bluder
"As soon as they found out, they were crazy about what we're doing," Bluder said, adding that they are currently working to set up a charity match between the new and older team members.
They also directly adopted the style and colors of the original team's uniform: red with the word gold "Marines" in gold displayed diagonally across the chest.
"We're keeping the tradition, just like the Marine Corps does," Kleinman said.
After the tournament, the team has its sights set on against the New York Police Department, whom it will play in a charity match in February in Ramapo, New York.
Proceeds from that event will be split between the Semper Fi Fund and a charity for families of fallen police officers.
While the The Maine tournament this weekend will be the first time the team hits the ice together, but Bluder has no zero doubts about his team, listed as "USMC West" on the schedule to differentiate it from a Marine hockey club listed as "USMC East."
"We're going to do really well," he said. "The biggest thing for us is that it's a charity tournament; our objective is to give the Marine Corps a good name and what better way than playing for a good cause."
Matthew L. Schehl covers training and education, recruiting, West Coast Marines, MARSOC, and operations in Europe, Africa and the Middle East for Marine Corps Times. He can be reached at mschehl@marinecorpstimes.com. 
Share: