UPDATE: This story was updated on Nov. 10 to include where the Marines rotating through Norway will come from.

Goodbye deserts and jungles: 330 East Coast Marines will begin rotating through icy Norway starting in January, the Norwegian government announced on Monday.

Norway has approved a U.S. request for the small rotational force of Marines, which will be located at Vaernes, about 1,000 miles from the Scandinavian country's border with Russia, according to a Norwegian government news release.

"We receive positive feedback from allies who find Norwegian cold-weather conditions ideal for training and exercises," Norwegian Defense Minister Ine Eriksen Søreide said in the news release.  "I am pleased to welcome additional American troops to train in our superb conditions."


The Marines will have opportunities to train with their Norwegian counterparts in Vaernes and other locations, the news release states. The first Marines will be a part of a "trial period," after which Norway will determine how to proceed with rotations beyond 2017.
The unit going to Norway will be made up of Marines from the 2
nd
Marine Division and the 2
nd
Marine Logistics Group, based at Camp Lejeune, North Carolina, said Maj. Kendra Motz, a spokeswoman for II Marine Expeditionary Force.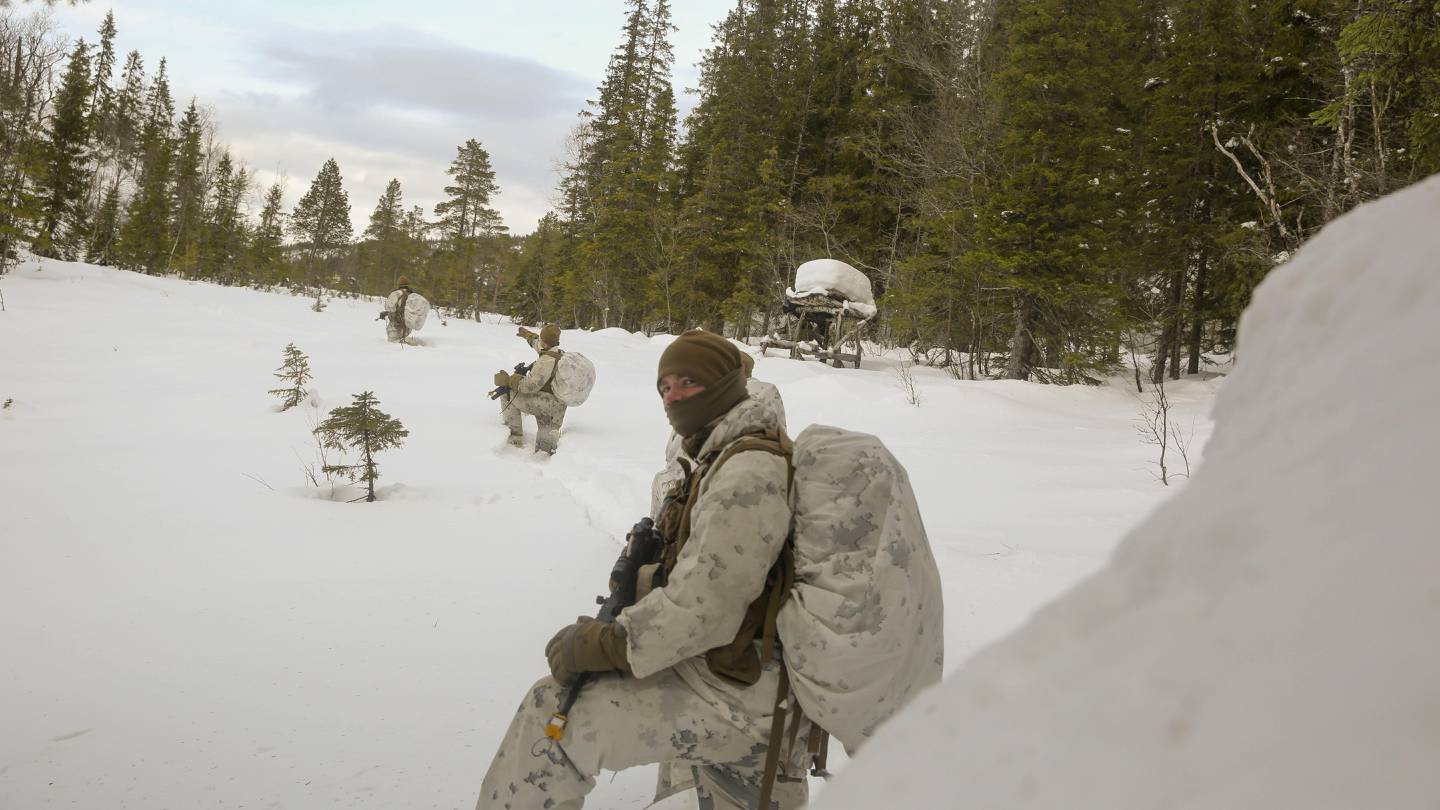 Marines with Black Sea Rotational Force conduct patrols during Exercise Cold Response 16 near Namsos, Norway, Mar. 4.
Photo Credit: Cpl. Immanuel Johnson.
The Marine Corps has pre-positioned thousands of pieces of equipment including M1A1 Abrams tanks in Norwegian caves to support 15,000 Marines for up to one month of combat operations.
Members of the 2nd Marine Expeditionary Brigade were among the 16,000 troops from 12 countries that took part in Exercise Cold Response 16, the largest winter exercise since the Cold War.
Marines train for mountain warfare and climate survival in Bridgeport, California, where they have to learn how to avoid getting frostbite and hypothermia.
Capt. Jason Grimes, a Cobra pilot, took the course in March as part of a program that helps Marine aviators work seamlessly with ground troops. He and the other Marines had to lug between 80 and 100 pounds of gear on their backs at altitude and haul more gear on a sled.
"For the actual exercise, it was 19 days we spent straight in the field or on the mountain," Grimes told Marine Corps Times in June. "That was definitely pretty difficult. We got hit by a couple of good snow storms."
Marine 1st Lt. Grant McCloskey, a Light Armored Reconnaissance platoon commander, got a taste of the Norwegian winter this March when he took part in Cold Response.
"The training we received back stateside definitely prepared us for this, but the cold weather environment makes it challenging," McCloskey said in a March 7 Marine Corps article. "We can operate in any clime and place and when we are called to go, we can execute the mission and task at hand."
Share: