U.S. Marines have returned to Afghanistan's Helmand province, but some wonder whether it's worth trying to dislodge the Taliban from areas where many Marines died.


The province has real economic value for the Taliban, said Hamdullah Mohib, Afghanistan's ambassador to the U.S.
Helmand is a hot spot for Afghanistan's drug trade, one of the Taliban's major revenue streams, Mohib told Marine Corps Times in an exclusive interview.


"So securing Helmand means cutting off a large part of the Taliban's resources," Mohib said on Monday. "From that perspective alone, it's very strategic and very important to us."


Roughly 300 Marines recently arrived in Helmand to train the Afghan National Army's 215th Corps and the 505th Zone National Police over the next nine months. The Marines will complement Afghan troops and police, not take back Helmand province by themselves, Mohib said.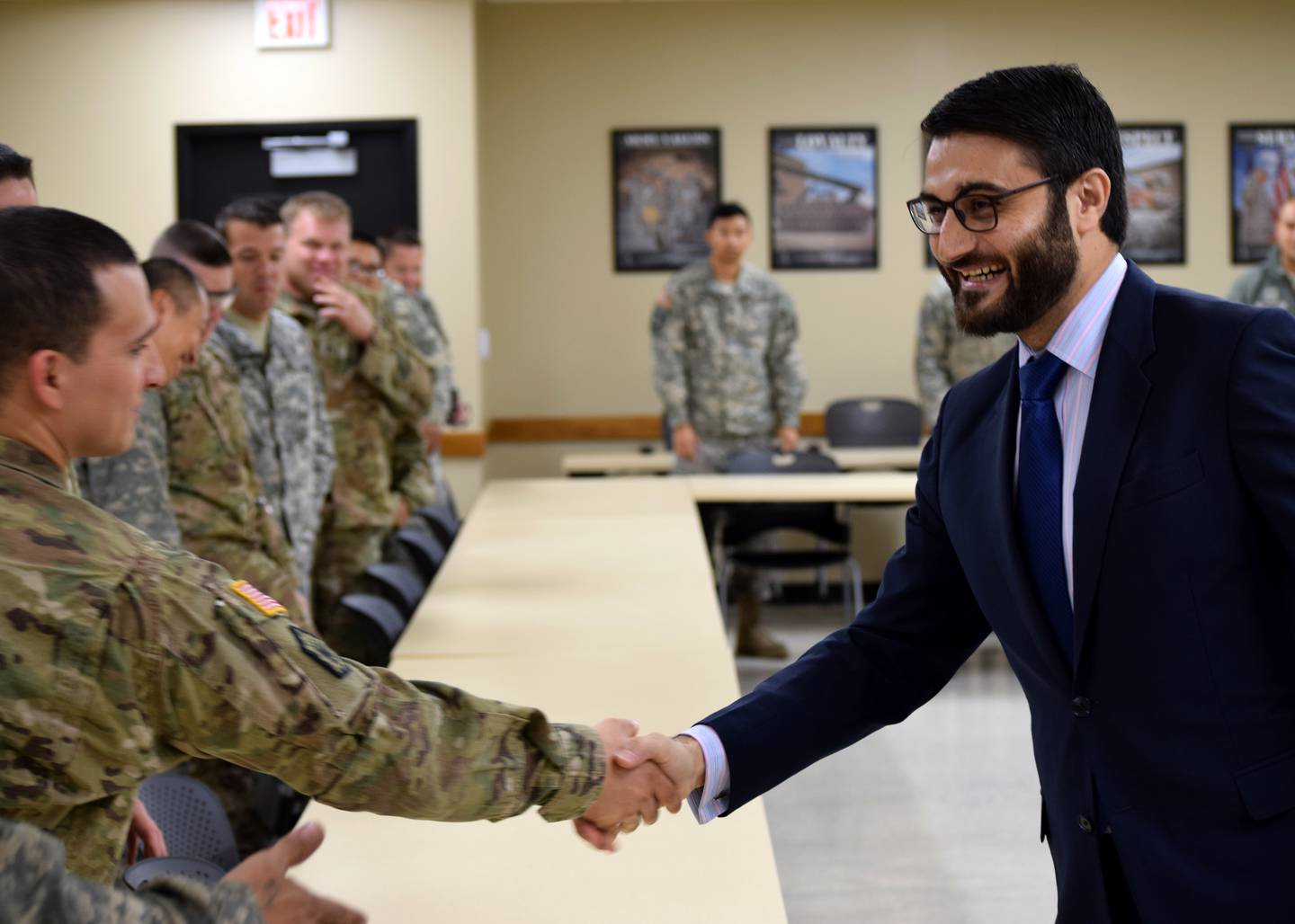 Ambassador Hamdullah Mohib meets with service members during an October trip to Iowa.
Photo Credit: Afghan embassy.
Afghan security forces have suffered serious setbacks since the U.S. military's combat mission formally ended in 2014. In March, the Afghan army abandoned the city of Sangin, where nearly 50 Marines have died fighting.
Starting last year, the Taliban made a concerted effort to take Helmand province, Mohib said.


"Their tactics and some of their weaponry changed," he said. "They started adding snipers and night vision goggles — and the amount of resources that they put into the fighting in Helmand were quite tremendous."
U.S. officials have accused Pakistan and Russia of supporting the Taliban, but Mohib declined to say where the Taliban have acquired its most advanced weaponry. 


Although the Taliban have taken territory in Helmand, they have proven to be poor at governing, Mohib claimed. Local Afghans have noticed that the Taliban have become "a criminal gang," which makes money extorting taxes.


"I know they are the right unit, with the right training and experience."
- @USArmy BG Sims as he welcomes the @USMC to #Helmand #forAfg pic.twitter.com/XX3KNcQeh3

— Resolute Support (@ResoluteSupport) April 30, 2017




The Afghan government has an ambitious goal of retaking Helmand by the end of 2017, he said. 


"We want to clear all Taliban combatants, but also make sure that we increase government capacity in that region so that we ensure that there's never a return of the Taliban of the area," Mohib said.


More broadly, the Afghan security forces are in the midst of a four-year reorganization effort that will put the Afghan National Civil Order Police and border police under the defense ministry to improve coordination with the military, he said.


However, the Taliban cannot be completely defeated as long as they enjoy safe havens across the border in Pakistan, Mohib said.

"That's part of the puzzle," he said. "We must put pressure on Pakistan to end its support to terrorist groups."



Share: