UPDATE: This story was updated on Nov. 28 to include the charges against Tomko.
The former commander of the Marine Corps' Wounded Warrior regiment is in jail again after being arrested for allegedly abusing children, officials said.
Former Col. Shane Tomko is being held without bond at the Adams County Jail in Quincy, Illinois, after being arrested on Nov. 22, officials told Marine Corps Times on Monday. The Herald-Whig newspaper first reported that Illinois authorities arrested Tomko on seven felony warrants issued by police in Virginia Beach, Virginia.
Tomko is accused of abusing three children from 2002 to the present in Virginia Beach, a police spokeswoman said. He is charged with three counts of aggravated sexual battery, three counts of indecent liberties with a child and one count of felony cruelty to children.
RELATED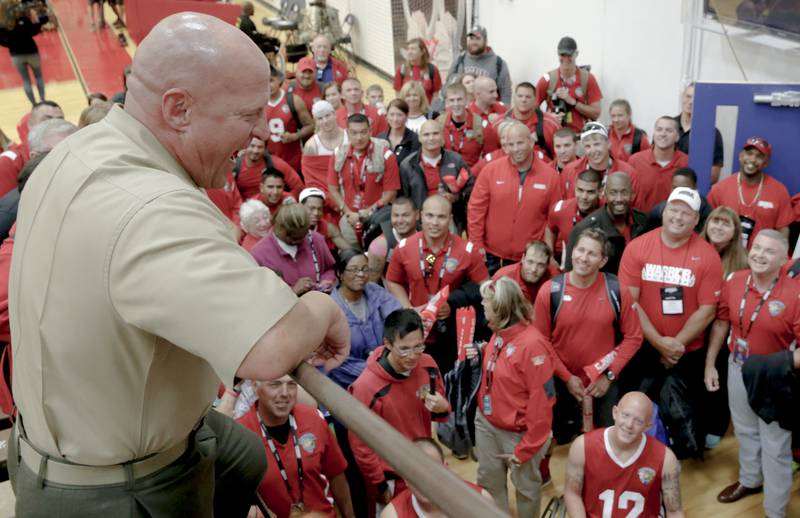 Last year, Tomko spent 50 days in confinement and was fined $10,000 after pleading guilty in May 2016 to having an inappropriate relationship with a Marine corporal and other charges. He was relieved of command of the Wounded Warrior Regiment in February 2015.
Before being sentenced in 2016, Tomko gave an emotional and rambling statement about how years of combat operations and notifying the families of Marines who were killed had taken a toll on him.
"I just feel like I've been fighting my whole life," Tomko said. "I'm tired. I just want to unclench my fists. I just want to touch my wife gentle and figure out a way to get her to love me again."
Share: