Major changes seem to be coming for the Marine Corps' force structure, as the commandant and his top leaders have given a range of new design possibilities.
There's reconfiguring the Marine Expeditionary Unit for new types of missions, and ways to change the Marine Air-Ground Task Force to better fit the needs of the force. Commandant Gen. David Berger has talked about small teams of Marines taking out ships in hotly contested areas.
But recently an entirely new formation was mentioned that could cause its own ripples across the force: a Marine littoral regiment.
"It's looking at creating the Marine Littoral Regiment and how that's going to resource and help make (Expeditionary Advanced Base Operations) successful," said Maj. Gen. Mark Wise, deputy commanding general of Marine Corps Combat Development Command.
RELATED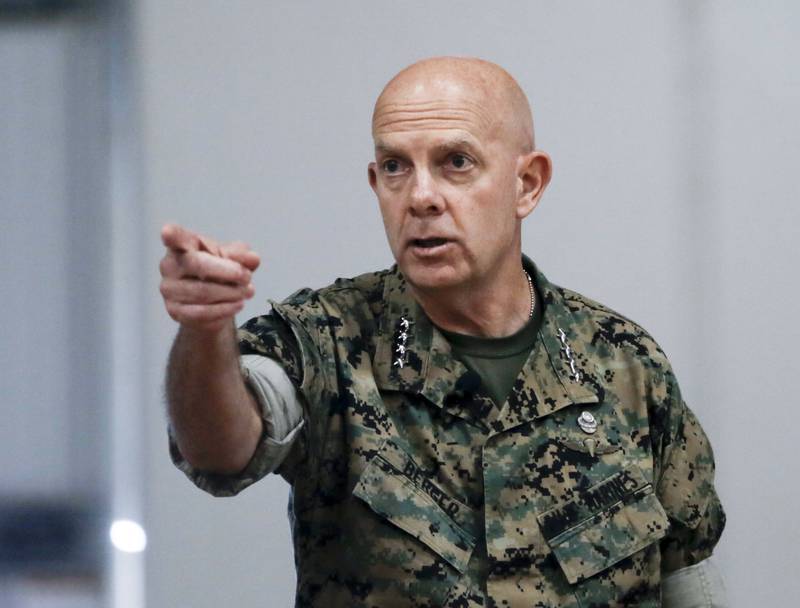 The term came up in a panel discussion at the Surface Navy Association annual symposium in Arlington, Virginia, on Jan. 15, when Wise was answering questions about how the Corps would go about building new formations to fight better alongside the Navy.
The Marine littoral regiment is "a structure that the Marine Corps is looking at to support" expeditionary advanced base operations, the command later confirmed to Marine Corps Times.
"The concept is still in its infancy and critical aspects are still being fleshed out on how it will be staffed, organized, used, etc.," Capt. Sam Stephenson, spokesman for MCCDC, wrote in an email.
The Marine Corps' current force design conversations and planning will help develop the littoral regiment concept, Stephenson said.
If the past few months of public appearances by Berger and his top generals are any indication, a littoral regiment would likely find itself in the III Marine Expeditionary Force, headquartered in Okinawa, Japan, and consist of small teams of Marines armed with a host of unmanned air, ground and maritime assets along with long range fires and air defense systems.
While details are not yet available, a regiment is a sizable unit to form in a limited manpower Marine Corps.
An infantry regiment can include up to nearly 2,200 Marines divided into three battalions along with a headquarters and support company, depending on the mission and configuration.
But there are different configurations for a regiment. The Corps also staffs combat logistics regiments to provide transport, communication and logistics assets to the ground combat forces.
In October 2019, Brig. Gen. Benjamin Watson said that the Corps was "no longer going to stick or take an uncompromising position on the sanctity of the MAGTF," while speaking at the National Defense Industrial Association's Expeditionary Warfare Conference in Annapolis, Maryland.
"If what is needed is a piece of the Marine Corps that is not organized like a MAGTF or a capability the Marine Corps can bring that is not a MAGTF, then we are not too proud to provide that," he said.
A retired Marine Corps officer now a senior adviser for the Center for Strategic & International Studies shared analysis at the same conference showing "no growth" for personnel in future Marine budget planning.
"Coastal defense, cyber, space," Mark Cancian said. "They will have to take down existing capabilities to find the structure and the space to do that."
The Corps will need to cut and shift priorities for the next fight, Berger said at a November Marine Corps Association and Foundation dinner.
"We may need to get smaller, trade some parts we've had for a long time but are not a good fit for the future," Berger said.
He looked to reduce or eliminate money going toward manned anti-armor ground and aviation platforms, manned and traditional towed artillery that can't shoot hypervelocity rounds and short range mortar systems.
All other efforts are leaning into conducting sea control and sea denial operations from the sea and maritime terrain, he said.
To make that happen, the commandant said that he wants low cost, lethal air and ground unmanned platforms, unmanned long range surface and subsurface vehicles, mobile, rapidly deployable rocket systems, long range precision fires, loitering munitions across the echelons, mobile air defense and counter-precision guided munitions capabilities, signature management, electronic warfare and expeditionary airfields.
And it appears, the Marine littoral regiment may be the formation for many of those new capabilities and manpower.
An administrative message publicized recently hints at where the best Marines ― and possibly a new type of regiment ― could find its home: in the III Marine Expeditionary Force.
"Commanding Generals, Commanding Officers, Senior Enlisted Leaders, and mentors of every rank should actively mentor and identify our highest quality NCOs, SNCOs, and officers for duty in the Pacific," Berger wrote in the Jan. 14.
The message further emphasized his "renewed focus" on pushing priorities to III MEF to counter a rising China in the Pacific.
Todd South has written about crime, courts, government and the military for multiple publications since 2004 and was named a 2014 Pulitzer finalist for a co-written project on witness intimidation. Todd is a Marine veteran of the Iraq War.
Share: