More than 2,000 Marines and other U.S. personnel have deployed to the Eastern European nation of Georgia in the last five years as part of a program that trained and equipped the country's army to fight alongside NATO troops in Afghanistan. As that program enters its final stages, officials with Marine Corps Forces Europe say the unconventional partnership could form the template for training alliances with other developing militaries in future conflicts.
Current plans have Marines deploying to Georgia to train battalions deploying in support of Army units at Bagram Airfield and elsewhere until about the end of Fiscal Year 2016, said Maj. Nick Sims, officer in charge of European Command's Coordination Liaison Advisory and Training Team, which oversees the Georgian Deployment Program. Long-term, he said, the Georgian Ministry of Defence plans to continue to support U.S. and NATO missions through the partnership.
Meanwhile, a study undertaken this year by Marine Forces Europe and Marine Corps Combat Development Command will inform the commandant of the Marine Corps and other senior Marine officials about lessons learned from the Georgia Deployment program. These in turn can inform future partnerships with other military forces for combat operations.
"[Marine Corps Combat Development Command] and MARFOREUR own the model that we can use to help anyone else with if necessary," Sims said. "It would need to be tailored by country, but it's definitely something that has been successful – not without a lot of hiccups and problems that we've worked to overcome. There's a pretty good solution to how this works."
A partnership that would eventually see the deployment of more than 11,000 Georgian troops to Afghanistan began in 2009, when the Georgian MOD inked an agreement that would deploy one Georgian army battalion at a time in support of Marines in southern Afghanistan on six-month rotations. Marines, in turn, would travel to Krtsanisi National Training Center outside the Georgian capital of Tbilisi in training and liaison teams to drill troops on the basics and mentor Georgian trainers. At the end of each training workup, Marines and Georgians would deploy side-by-side.
The agreement followed the success of narrower efforts: U.S. Special Forces units first trained Georgian troops in 2002 as part of the Georgia Train and Equip Program, and the Marines trained several Georgian elements beginning in 2003 to support combat operations in Iraq.
"In recent memory, this is the first real kind of capacity-building effort that the Marine Corps has done with a foreign country that wasn't Iraqis or Afghans," said Sims. "I think what it's given us is a baseline model to be able to do this wherever there would be a country that is going to contribute forces for another contingency."
Early success of the program led the Georgian government to expand its commitment to two battalions in 2012. The Georgian troops worked key route security missions in Now Zad and Musa Qala, Helmand province and conducted clearing operations south of Sangin district in the north of Helmand, Sims said. At the end of 2013, one battalion moved to Camp Leatherneck, the Marine Corps headquarters in Helmand, and became part of Task Force Belleau Wood, which provided security for the sprawling base.
According to a database curated by iCasualties.org, 27 Georgian troops died in support of combat in Afghanistan.
The Georgia Deployment Program recently reached a turning point; the most recent Marine Corps rotation, Georgian Training Team-14, trained a Georgian Battalion to serve alongside a U.S. Army battalion rather than a Marine Corps unit. The battalion deployed as the Marine Corps combat mission was drawing to a close.
Officials who served in that rotation said the progress the Georgian troops had made in five years of training and war fighting was remarkable. Lt. Col. Guillermo Rosales, officer in charge of the team, said the Marines, who had previously led classroom instruction, were able to sit back as Georgian troops conducted briefs and PowerPoint training.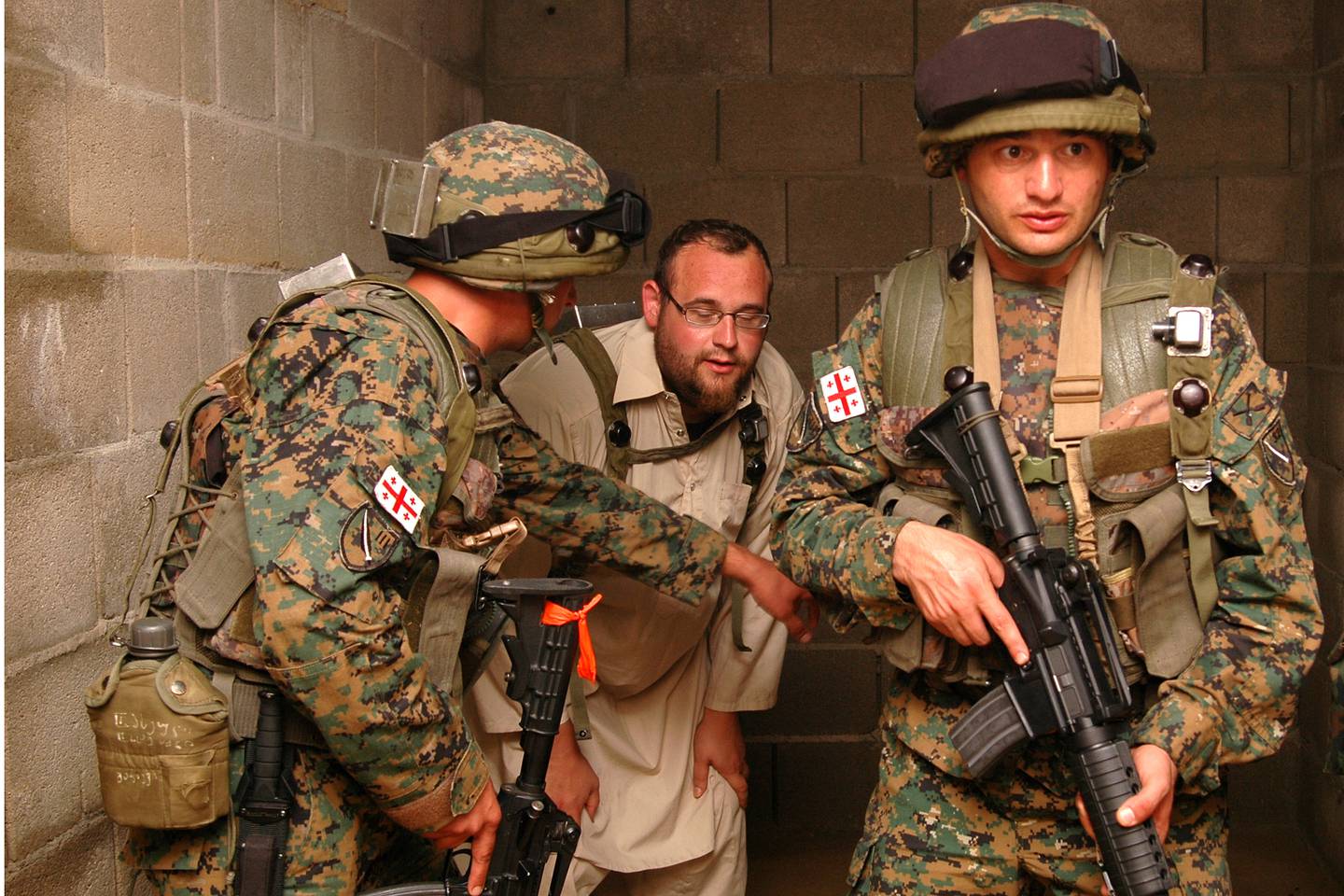 Two Georgian soldiers capture a potential high-value-target individual in a building in a simulated Afghanistan village at the Joint Multinational Readiness Center here during their situational training exercise. The Republic of Georgia's 32nd Light Infantry Battalion is the second of four battalions to undergo training through the Georgia Deployment Program, a Marine Corps-led initiative designed to prepare the Georgians for their upcoming Afghanistan deployment in support of International Security Assistance Forces there.
Photo Credit: Master Sgt. Grady Fontana, U.S. Marines
"Every rotation kind of built on the previous rotation; every rotation got better and better," Rosales said. "The motivation within the Georgian armed forces was very high. I found every soldier we were training very responsive and very attentive to the training the Marines were giving them."
Earlier training teams struggled to overcome methods and mindsets held over from the Soviet era, which emphasized top-down leadership, Marines said.
"Nothing was done without explicit instructions from whatever commanding officers were there," said Capt. Joe Holleman, an infantry company adviser with GTT-14. "We worked on delegating leadership to [noncommissioned officers] and senior enlisted."
Other challenges that were addressed over the course of training rotations included basic weapons handling and safety skills and long-term strategic planning, something that hadn't previously been a priority.
"They've identified the discrepancy," Holleman said of his experience on the most recent training rotation. "I think that right there in itself was a huge win. [The Georgian troops] didn't hit it out of the park every single time, but they understood how to plan."
The Marines described their Georgian counterparts as motivated and willing to learn and excel.
"The Georgians were very enthusiastic to get involved on a worldwide scale," Holleman said. "Doing a good job in Afghanistan makes them relevant. It makes them a country to take seriously."
Share: