The long-awaited results of an internal review of the Marines' Corps' tattoo policy may be pushed out to Marines the troops as early as this month, the top enlisted Marine sergeant major of the Marine Corps said this weekAug. 17. 
The Marine Corps expects to release a service-wide A Marine administrative message announcing the review's findings of the a recent internal the review of the existing policy and providing clarifications to policy is expected out within weeks, Sgt. Maj. Ronald Green told Marine Corps Times in an exclusive interview this week.
The message is expected to provide Marines with better clarity on their tattoo policy — but it first must has to be reviewed by Commandant Gen. Joseph Dunford, Green said. 
Multiple Pentagon sources have said the panel reviewing the tattoo policy recommended no major changes, and the forthcoming message will only clarify and reconcile any inconsistencies. But Green said nothing was certain until the commandant gave final approval.
"The policy's not final until he signs it, because even now, [Dunford] said, send it back, take another swagger at this," Green said, adding that Dunford could still send it back and tell them to take another stab at it. . "... Even , because even now, [Dunford] said, 'send it back, take another swagger at this.'"
While Green did not detail the changes, pending Dunford's final approval characterize the new policy updates, he said professional image had been a top concern in examining possible changes while ensuring that "every Marine is heard in formulating this policy." 
"America ... doesn't need a Marine Corps, America wants a Marine Corps. They [looks] for a certain image in the Marine Corps," Green said. "We want to make sure that the image that we project is the image that America wants [and one]. It's an image that the Marine Corps can live with, within ourselves and that every Marine is heard in formulating this policy."
Marines have long complained about the Corps' tattoo policy, calling it too restrictive and confusing.
In April, Sgt. Daniel Knapp, a North Carolina-based infantryman who was the subject of a Marine Corps Times cover story, said the unclear policy cost him his career. When he got a crossed rifles tattoo on his arm, Knapp said he didn't know it would run afoul of the service's policy. He had the tattoo for four years before it became an issue, he said.
"They didn't have an issue meritoriously promoting me when I had a tattoo," he said. "I had never heard anything about my tattoos. Nothing was said until I went to the career planner."
I can't say exactly what areas [it affects] because once we get it all in a box, we've got to give it back to him again."Green promised, however, that the wording on the final policy would be clear enough for any Marine to understand.
It's so that w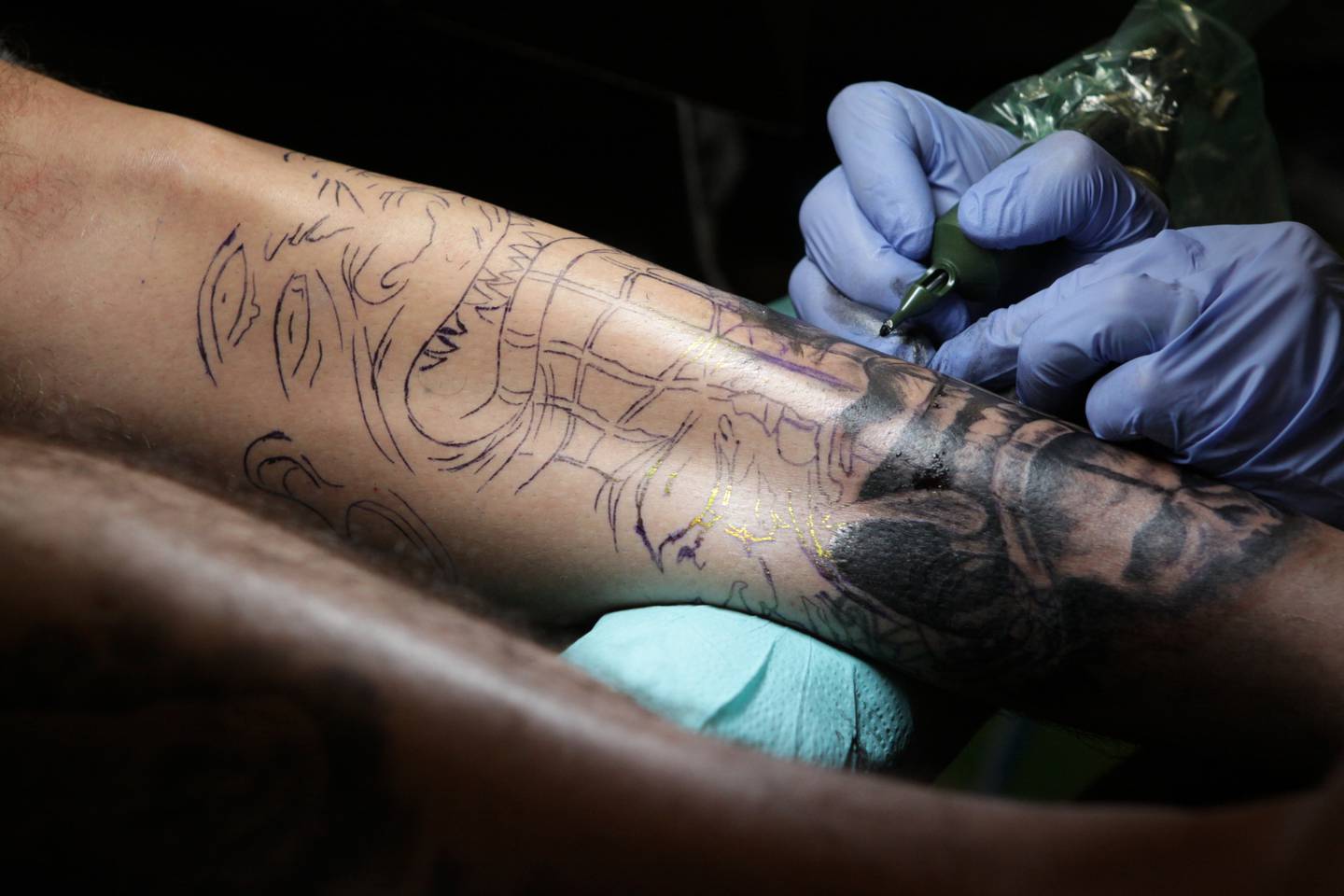 A Marine gets new body ink during a tattoo convention. Marine officials plan to release a smartphone application that details the Corps' tattoo policy in order to provide better clarity on the regulations.
Photo Credit: Cpl. John Suleski/Marine Corps
The review
Lately, Green said Marines are ready for any changes to be set  have expressed a desire to see the uncertainty that accompanied came with the policy review ended, so they can make decisions about tattoos decisions without fear for their careers.
"The consensus I've gotten lately, traveling around, is they don't want to talk about it anymore," he said. "They just want the policy."
Regardless of what the final policy update permits, Green said he expects anticipates Marines to will fall in line with the commandant's mandate. 
"Once that policy goes out, that MARADMIN, [the commandant Dunford] expects every Marine to take a full 30-inch step and follow the policy," Green said. "That's the end state."
According to multiple Pentagon sources, the panel of Marine Corps leaders conducting the review concurred with the existing policy and recommended that no major changes be made. The forthcoming message, officials said, will only clarify existing policy and reconcile any inconsistencies in rules and enforcement throughout the Marine Corps. But Green declined to characterize the update this week, saying a final decision was still in the hands of the commandant, Gen. Joseph Dunford.
A spokesman for Marine Corps Manpower and Reserve Affairs, which participated in the review, confirmed that a message was pending publication, but did not offer a timeline for release.
"This is still an ongoing process, with working groups meeting to solidify details and hone in on specificity on the draft MARADMIN that is subject to change," Maj. Rob Dolan said.
The tattoo policy received significant updates in 2007 and 2010, when the 34th commandant, Gen. James Conway, banned sleeve tattoos and created strict rules regarding tattoo number and placement. The current policy prohibits permanent ink on hands, feet, wrists and inside mouths, places limitations on imagery depicted in tattoos and limits how many tattoos can be visible in uniform.
Marines have commonly been tripped up by "grandfathering" regulations, which permitted troops to continue to serve if their out-of-regs tattoos dated from before the policy changes, but prohibited them from holding certain positions, such as recruiting jobs.
And misunderstandings among leaders persist too. In April, Marine Corps Times reported on the plight of Sgt. Daniel Knapp, who said he received a policy waiver from the 2nd Marine Division for a crossed-rifles tattoo he inked on his forearm in 2011, but was still denied reenlistment by Marine Corps Headquarters.
Share: