Fifteen West Coast Marines were recently named the top infantrymen in their division after winning the first Super Squad competition held there in 15 years.
The grueling 48-hour event held late last month at Camp Pendleton, California, pitted seven squads from battalions across the 1st Marine Division against each other in a test of basic maneuver warfare skills.
The head of the winning squad from Charlie Company, 1st Battalion, 7th Marines, said it was an opportunity to test their mettle when facing off against the division's other top Marines.
"Especially in the job we do, everybody is always trying to push to be better than the next guy," said Sgt. Joseph Todd, the leader of Charlie Company's winning squad. "Having the ability to compete against fellow Marines from other battalions lets us see where we stand against each other and makes us hungry to be better at our jobs."
Super Squad competitions, a mainstay of the infantry community in decades past, fell by the wayside during the 14 years Marines were deploying to Iraq and Afghanistan.
Last year, 2nd and 3rd Marine divisions held Super Squad competitions in North Carolina and Japan. This year, 1st Marine Division squads got their chance.
The competition kicked off with a gear inspection and Combat Fitness Test, followed by a 50-question written test on basic infantry skills. That was followed by a daylight patrol through rugged terrain in which squads found six checkpoints and called for fire from supporting mortars.
After the patrol, Marines set up a defensive position and repelled an attack. Then they completed a timed 9-mile hike to a range where they conducted a live-fire attack, and a 3-mile march to another range where they concluded the competition with a known-distance shoot.
"It is what every infantryman should be able to do — offense, defense, patrolling, basic 03 infantry knowledge [and] physical fitness," Todd said. "There were no curve balls. It comes down to how proficient you are and showing that you have the ability and tenacity to push through adversity."
Just because it was straightforward didn't mean it wasn't challenging, though. That hardship built unit cohesion, said Staff Sgt. Matthew Kohler, who helped coordinate the competition as the operations chief for 1st Marine Division Schools.
"The camaraderie it built between squads was immense, even for the guys that didn't win," he said.
That was especially true during the 9-mile hike, he said.
"That is where I saw them push the hardest and saw teamwork, as some Marines carried others' packs because of exhaustion," he said.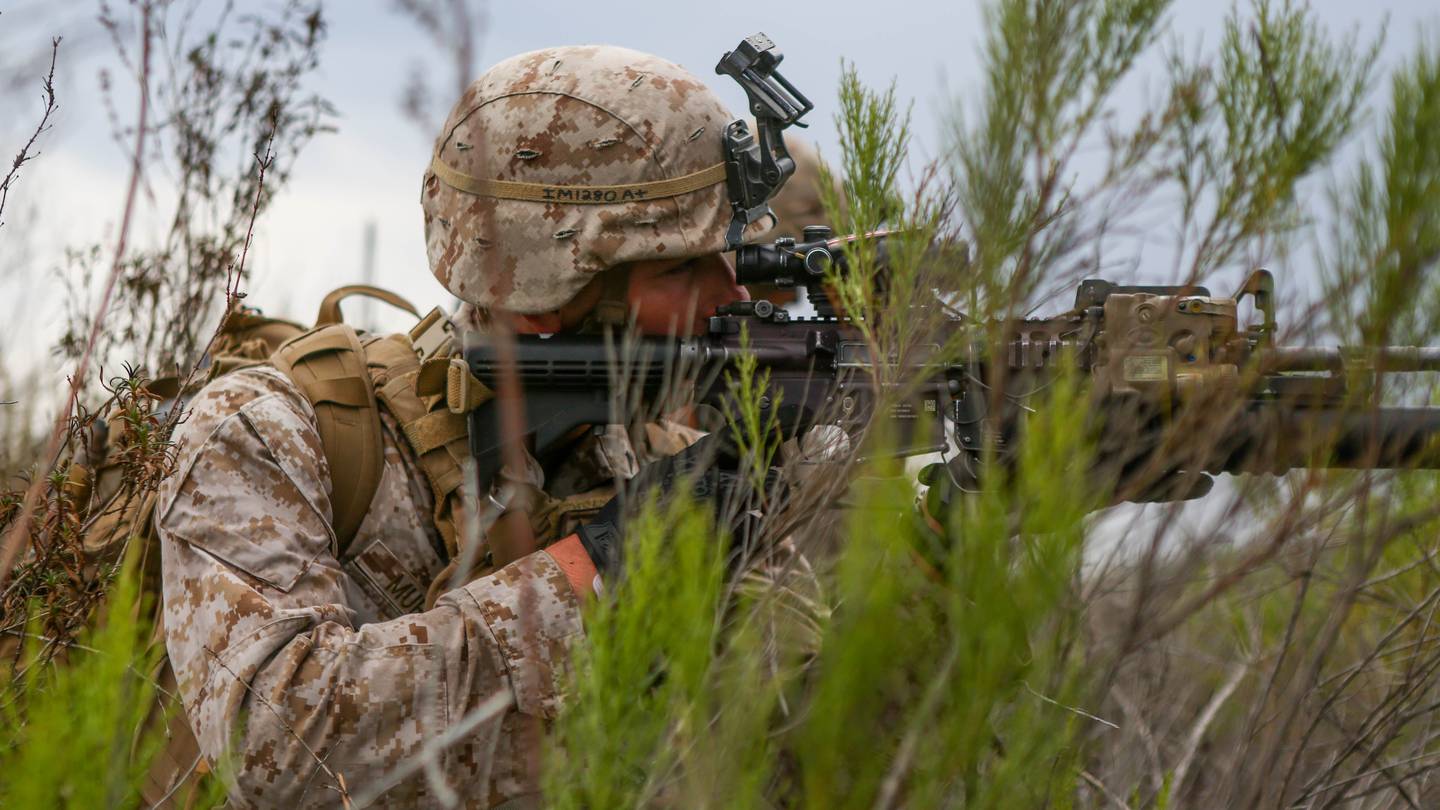 A rifleman identifies a target through his rifle combat optic during the Super Squad Competition on June 30 aboard Marine Corps Base Camp Pendleton, Calif. The Marines and Sailors tested their abilities to conduct infantry operations for the title of super squad.
Photo Credit: Cpl. William Perkins/Marine Corps
The squad didn't conduct extra training to prepare for the competitions, Todd said, but was ready because of its predeployment workup as the Marines prepare to deploy to the Middle East with Special Purpose Marine Air-Ground Task Force–Crisis Response–Central Command.
The toughest challenges the squad had to overcome were the differences in terrain, elevation and humidity between Marine Corps Air Ground Combat Center in Twentynine Palms, where 1/7 is based, and Camp Pendleton, where the competition was held.
Super Squad competitions have taken many forms since they were first introduced in 1957. At one time, the division winners would travel to Quantico, Virginia, to square off for bragging rights as the best squad in the entire Marine Corps. While Super Squads are now limited to the division level, some Marines hope Corps-wide competitions return.
"Before the war, all divisions competed against each other and were hosted by the commandant. … We definitely look forward to fostering that competition across all four divisions in the future," said Chief Warrant Officer 2 Jeffrey Bohn, the 1/7 battalion gunner.
Whether that will happen remains unclear. But those who win the division competitions can still count themselves among an elite few as they earn the right to wear the gold-plated Annual Rifle Squad Practice Competition Badge alongside marksmanship badges.
Many Marines don't recognize the badge, said Cpl. Johnathan Bush, one of the winning squad's fire team leaders, but it is something he wears with pride and honor, he said.
Kohler believes that as more Marines learn about the badge, it's likely to motivate more infantrymen to want to compete for one of their own.
"I think that will make them hungry," he said. "It is another distinguishing mark to show you are the best."
The Super Squad competition for 3rd Marine Division will be held Aug. 28-Sept. 4. The 2nd Marine Division held its second Super Squad June 17-19.
Share: