The Marine Corps' first-ever tactical training champions say it took grit and determination to beat some of the service's top athletes during a three-day competition in the California desert. Now they have some advice for Marines looking to compete next year. The Marine Corps recently crowned its first ever tactical athlete champions during the service's inaugural High Intensity Tactical Training Athlete Championship. 
Staff Sgt. Lauren Schoener 25, and Cpl. Joshua Boozer, 22, were named the Marine Corps' earned the honor after edged ing out 30 of the service's top fitness buffs tactical athletes last month during the three-day High Intensity Tactical Training Athlete Championship event at Marine Corps Air Ground Combat Center Twentynine Palms, California. The event tested functional fitness including strength, endurance and agility, and will now be held annually. 
Marines looking to compete in and win next year's event must be willing to challenge themselves physically every day, We spoke to Schoener said. , Boozer and the event's organizers for their best advice on how to become a competitive HITT athlete — and win.Above all it takes grit and determination Schoener and Boozer said.
"If you don't feel like you are challenged every day, you are doing something wrong and yYou need to dig deep to get to the level you want to be on," said Schoener, who serves in Marine Corps Air Station Yuma's provost marshal's office. "Set a goal for yourself and then surround yourself with like-minded people — a gym partner who will push you to be better. There is no shortage of competition in the Marine Corps. Harness that to make yourself better."
The first step, though, is to "get deeply involved in your local installation's HITT program," said Master Sgt. Daniel Jackson, the staff noncommissioned officer in charge for Marine Corps Community Services at Marine Corps Base Quantico, Virginia.
Getting involved in HITT is exactly how Boozer, an ammunition technician with 1st Tank Battalion at Camp Pendleton, California, got into peak fitness to clinch the victory. This summer he began meeting with two civilian HITT coaches at Marine Corps Air Ground Combat Center Twentynine Palms.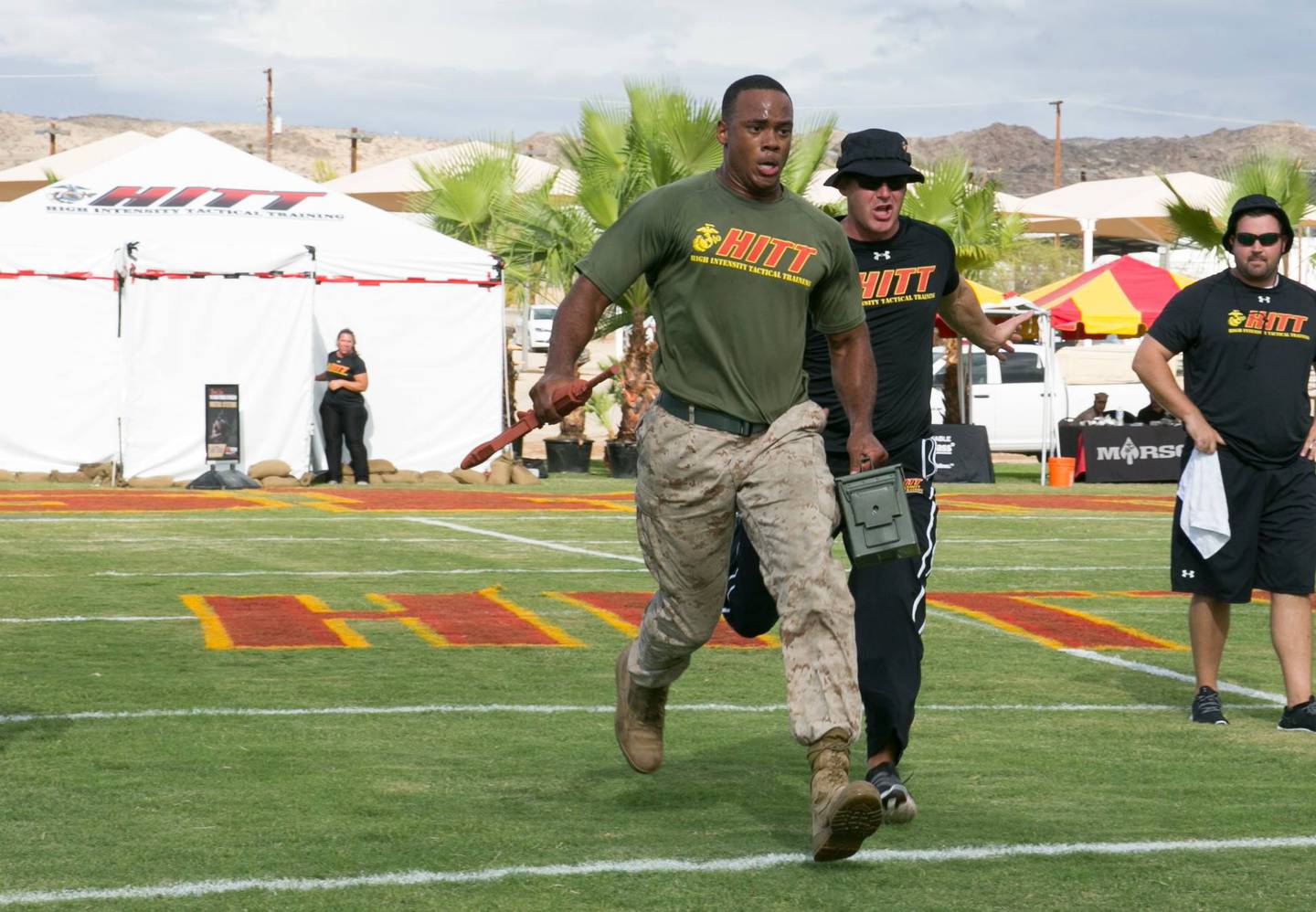 Cpl. Joshua Boozer, an ammunition technician with 1st Tanks, began meeting with HITT trainers before work to prepare for the servicewide competition.
Photo Credit: Lance Cpl. Thomas Mudd/Marine Corps
It is likely the best thing any Marine who is interested in beginning to compete in HITT events can do especially if like Boozer their job keeps them busy. Boozer said he job keeps him busy, so outside of unit physical training, he said he isn't able to work out as often as he would like. A couple months before the HITT championship, he said he started meeting so for the two months preceding the competition he met up with coaches as early as in the morning at 5:30 a.m., and then again at lunch.
On top of that, the corporal said he plays basketball or hits the gym with friends. Apart from that he said he stays fit and agile by playing basketball occasionally and hitting the gym whenever he can find a friend to go with him. That introduces an Adding that element of competition which drives him and is a key to his success, he said. But even when he couldn't find a friend to hit the gym, he would workout in his barracks room using an Insanity Workout DVD he pops into his laptop. It doesn't take anything fancy.
Schoener, a CrossFit instructor and off-base trainer, takes a more methodical approach. She does  saying she performs a CrossFit workout every morning for cardiovascular endurance and muscle strengthening. Every other evening, she does a  and a supplemental weight lifting workout every evening.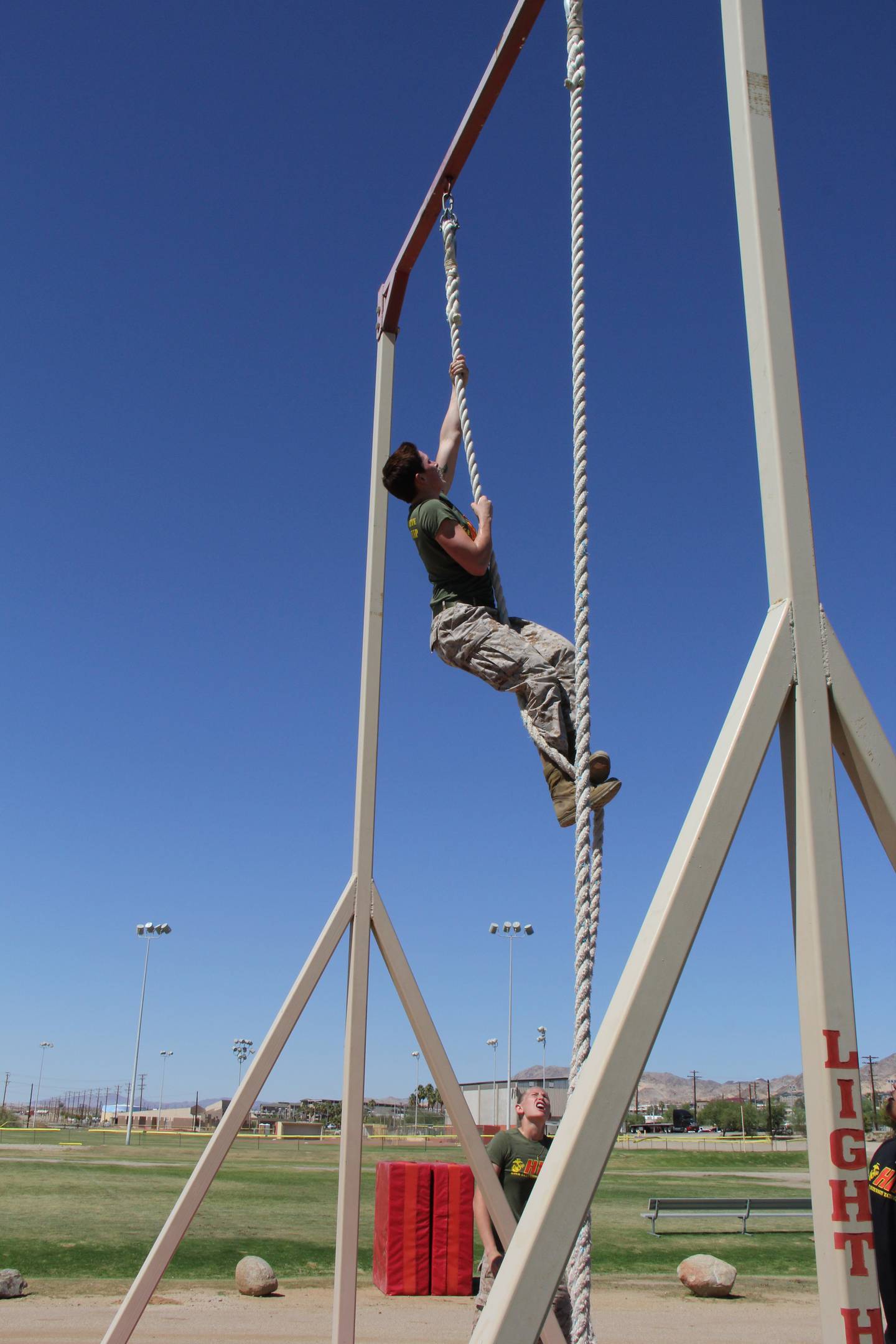 Schoener stressed the importance of a well-rounded approach to fitness.
Photo Credit: Marine Corps
"Combining two different fitness programs has worked for me because they are on opposite ends of the spectrum," she said. "I feel it is important not to neglect one because you don't like it." she said. "Fitness is something that if you don't work on what you are worst at, you will never be good."
She said if Marines are just doing bicep workouts they are making a mistake.
"You have to train your whole body -- so that ranges from squats to bicep curls to even Olympic weightlifting moves like snatch-and-grab or clean-and-gerk," she added.
Her favorite CrossFit workout is "Helen," which . That requires three sets that each consist of a 437-yard sprint, 21 kettlebell swings and 12 pullups, for time.
Diet
Being a top tactical athlete also means making smart diet choices, Boozer and Schoener said.
Boozer said he eats a pretty average diet from the chow hall, but uses common sense to avoid the obviously bad choices like pizza. He also makes breakfast his biggest meal, eating a mostly protein-heavy dish like through eggs with and lots of fruit, he said.
Schoener takes a more hands-on approach. She's not quite a diet fanatic, but said she tries to prepare her meals ahead of time so she knows exactly what she's eating. said she falls somewhere between Boozer's laid back, common sense approach and fitness fanatics who spend the weekend ensuring the have pre-prepared meals for the entire week so they know exactly how much and what they are putting into their body. As a Marine who works long hours, that isn't always possible.She does meal preparation every Sunday to ensure she has meat and vegetables readily available throughout the week.
As a busy Marine, she can't always do all the prep she'd like, but still tries to make smart choices in the moment. "But the weekday schedule is crazy so I make smart choices when my food isn't available," she said.Her favorite meal, she said, is ground turkey tacos with sweet potatoes and vegetables on the side.
"I do enjoy my ice cream," she said. "But that is the exception. If you are not eating the main and healthy things your body needs, it is going to feel the effects."
You've got to work out hard and eat right to contribute in the workplace as a Marine and be competitive in the gym, she said.
Share: