Marine reservists participating in NATO's largest amphibious exercise in more than a decade Exercise Trident Juncture are putting new sea-basing concepts to the test, proving the usefulness of utility staging gear afloat basing in a post-war Afghanistan operating environment.
One of the main challenges of unpredictable amphibious operations is providing follow on forces with the goods and gear they need to sustain themselves, said according to Lyle Layher, the pre-positioning officer for Marine Corps Forces Europe and Africa prepositioning officer. That makes the ability to link marry ground forces with vessels like the maritime pre-positioning ship USNS Sgt. William R. Button more important than ever.
To test prove the concept, Marines conducted an offload Oct. 21, in Rota, Spain, to supply 4th Light Armored Reconnaissance Battalion during Exercise Trident Juncture. Gear was taken off the ship to give 4th LAR Marines the  out of Camp Pendleton, California, with the vehicles and fuel they need to assault 300 miles inland, where they will participate in a battlefield scenario with allied NATO forces.
"What is great about Exercise Trident Juncture is it gave the opportunity for Reserve Marines to bring the USNS Button into port and do a selective offload of assets that they needed to use," Layher said.
In all, the unit offloaded 62 pieces of gear just to get to their LAVs. That was by design, as  but that is to be expected since every square inch of the ship will be is utilized in real-world scenarios. The exercise moved It went quickly and without a hitch, Layher said he added.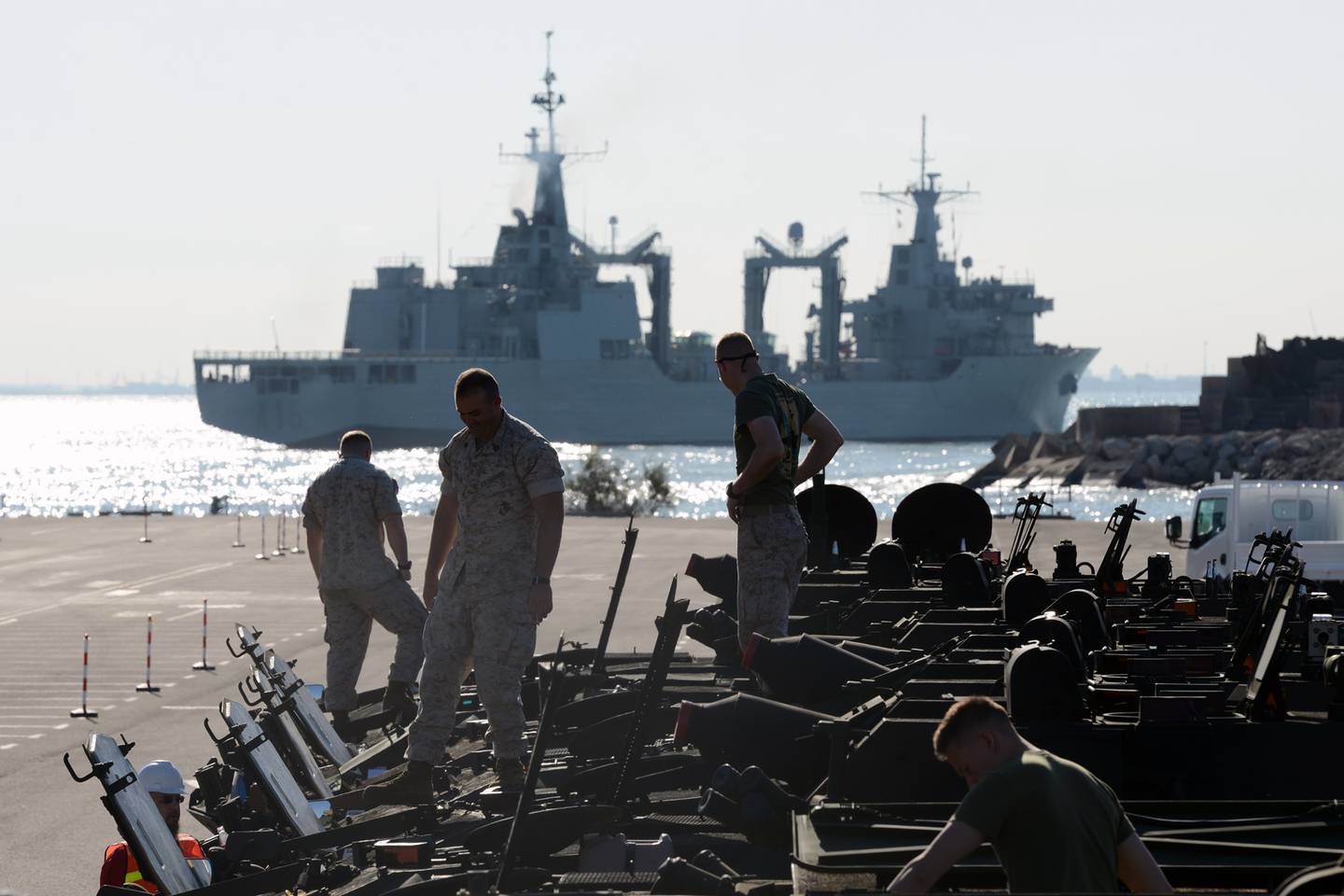 Marines inspect vehicles on the pier aside the maritime pre-positioning ship Sgt. William R. Button during Exercise Trident Juncture. The vehicles were offloaded during the pre-positioning test and are now being used by 4th Light Armored Vehicle Battalion during a mock raid.
Photo Credit: Jason Johnston/Marine Corps
About 50 members of Combat Logistics Regiment 45 offloaded the gear from the with ship for 4th LAR. After a safety brief, they had LAVs ready on the dock within hours, ready for 4th LAR to use to push inland.
In all, the ship can hold everything a Marine expeditionary brigade EB needs. That includes 1 million gallons of water and about the same amount of fuel, food and medical supplies. It can also hold shelter materials, generators, 150 containers of ammunition, tanks, amphibious assault vehicles and, LAVs artillery, Humvees and an array of other vehicles — the full spectrum of combat equipment, Layher said.
"This capability is unique to the Marine Corps," he said. "[It allows us]able to meet combatant commander's requirements in Europe and Africa where you hit some hot spots," he said. "I can only speak for Marine Forces Europe and Africa, but the commanders are very aware of and very energized to enhance the pre-positioning posture in our region."
Staging gear off Africa's coast could allow Marines flying long distances to reach their targets to travel light. Since the Corps' crisis response force for Africa is based in Europe, would In the case of Africa that is because of the immense distances Marines must fly to reach targets. Special Purpose Marine Air Ground Task Force – Crisis Response – Africa is actually based across southern Europe meaning Marines must fly the equivalent of a trans-Atlantic flight to reach many African flash points. Positioning gear afloat somewhere in the Gulf of Guinea would make it just a short airlift away. Maritime prepositioning Not every bit of the
Marines also stage gear on land, which they've tapped into during Exercise Trident Juncture,  Corps prepositioning capability is afloat, however, Layher said. The service also has six caves in Norway filled with vehicles and equipment, and they've put that gear to use. that in fact came in handy for Trident Juncture.
"We just pulled some small cables and things we needed for the exercise. It sounds small, but it was an equipment shortfall," he said, and it proved exactly how those resources in Norway can come in handy when unexpected needs arise.
On Nov. 3, 4th LAR will return from their operation. The vehicles and gear they took off the Button will be reloaded and sealed up by the ship's crew.  those vehicles and gear, and the ship's crew will set to work sealing everything up. By Nov. 7 the Button will be back at sea, and the crew will be prepared to respond to any real-world contingencies in that part of the world. ensuring it is handy and serviceable for some future, unforeseen battle.
Share: