A Marine veteran in Congress  member of the House Armed Services Committee has called on the country's top law enforcement agency Defense Secretary Ash Carter to investigate — and allow the FBI to investigate — a senior Navy official's decision to force out involuntarily discharge of a Marine officer who tried to warn his comrades in Afghanistan about Maj. Jason Brezler, a civil affairs officer who shared classified information with colleagues in Afghanistan in 2012 in an attempt to warn them about a suspected Taliban conspirator.
In a Dec. 3 letter to Defense Secretary Ash Carter, Rep. Duncan Hunter, R-Calif., ornia, in a Dec. 3 letter to Defense Secretary Ash Carter said the Federal Bureau of Investigation FBI should look into the case involving Maj. Jason Brezler, a Reserve civil affairs officer who sent classified information from a personal email account in 2012.
Scott Lutterloh, the acting assistant Navy secretary for manpower and reserve affairs, recently upheld the decision that Brezler be honorabley discharged from the Marine Corps. But Hunter said Brezler's case received "inadequate attention by the Department of Defense Inspector General and Navy criminal investigators." 
In his letter, Hunter urged requested the Pentagon to take steps to launch an FBI Federal Bureau of Investigation investigation of the case, to include the U.S. military's relationship with Sarwar Jan, a corrupt Afghan police chief and the man at the center of Brezler's email warning.
"An independent and thorough investigation is now required — and it is my belief that this must now occur outside the control of the Department of Defense," Hunter wrote.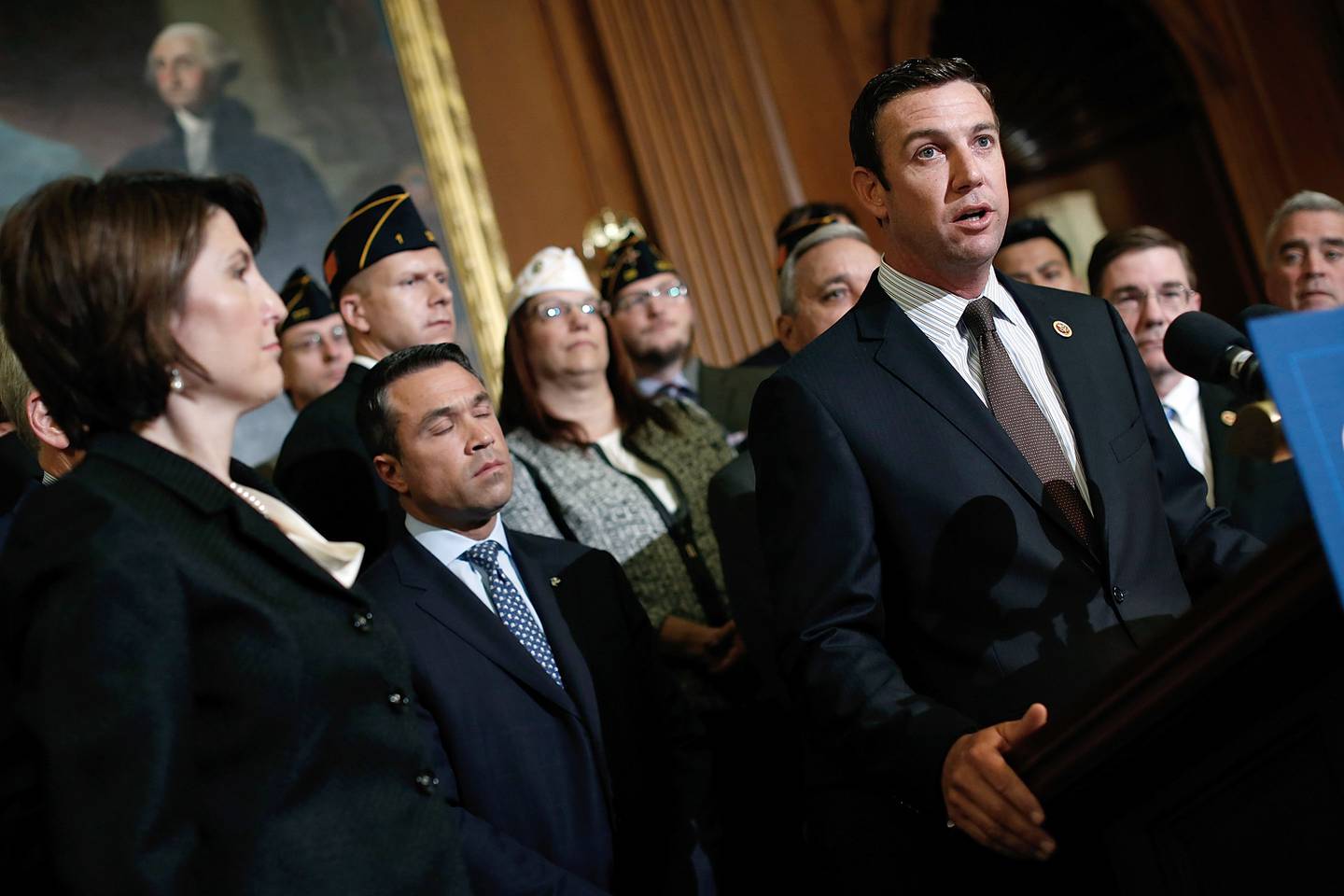 Rep. Duncan Hunter, R. Calif., is calling on the Defense Department to investigate a Navy official's decision to uphold the move to discharge Maj. Jason Brezler form the Marine Corps.
Photo Credit: Win McNamee/Getty Images
Just weeks after Brezler sent his emailed warning, one of Jan's unpaid personal servants — a 17-year-old "teaboy" — shot and killed three Marines: Staff Sgt. Scott Dickinson, Cpl. Richard Rivera and Lance Cpl. Greg Buckley.
"As you are well aware, Sarwar Jan has been accused of severe misconduct, not just in relation to Major Brezler's case, but for other instances of corruption and support for the Taliban and child abduction," wrote Hunter, a former Marine officer.
Hunter said the FBI bureau and DoD should investigate reports of child sex abuse at Forward Operating Base Delhi in Garmsir Ddistrict of Afghanistan's Helmand province. They should also look into failures in the investigation related to the August 2012 murders of the three Marines, reports of obstruction of justice and retaliation, and the military's ongoing relationship with Sarwar Jan. 
The lawmaker also demanded that Naval Criminal Investigative Service release investigations findings into regard to whether Sarwar Jan committed illegal sex crimes against children while on FOB Delhi, used U.S. government funds to solicit and abuse his victims, whether anyone in the U.S. military was aware of the crimes, and if there were any actions taken to alert military officials or authorities.
Brezler's lawyer, Michael Bowe, has called the decision to force his client out of the military as "obvious retaliation" after Brezler sought the support of his congressman, Rep. Peter King, R-N.Y. The U.S. District Court for the Eastern District of New York will soon consider their challenges to Brezler's separation.
Share: