Veteran Marine Cpl. veteran Chris Van Etten felt like he didn't have a purpose after losing his legs from an improvised explosive device blast during a 2012 deployment to IED in Sangin, Afghanistan, in 2012.
"For a while there, all I did was sulk and moan," the former infantry rifleman said.
When Van Etten started getting out of shape, he decided he needed to start exercising again — and that's what got him out of his funk.
Four years after losing his legs while deployed to Sangin with 1st Battalion, 7th Marines, he's now part of Jockey's Show 'Em What's Underneath campaign, which that focuses on sharing inspirational stories. Others can join Van Etten in sharing motivational photos by using Jockey's meme generator and posting on social media with #ShowEm.
Matthew Waller, senior manager of corporate communications and brand partnerships at Jockey, said everyone has their tough moments.
"We want people to share who they are and what really drives them," he said. "Whether it's an accomplishment, or they're getting married, or they just want to upload a picture of their family. Then they can layer on top of that what it means to them."
Marine Corps Times spoke with Van Etten about his journey from grunt to model. Excerpts of that interview, edited for clarity:
Q. How did you get involved with the Jockey campaign?
A. I was trying to find a new way to kind of spread my message and try to inspire others. I wasn't doing a very good job at trying to get it across nationally. It just so happened that Jockey was looking for everyday people with inspiring stories.
With a little bit of luck and some friends connecting us, we were able to get together. Next thing you know, I'm working with Jockey to spread the message.
Q. What message are you trying to convey?
A. My message in particular is about working out of a tough situation. I did go down a dark road like a lot of vets do, and I didn't want to be like that. I didn't want to let the bad things control my life.
I forced myself to work out and try to do something better with my life. It became easier and easier, and I became a better person, both physically and mentally.
Q. Why do you think the Jockey campaign is important?
A. It's important to everyone including veterans because it promotes self-betterment, along with self-acceptance. Everyone has something to give to the world. Veterans are revered and looked up to, and for them to portray that confidence and that strength will only make the message better.
Q. Tell me about hHow did exercise and physical training helped you recover from your injuries?
A. I was out of the hospital in less than a month — it was really quick. Then things kind of slowed down, and I wasn't in fast-paced recovery mode.
It wasn't until after I got out of rehab that I hit the lowest part of my life. Right around the one-year anniversary of the incident, all those thoughts and feelings bubbled back up to the surface. Now that I was out, and I wasn't so driven into getting out of rehab, all I could do was dwell on it. One day, I decided I'm just going to go to the gym. I did that every single day to work myself out of this funk.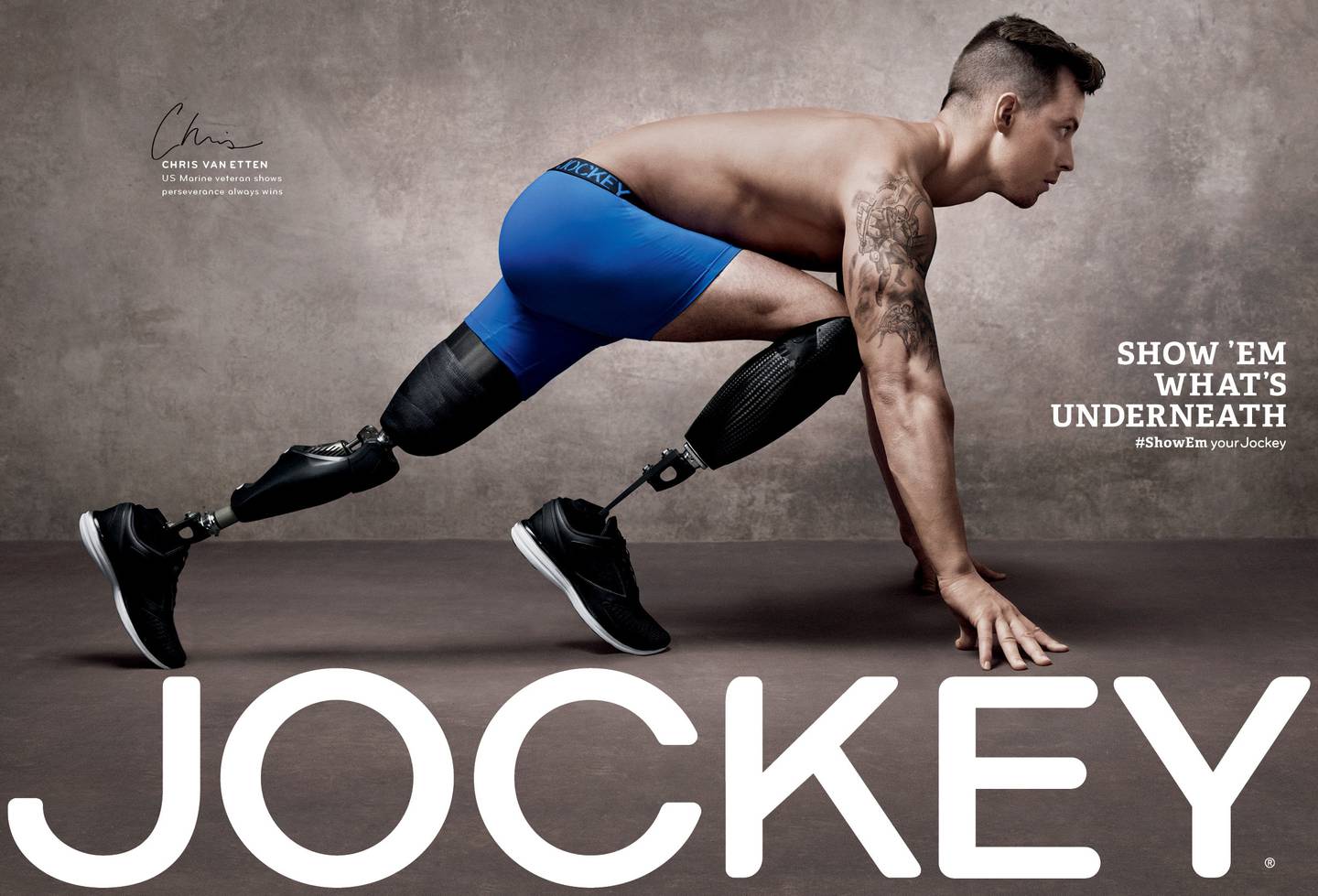 Marine veteran Chris Van Etten is one of three spokespeople for the Show 'Em What's Underneath campaign.
Photo Credit: Jockey
The big turning point and what kind of got me on this whole direction is one day I was in the gym finishing up a workout when this lady came in. We didn't say anything to each other, and later on that day a friend of mine sent me a Facebook message saying, "Hey I think my friend is talking about you." She sent me a screenshot and it was the same lady. She wrote a Facebook post about a double amputee veteran lifting weights and said she was having a really bad day before this but seeing me working out and working hard made her realize that my day is not as bad as it could be. That was the light bulb.
What happened to me, it did suck and it's hard to get over. I can make this bad situation into a great opportunity. Now I'm here with Jockey being able to tell my story. The hope is someone seeing that whatever hardship they're going through, they'll see my ad or my picture and it'll be like, "Wow, this double amputee can get through all of this and be such a positive person, what can I do?"
Q. What's next for you?
A. Short term: I'm trying to get ready to go to school in the fall for business. I just recently got engaged, and we're trying to plan the wedding for late spring.
Long term goals: I still want to be inspiring people. I want to hopefully open up a gym that anyone can go to but that has adaptive training for anyone who physically has a hard time doing anything, with specially trained trainers. I would love to start speaking publicly as well —  this campaign kind of gives me a platform and gets me used to talking to people.
Charlsy Panzino covers veterans education, employment and transition issues, as well as travel, entertainment and fitness. Email her at cpanzino@militarytimes.com. 
Charlsy is a Reporter and Engagement Manager for Military Times. Email her at cpanzino@militarytimes.com.
Share: