All Marine AV-8B Harrier jump jets in Japan are temporarily suspending flight operations following Thursday's crash of a Harrier about 100 nautical miles east of Okinawa.


The Harrier pilot has been released from the hospital after being rescued by the Air Force's 33rd Rescue Squadron, which is based at Kadena Air Base, Okinawa, according to a III Marine Expeditionary Force news release on Sept. 23.

An investigation into the crash is underway, Marine Corps officials said.


"It is common practice for units to execute operational pauses following a significant mishap," noted the news release, which did not say how long the pause will last. "During this period, every AV-8B will be inspected to ensure they meet operational readiness standards."


Over the summer, the head of Marine Aviation ordered all non-deployed aircraft to stand down for 24 hours following three separate crashes of F/A-18 Hornet fighters between June and August. Two Marine pilots were killed in those accidents.

"Enough things came together for me to go: I want everybody to take a knee and tell me what they see from their foxhole," Lt. Gen. Jon Davis told Marine Corps Times on Sept. 6.  "Everybody did that. We didn't see anything systemically wrong with that squadron or the F/A-18."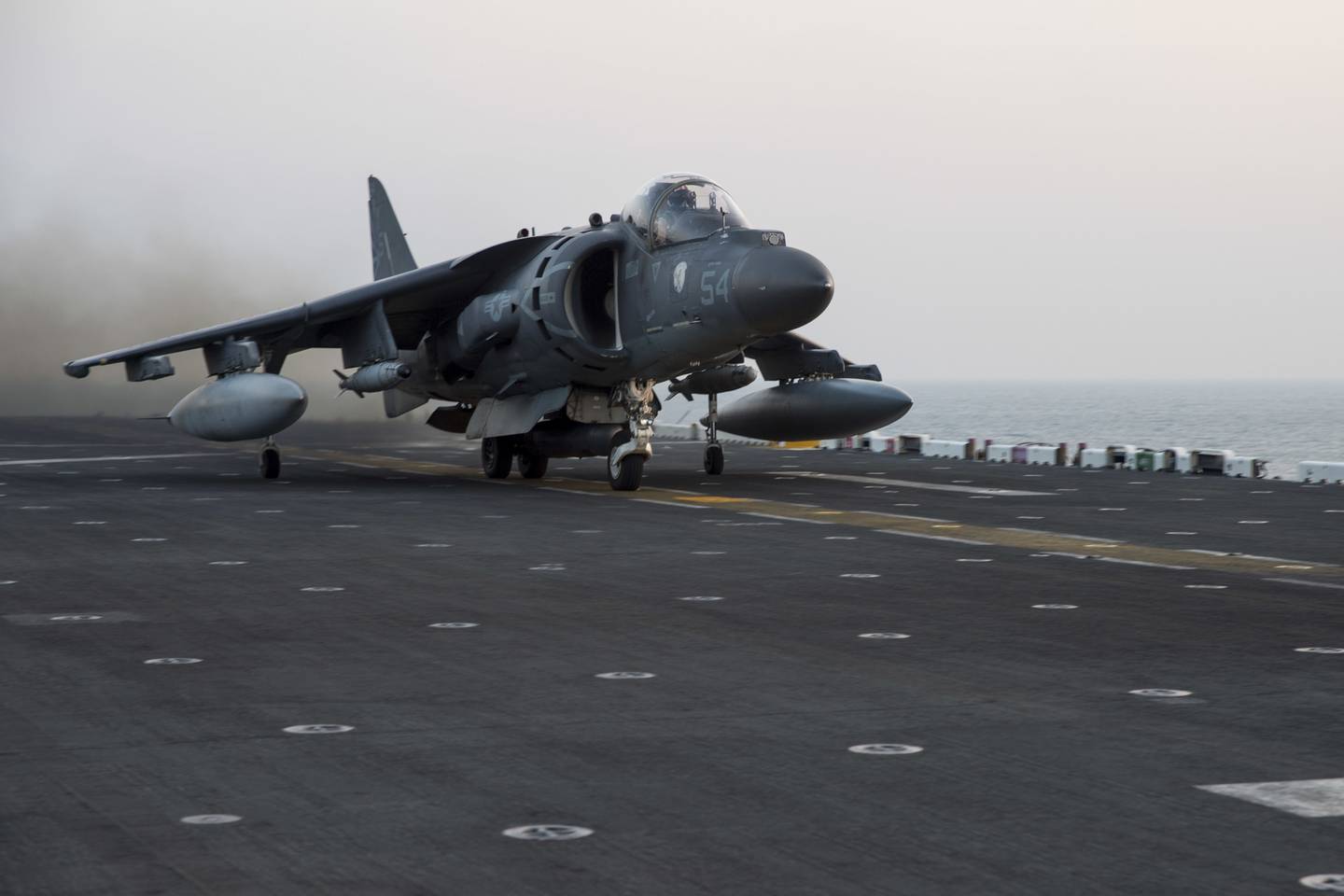 An AV-8B Harrier assigned to Marine Medium Tiltrotor Squadron 162 (Reinforced), 26th Marine Expeditionary Unit, launches from the amphibious assault ship Kearsarge for a mission over Iraq in support of Operation Inherent Resolve.
Photo Credit: MCSA Ryre Arciaga/Navy
Thursday's crash marked the third major mishap involving a Harrier this fiscal year. A Harrier crashed off North Carolina on May 6. The pilot ejected safely and was not injured.
On March 8, an AV-8B caught fire while preparing to take off from amphibious assault ship Kearsarge for an airstrike against the Islamic State. Col. Robert Fulford, then commander of the 26th Marine Expeditionary Unit, later said it was a "true miracle" that no one was hurt by the initial explosion.
"The response of the crash fire rescue crew immediately to be able to contain and handle the situation on the flight deck prevented a further tragedy from occurring," Fulford told Marine Corps Times on June 30.


The Harrier has the highest mishap rate per flying hour of any Marine fixed-wing aircraft, according to data from the Naval Safety Center for fiscals 2011 to 2015.
A possible reason for the Harrier's relatively high mishap rate is that it is a much more technologically complicated machine than the Hornet because the AV-8B is a short take-off and vertical landing aircraft, said Todd Harrison of the Center for Strategic and International Studies think tank.
"One of the big improvements they're making in the F-35B is that much more of it is automated and handled by the flight control system," Harrison told Marine Corps Times. "In the Harrier, it's a lot of stick and rudder, feeling the seat of your pants."



Another issue unique to the Harrier is that it is a single-engine aircraft, so if a Harrier's engine fails, the plane will crash unless it is near a runway, said retired Navy Cmdr. Christopher Harmer.

"The AV-8B Harriers are getting old; the newest USMC AV-8B Harrier is at least 20 years old, and most of the airframes are approaching 30 years of service," said Harmer, senior naval analyst at the Institute for the Study of War. "The older the aircraft get, the more likely they are to suffer mechanical malfunctions."
Harriers are flying longer than they were initially expected to, said Jesse Sloman, of the Center for Strategic and Budgetary Assessments. The fleet was supposed to be retired in 2012.
"Since January 2015, the Marine Corps has undertaken an aggressive improvement program to improve Harrier readiness and those efforts are paying off as the number of available aircraft and flight hours available per pilot continues to climb," Sloman said. "However, there's no question that the Corps needs to acquire F-35s as quickly as possible to ensure the AV-8Bs can be retired on schedule."

Davis ordered that the Harrier go through an independent readiness review shortly after becoming deputy commandant for aviation, said Marine Corps spokeswoman Capt. Sarah Burns. The review lasted from August to December 2014.


"The Marine Corps is beginning to see increased readiness rates across the fleet after implementing

solutions that were outlined in the review," Burns said.
As of July 31, Harrier squadrons have on average 9.4 flyable aircraft and Harrier pilots are getting an an average of 13 flight hours per month, she said. That represents a 23 percent in the number of flyable Harriers per squadron and a 26 percent increase in flight hours per month since December 2014.
Ultimately, the Marine Corps plans to have 11 flyable Harriers per squadron and give Harrier pilots 15.4 flight hours per month, Burns said.

Jeff Schogol covers Marine Corps leadership, gender integration, aviation, and Pacific-based Marines for Marine Corps Times. He can be reached at jschogol@marinecorpstimes.com

Share: