Six years since President Obama declared an end to the American combat mission in Iraq, the Marine Corps continues to serve a "righteous" mission in the country, advising Iraqi forces on how to reclaim territory held by the Islamic State, senior Marine Corps leaders say.

Marines have been "intimately involved" in helping Iraqi security forces retake broad swaths of the country from the terror group, Marine Brig. Gen. Rick Uribe told Marine Corps Times on Sept. 21.


"You know the old adage: You give a man a fish, you feed him for a day; you teach him to fish, you feed him for a lifetime," Uribe said. "I think the most important thing that they're doing is training the Iraqis how to be self-sufficient and run their own operations."


Uribe's official title is the Combined Joint Forces Land Component Command deputy commanding general to Combined Joint Operations Command-Baghdad. As such, he advises senior Iraqi general officers on planning and carrying out operations and recommends to the Iraqis whether targets should be struck by coalition aircraft or artillery.


Several hundred Marines are in Iraq, some of whom work out of Iraqi air bases at Al Asad and Al Taqaddum to work with senior Iraqi military leaders and train Iraqi security forces, Uribe said.


"It's really advising and assisting and getting Iraqis to think about how to conduct operations, how to conduct certain training, how to conduct certain fires once we go into execution …  not necessarily going into the fray, if you will, with them once we're executing a certain operation," Uribe said.


With the Marines' assistance, the Iraqis have successfully retaken Ramadi, Fallujah, Hit and Haditha in the Euphrates River valley, according to Uribe.


"The Marines are integral in not only current operations but also the planning as we're going up to the north and advising and assisting at the higher levels on the plan for, eventually, Mosul operations and follow-on operations after that," Uribe said.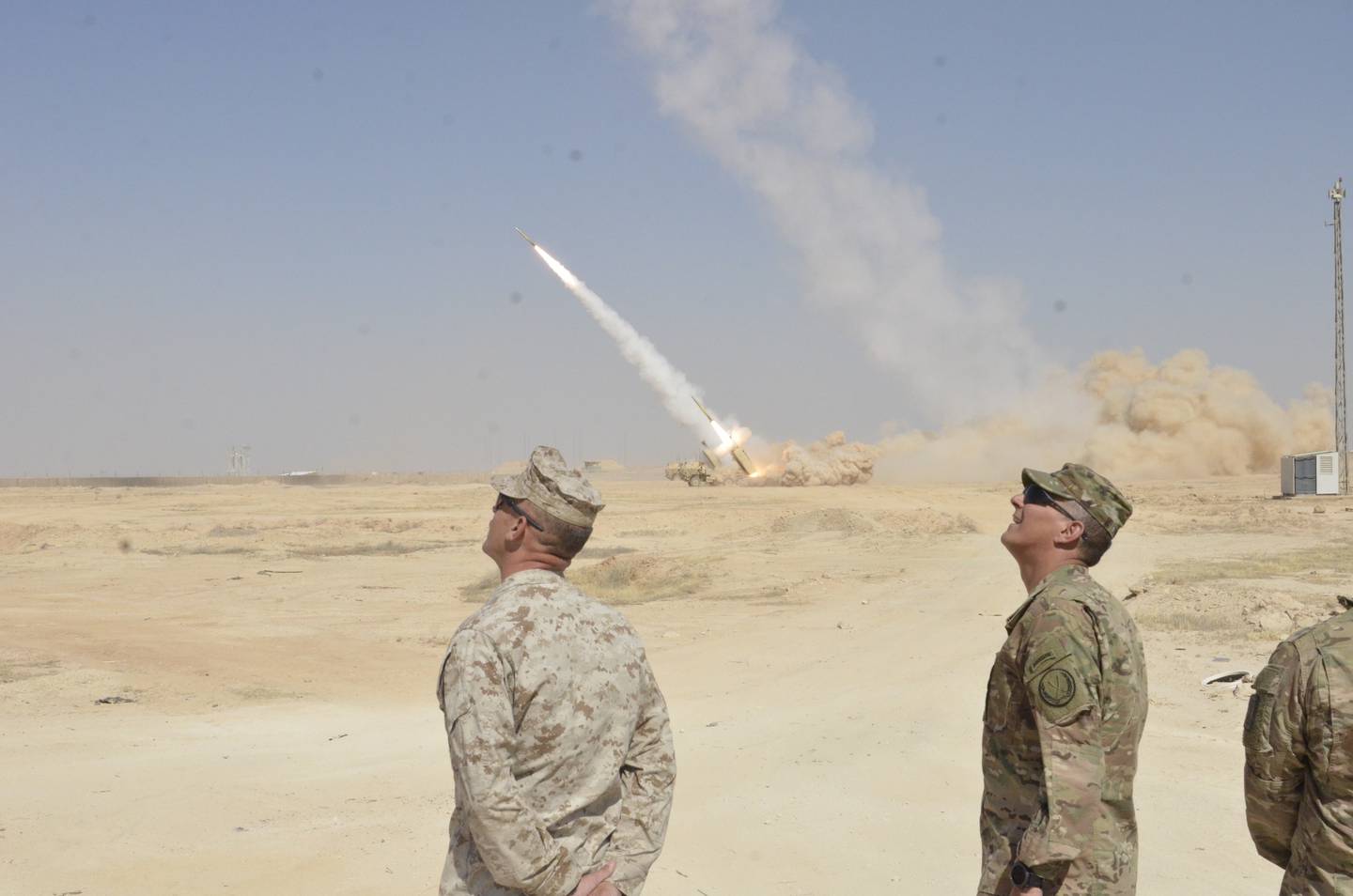 Marine Col. Paul Nugent, commander of Task Force Al Asad, and Army Lt. Gen Stephen Townsend, commander of all U.S. troops in Iraq, watch a High Mobility Artillery Rocket System strike a building housing ISIS near Haditha, Iraq, on Sept. 7.
Photo Credit: Marine Corps photo by Capt. Ryan E. Alvis.
Col. Paul Nugent has been commander of Task Force Al Asad for more than six months. During that time, the Iraqi security forces advised by Marines have gone on offense against the Islamic State, he said.


"It's pretty impressive," Nugent said in an interview. "They've taken back a lot of terrain in the central Euphrates River valley here."

The Marines in Nugent's task force work with the Iraqi Army's 7th Division, which has launched five offensives against the Islamic State, which he referred to by the Arabic acronym "Daesh." 


"They're getting better at what they do with our assistance," Nugent said of the Iraqi troops. "Every operation that they've done in my time here has been a successful operation, has defeated Daesh and has taken back key terrain as part of the overall Iraqi campaign plan."


Marines with Task Force Al Taqaddum helped advise senior commanders with the Iraqi 8th Division, which played a role in the Iraqi offensive that retook Fallujah, said Col. Sam Cook.


"On a daily basis the Marines are coordinating airstrikes on the enemy forces to allow the Iraqi forces to maneuver," said Cook, the task force commander. "We are striking daily through our operations center run by the Marines integrating the [intelligence, surveillance and reconnaissance] assets, providing intelligence to the Iraqis to allow them to maneuver on the battlefield with real-time intelligence."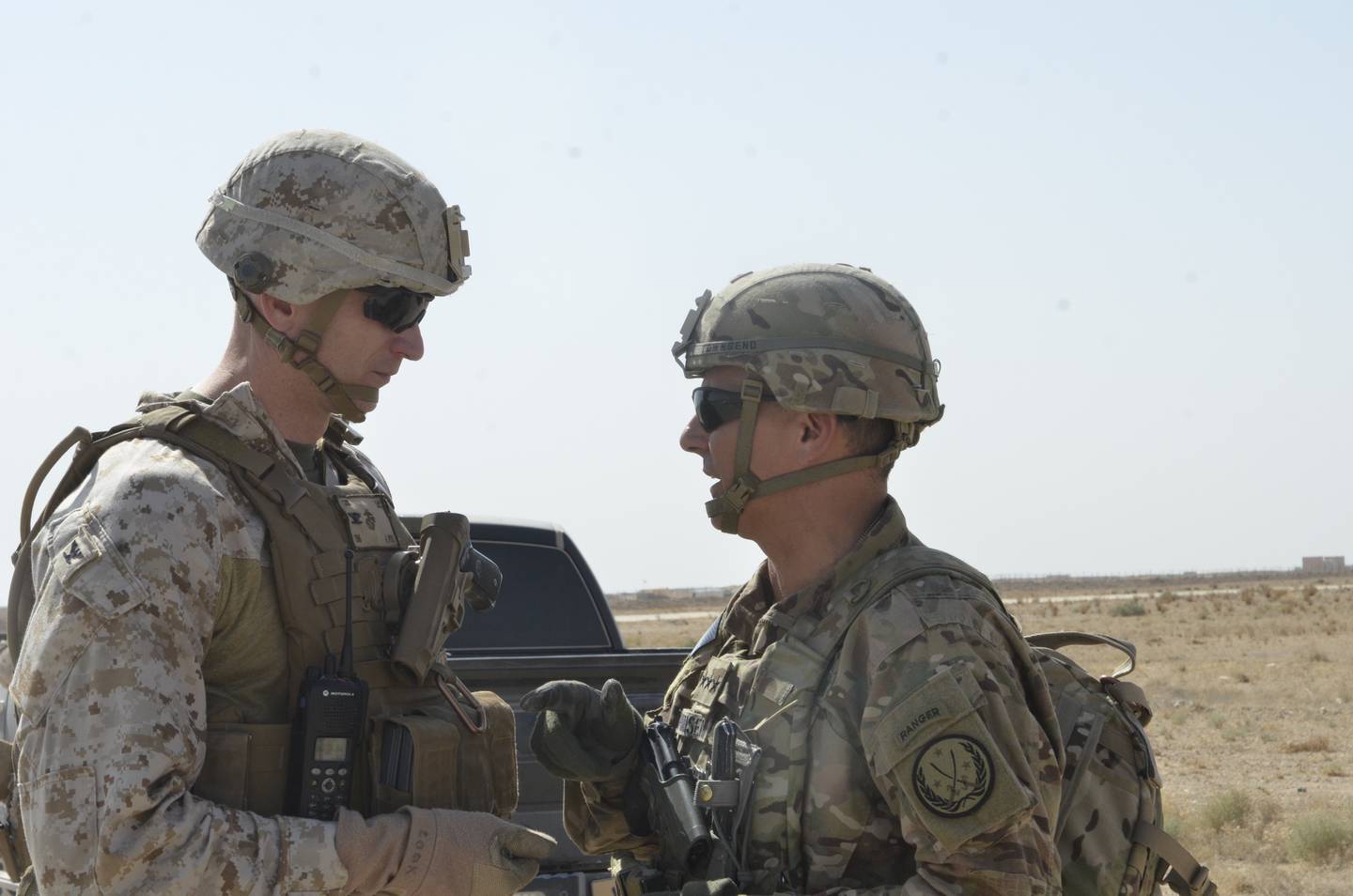 Marine Col. Sam Cook, left, commander of Task Force Al Taqaddum meets Army Lt. Gen Stephen Townsend, commander of all U.S. troops in Iraq.
Photo Credit: Marine Corps photo by Capt. Ryan E. Alvis.

Coalition airpower and an Army artillery unit assigned to the task force are also taking out enemy sniper positions, artillery and anti-armor weapons to pave the way for Iraqi troops to advance, Cook said in an interview. 


"They're doing it at their pace, not at our pace," he said. "We would probably prefer that they go much faster but every clearance operation that they undertake they succeed at eventually and they are doing it on their own."


The Marines and other members of the task force work with Iraqi corps and division commanders at Al Taqaddum, Cook said.


"This isn't the [Operation Iraqi Freedom] advise/assist mission," he said. "This is their country and it's their responsibility to take it back. We are integrated within their operations center. They are integrated into our operations center."


Although the Iraqi military has proved it can fight without U.S. assistance, they suffer fewer casualties and complete operations faster when they work with the task force, Cook said.


"What I tell Marines here all the time – and all the members of the task force, regardless of service – is that the Marines here are doing the righteous work of the Marine Corps, exactly why they joined the Marine Corps," he said.  "They are doing their MOS in a combat environment and accomplishing the mission that the United States sent them here to do."
Jeff Schogol is a staff reporter for Marine Corps Times. He can be reached at jschogol@marinecorpstimes.com.
Share: