Four female Marine recruits will be the first women to complete recruit training for infantry jobs when they graduate from boot camp later this month.


"Upon successful completion of recruit training, the basically trained Marines will continue their entry level training assigned to Infantry Training Battalion at the School of Infantry," said Capt. Greg Carroll, a spokesman for Marine Corps Recruit Depot Parris Island in South Carolina.


The four women have passed the physical standards required for infantry and other ground combat military occupational specialties that both men and women must meet to continue training in those jobs, Carroll said.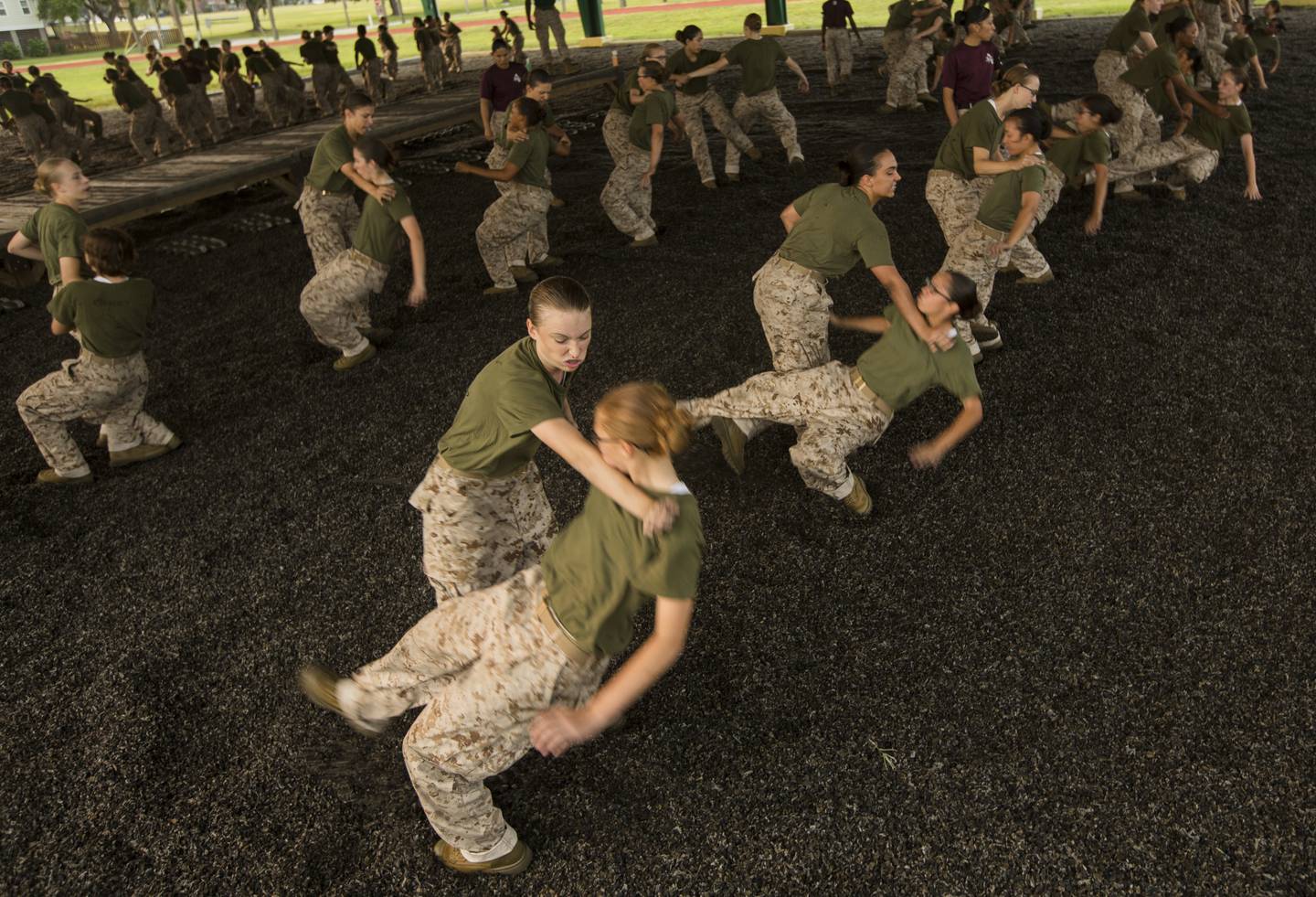 Recruits of Papa Company practice sweeping their opponent to the ground July 1, 2015, on Parris Island as part of the Marine Corps Martial-Arts Program.
Photo Credit: Pfc. Vanessa Austin.
For their final physical and combat fitness tests, the women had to do six pullups; run three miles within 24 minutes and 51 seconds; lift a 30-pound ammunition can 60 times within two minutes; conduct movement to contact within 3 minutes and 26 seconds; and perform movement under fire within 3 minutes and 12 seconds.
They are the first women who have arrived at boot camp with infantry contracts since October, Carroll said. Military.com first reported on Dec. 29 that nine female recruits with infantry contracts will begin graduating from Parris Island this month.


Since Defense Secretary Ashton Carter approved the Marine Corps' plan to allow women to serve in all combat jobs in March, at least 180 women have been assigned jobs that have until now been restricted to men only.


Thursday was a major milestone when three women joined 1st Battalion, 8th Marines after the Marine Corps approved their requests for lateral moves into the following MOSs: rifleman, machine gunner and mortar Marine.


All three Marines graduated from the School of Infantry as part of the Marine Corps' research into gender integration.


Navy Secretary Ray Mabus has tried to assuage Marines' concerns that the physical standards for combat jobs will be watered down to allow women to join them.


"I will never lower standards," Mabus said in April at Marine Corps Base Camp Pendleton, California. "Let me repeat that: Standards will not be lowered for any group!"


Former Assistant Commandant Gen. John Paxton Jr. told Marine Corps Times in August that he expected women will be successful in infantry units.


"This is not about women in uniform and it's not about women in combat," Paxton said shortly before he retired. "The issue for us is … to make sure that the women who aspire to be in those [military occupational specialties] can perform the standard so that anyone in that unit — male or female — has no fear or misgiving that the performance of the mission and the accomplishment of the mission is going to be done, regardless of gender."
Share: