A Camp Lejeune colonel accused of sexually assaulting a child will stay in the brig after a military judge on Tuesday denied his request to be released before his trial in June.


Col. Daniel H. Wilson, 55, has been held at the Marine Corps Installation East Regional Brig Facility since Jan. 13. His general court-martial is expected to begin on June 6 at Camp Lejeune, according to II Marine Expeditionary Force.


General courts-martial are reserved for the most serious allegations of misconduct against service members and they allow for a wide range of punishments, including confinement for more than a year, dismissal and a dishonorable discharge.


Wilson, the former operations officer for II MEF, is accused of inappropriately touching a girl under the age of 10, inappropriately touching an adult female and also having an "overly familiar" relationship with an Australian military officer, his civilian defense counsel Phillip Stackhouse has said.


At his Feb. 17 arraignment, Wilson pleaded not guilty to all charges against him and he asked the military judge to be released from pre-trial confinement, Stackhouse told Marine Corps Times. 


But on Tuesday, the military judge denied his request,  II MEF spokesman Lt. Col. Michael Armistead said. 


Stackhouse said both he and Wilson were disappointed by the ruling, but it was not entirely unexpected.


"Obviously I think it's the wrong decision, but the appeal on that decision is a post-trial matter for right now, until we develop more evidence for reconsideration," Stackhouse said in a Wednesday email.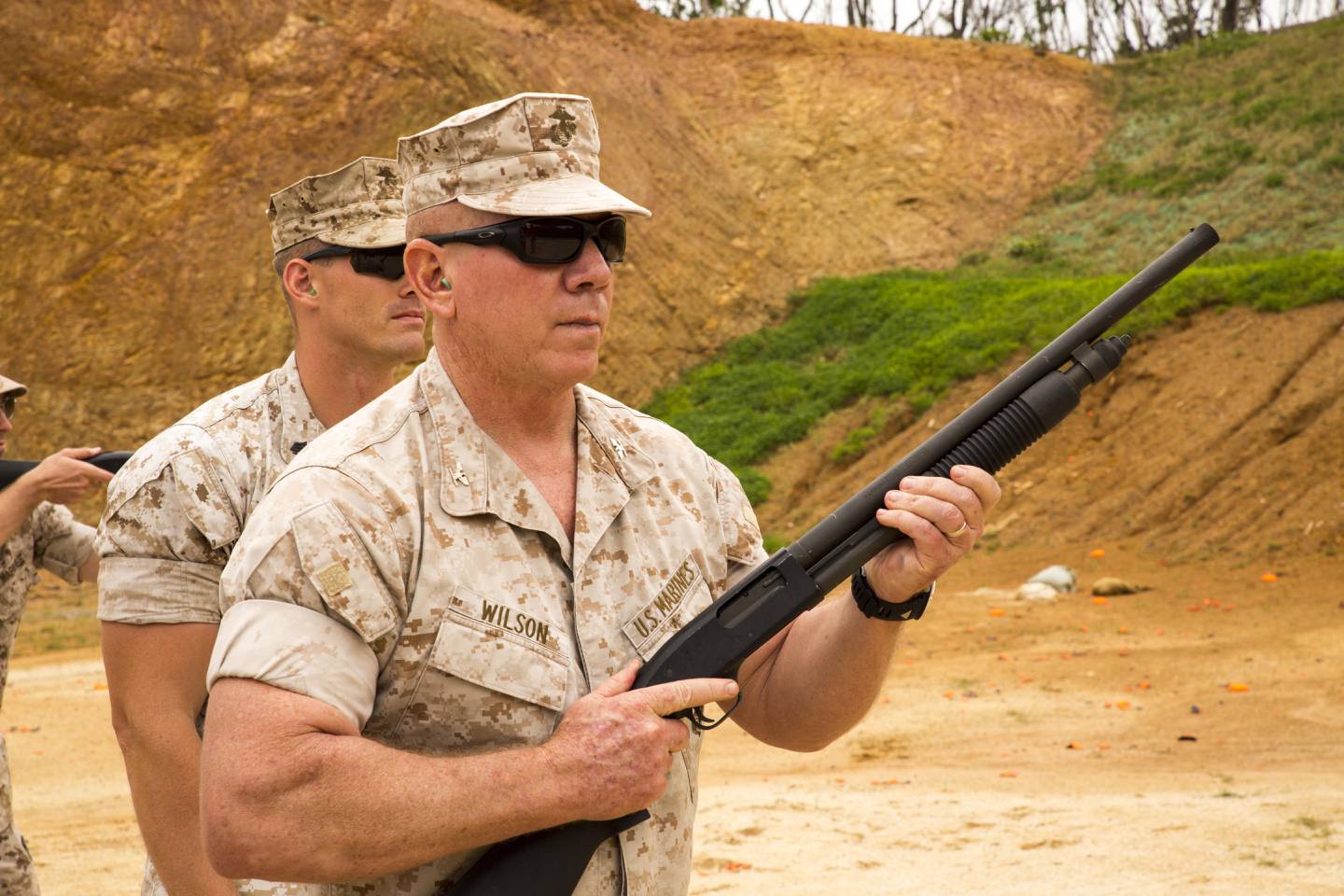 Col. Daniel H. Wilson prepares to fire an M590 shotgun during a 2014 training event in Japan. At the time, Wilson was the chief of staff for 3rd Marine Division, III Marine Expeditionary Force.
Photo Credit: Cpl. Adam B. Miller/Marine Corps

In November, Wilson was charged with sexual abuse of a child; assault consummated by battery on a child under the age of 16; failure to obey a general order or regulation and conduct unbecoming of an officer. He was not initially placed in custody, so he checked into an inpatient treatment facility for alcohol abuse, Stackhouse has said.


But Maj. Gen. Walter Lee Miller, Jr., II MEF commanding general, ordered Wilson to be confined at the brig at Camp Lejeune after a Naval Criminal Investigation Service probe found more allegations of misconduct. Wilson was charged with sexual assault, assault consummated by battery and absence without leave on Jan. 19.


So far, II MEF officials have not released any details about the allegations against the Wilson, including the charge sheet, which outlines the specifics of each charge.


Wilson waived his Article 32 hearing on Jan. 30 and Miller referred all charges against him to a general court-martial on Feb. 17.


"We continue to investigate, involve experts and investigators, and initiate filings with the court for relief, Stackhouse said on Wednesday.


In the meantime, Wilson is holding up well, Stackhouse said.


"He is still in high spirits and maintains the unwavering support of this family and friends and colleagues," Stackhouse said.
Share: