A program that helps veterans find employment in the solar power industry will expand from three bases to 10 in 2016.
The Solar Ready Vets pilot program is part of the Energy Department's SunShot Initiative. The job training program launched in 2015 at three bases — Camp Pendleton, California; Fort Carson, Colorado; and Naval Station Norfolk, Virginia. The program has trained roughly 100 transitioning military service members as solar photovoltaic system installers, inspectors and sales representatives; 40 more are expected to graduate by year's end.
Officials look to expand the program in 2016 to 10 total bases. The exact locations The new bases that will join the program this fiscal year, and the number of vets who that will be trained, are still being determinedworked in the works. 
"Solar Ready Vets leverages the talent, work ethic, and skills that our transitioning service members gain from the military, enabling them to enter the rapidly growing solar energy industry," said Dr. Lidija Sekaric, director of the SunShot Initiative. "During the first year of our Solar Ready Vets pilot, every single program graduate was offered a job in solar. We are looking forward to expanding this initiative to ten total installations so that we can reach more transitioning service members and veterans, while helping to build the solar workforce of the future."
The surge in solar power has opened new employment paths for the nearly 190,000 veterans who leave active duty every year. The training program is supported by five of the largest U.S. solar companies — SolarCity, Vivint Solar, Sunrun, SunEdison and SunPower, which committed to interview all graduates for jobs. Students in the six-week training course learn how to size and install solar panels, and connect that electricity to the grid.
"The training was really good and comprehensive," said Logan Rozanski, who graduated from the first class at Camp Pendleton, and has worked at a SunPower remote operations control center in Austin, Texas, since May. "The caliber of the instructors was outstanding. We had seasoned installers; any questions on electrical theory they could answer."
Veterans such as Rozanski comprise 10 percent of the solar industry's 174,000-strong workforce, which is expected to see strong growth in coming years. Solar industry employment has risen 86 percent since November 2010, and was responsible for one in 78 new jobs last year, according to labor data. DoE projects an increase of up to 36,000 jobs in the coming year, with pay for installers averaging between $20 and $24 per hour. The solar industry hopes to produce a cost-competitive solar energy throughout the United States by 2020, and said this would mean the creation of as many as 290,000 new solar jobs by 2030.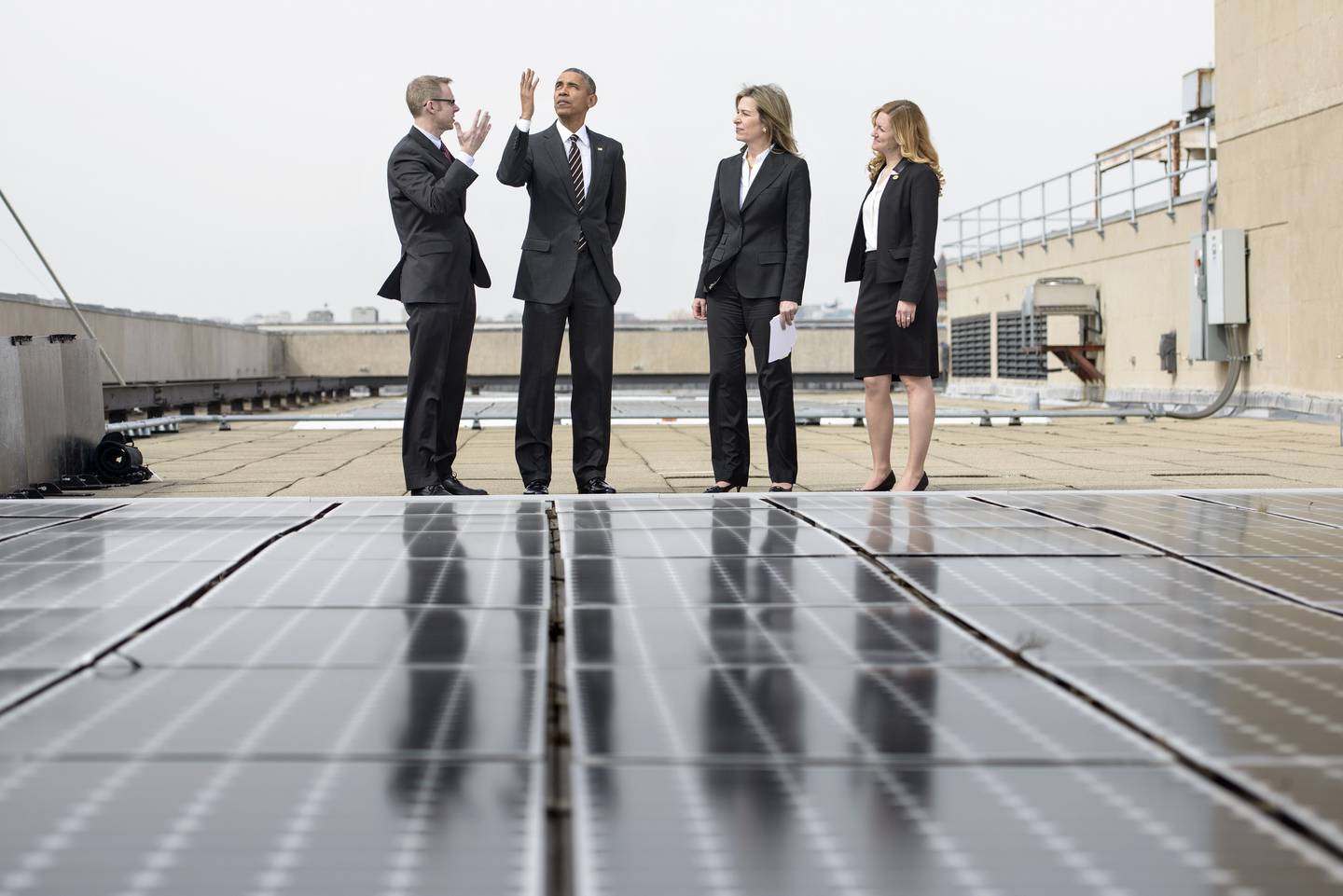 President Obama meets with Energy Department officials in March at the agency's headquarters to learn about the solar panels on the roof of the department's building in Washington, D.C. Obama announced in April the expansion of the Solar Ready Vets program, a joint effort between the Department of Energy and Department of Defense to train active military personnel for careers in the solar energy industry.
Photo Credit: Brendan Smialowski/AFP via Getty Images
Rozanski, who spent five years in electro-optical repair before leaving the Corps, had one bit of advice for Marines considering the class.
"Without a doubt, do it," he said. "There is no reason you should not try to expand your tool box, or see what your tools can do in another job field. I am very happy with what this program did for me."
A similar program launched in 2008 provides credentialed solar training at more than 400 community colleges in 49 states. It has trained nearly 1,100 certified solar instructors and provided training to more than 30,000 students, according to DoE data. The department's goal is to train 50,000 students by 2020.
Share: