TWENTYNINE PALMS, Calif. — It's a warm and dusty afternoon, and with the infantrymen have completed their assessments for the day. day's assessment tasks done, Marines are beating the heat in whatever way seems best to them. A female Marine sprawls underneath a tarp with boots off and a book; a few male Marines have set up a sandwich station outside a bloc of tents, and are layering meat and mayonnaise on whole-grain bread. A Marine makes a loud observation that he believes gender doesn't matter if you can get the job done — but it turns out the job he's talking about is president of the United States. the next possible commander in chief. is president of the U.S.nited States.
This was home life for many Marines of the Ground Combat Element Integrated Task Force, who this month wrapped up a series of combat arms assessments at Marine Corps Air Ground Combat Center in Twentynine 29 Palms in May before splitting off to Bridgeport and Camp Pendleton for further testing. Marines assigned to the task force's infantry and weapons elements lived side-by-side in one- and two-man tents — regardless of gender — the way a future integrated unit might expect to live during field training or downrange on a deployment. But dDespite the close quarters and privacy challenges, Marines said they settled easily into the arrangement.
"Everyone's pretty professional about it," said Cpl. Carolina Ortiz, 27, a member of the task force's artillery assessment. "Nothing less than green-on-green [respect] and everyone's comfortable following the rules, so nobody sees anything they don't want to see."
Most female Marines chose female tent mates for their weeks of living in the field, Ortiz said, but they had the option of rooming with a male Marine if they preferred. The Marines had access to separate shower facilities, but Ortiz admitted she had taken a few "field showers," out of necessity.
"I just go out into the wilderness, shower real fast and then come back," she said.
For some male combat arms Marines, it was their first time living and working in close quarters with female counterparts. The situation provided ample opportunity for pointing out the differences between the genders, and a fair share of teasing as well.
During a break between live-fire tasks at an M777 155mm howitzer assessment, Cpl. Taylor Roepke needled Cpl. Allison Devries about her lack of mussed-up helmet hair. She cocked an eyebrow and playfully flipped a lock of hair out of place.
"I washed it yesterday, that's why," she replied. "I brought shampoo, the good stuff."
Roepke nodded.
"I got a travel bottle," he said, "and it exploded all over the place."
In more serious moments, some male volunteers told Marine Corps Times that adjusting to integrated life was awkward had been initially awkward, but grew more comfortable as the unit spent time together.
"It was really strange for some people at first," said Cpl. Kevin Rodriguez, 22, who was directly assigned to a staff position at the artillery unit. "But now it's like we're brothers and sisters. It happened really fast; I was pretty surprised. Now we're sleeping together on the ground, on the back of the trucks, like it's normal."
Sgt. Ryan McCauley, a 28-year-old direct-assignment ammunition bearer assigned to the task force's weapons company, said he found living and working with female troops had actuallymade him a better-rounded person.
"I've gotten better social skills, actually, working with females," McCauley, 28, said. "A lot of guys lose their heads, actually, in an all-male atmosphere and verbiage slips. Here, you have to be professional at all times. If anything, it sharpened my social skills for when I do get out."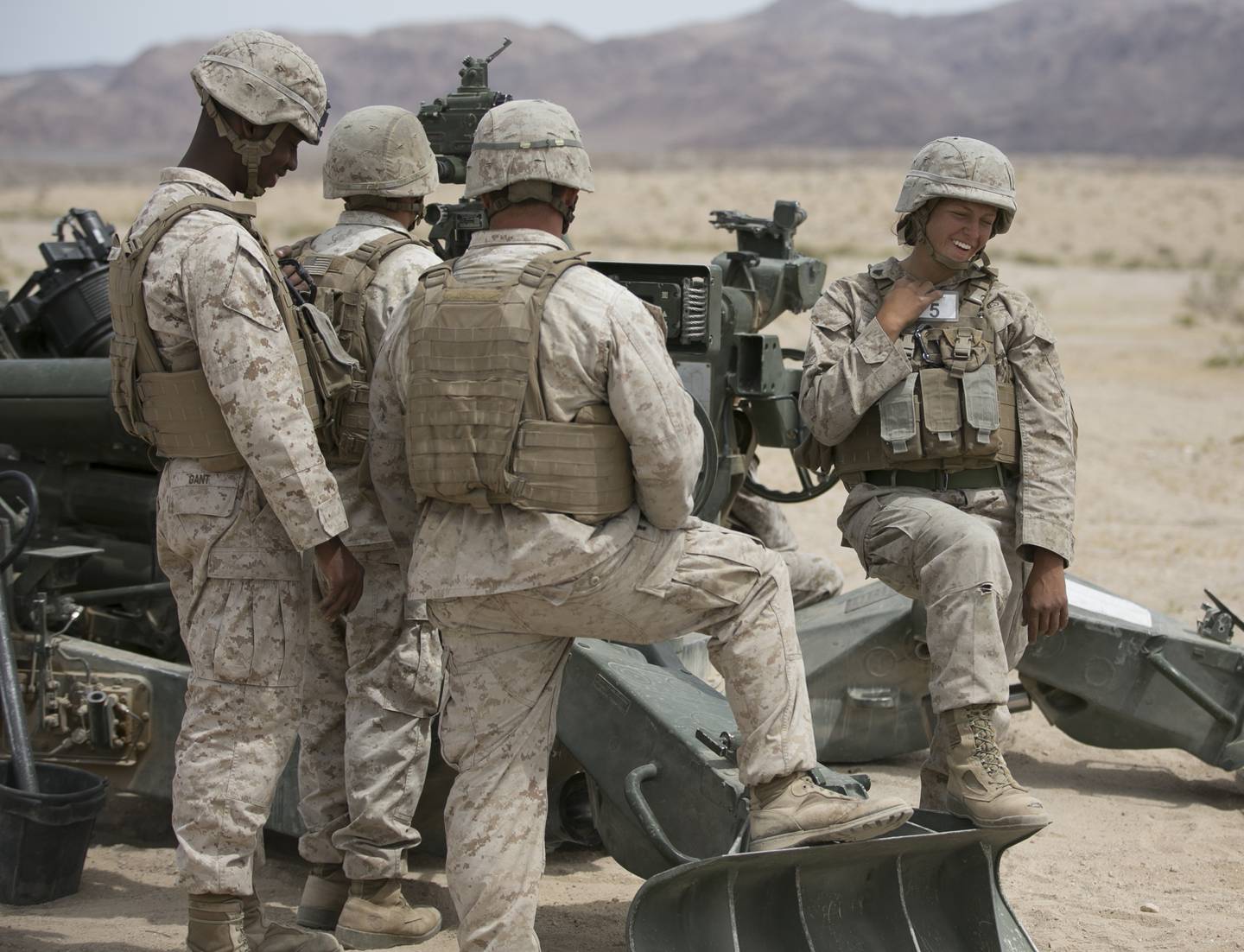 Cpl. Allison DeVries talks with fellow Marines with the Ground Combat Element Integrated Task Force during a break. DeVries was one of two female Marines on the gun crew.
Photo Credit: Mike Morones/Staff
Regarding privacy, McCauley said basic respect had helped him avoid any uncomfortable situations.
"It's kind of like moving in with a roommate," he said. "You've got to respect their needs and how they want to live. For hygiene, we go to our separate end and they go to their separate end and that's how we live."
Marine volunteers are able to offer feedback about integrated unit cohesion in two ways, officials overseeing the task force said. After each assessment cycle, Marines each volunteer takes a short survey that gauges their his or her feedback on how the unit worked together. Another study, to be published by the Center for Naval Analyses, will analyze the Marines' task force members'perception of the unit as a whole, taken from interviews at the start and end of the experiment.
Neither tool is intended to zero in on challenges associated with ground combat element living conditions.
That's intentional, said Paul Johnson, the architect of the task force.
"So the men and women live and work together during the course of the experiment. The purpose of the experiment is not to measure how well men and women live and work together," he said. "So we didn't design the experiment to answer questions that the Marine Corps already knows the answer to, which is how well do men and women live and work together. We kind of already know that because the Marine Corps has been integrated for years in a multitude of professions."
Col. Matthew St. Clair, the task force commanding officer, said having an integrated ground unit didn't change the realities of work in the field and downrange, where Marines can expect to work in close physical proximity with members of their unit, whether in an armored Humvee or on radio watch.
"Marines have to get comfortable and used to being side by side and working in close quarters," he said. "And most are comfortable with that, because that's what we do."
Share: