Are you interested in earning a college degree? Chances are, you are closer than you think.
The Marine Corps has taken steps to ensure that your professional military education, formal schools,  and job experience translates into college credits when you hang up the uniform. Officials now look to sweeten the deal. They are looking to by developing a plan that will to enable service members to start a degree at a school near home school and continue that pursuit even when they get orders to a new base.
Though service members have already earned college credits simply by completing schools and PME, "the majority of Marines don't know about these programs," said Capt. Nicole Yarbrough, education officer at Marine Corps University.
"Did you know that a Marine who has completed all resident PME in a 20-year career has 30 semester hours good toward an associate's or bachelor's degree?," she said. "Throw in credit for military occupational specialty schools and other training, as well as a few [College-Level Examination Program]CLEP tests (for which the Corps will cover the cost) and he is well on his way."
All enlisted PME and many MOS programs have been evaluated and accredited by the American Council on Education. For example, completion of the Corporal's Course is worth three semester hours in leadership and three semester hours in operational risk assessment. The council in October was awarded an $18.8 million contract to evaluate more courses and occupations. Typically, courses are given one semester credit hour for: 15 hours of classroom contact and 30 hours of outside preparation; 30 hours of laboratory work and 15 hours of outside preparation; or 45 contact hours of shop instruction.
Each college has its own rules in regard to the type of credits it will accept, and how many it will let you transfer. Because your PME carries ACE's stamp, "the vast majority of colleges will accept at least some portion of the credits," Yarbrough said.
Don't show up at these or any other colleges with DD-214 in -hand. First, take a copy of your Joint Services Transcript to the base education center, Yarbrough said. There, education service officers will evaluate your credits and point you in the direction of colleges that have strong programs in your field of interest. They will also help with tuition assistance paperwork and the application process.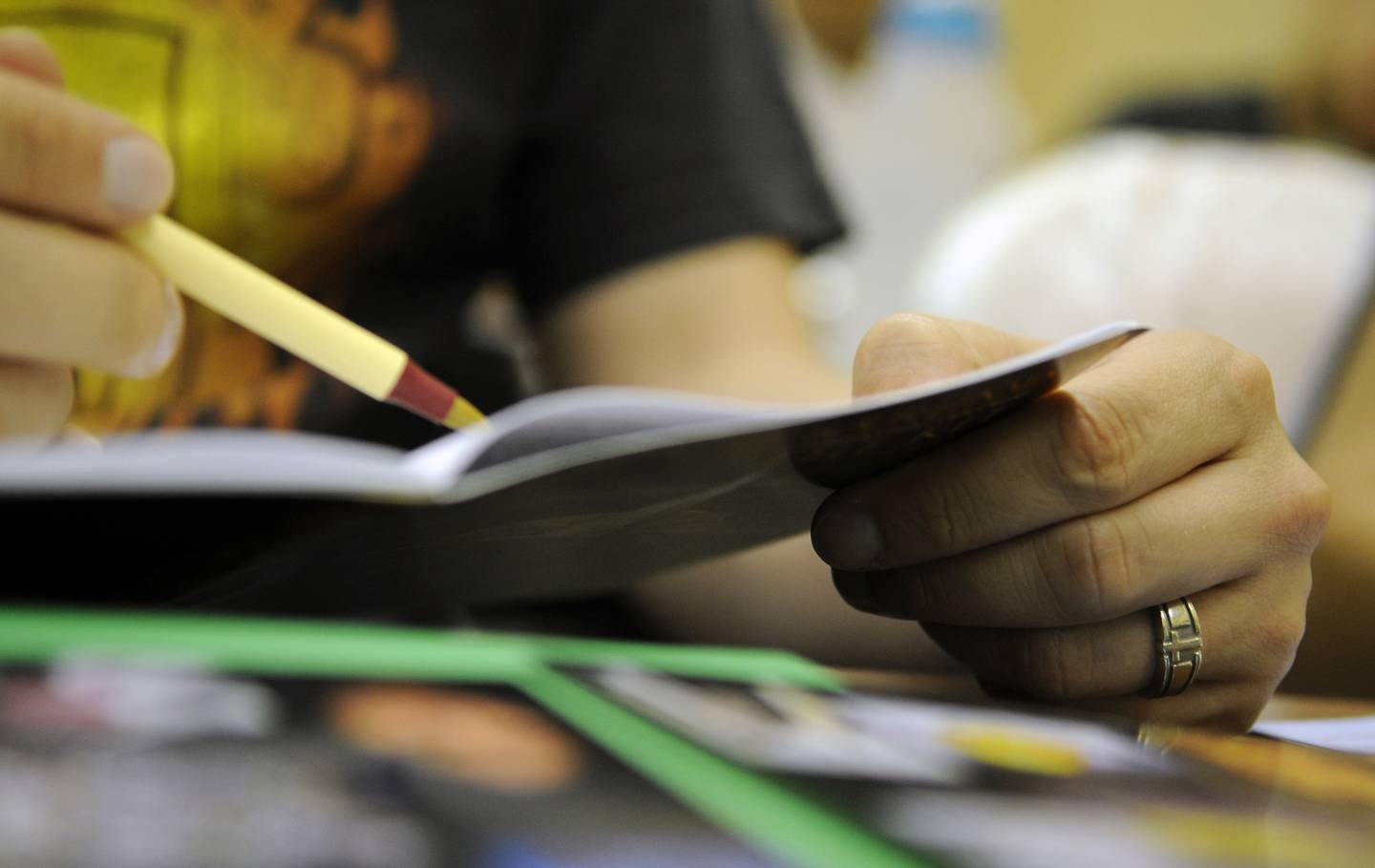 Marine officials want to develop a plan to enable service members to start a degree at a school near home and continue that pursuit even when they get orders to a new base.
Photo Credit: Airman Brigitte N. Brantley/Air Force
While you may have an affinity for a favorite school, it is worth considering the 155 schools that comprise the Servicemembers Opportunity Colleges, she said. These schools work with the Defense Department to ensure troops get full academic credit for military training and experience, and can max out transfer credits. While most colleges and universities allow no more than 50 percent transfer credit, these schools recognize all military credits through ACE and allow transfer credits to cover up to 75 percent of the hours required for the degree. This means a savings of many thousands of dollars otherwise spent on tuition and books.
The complete list can be found at www.soc.aascu.org, and includes schools such as Columbus State University in Georgia, Embry-Riddle Aeronautical University in Florida, Old Dominion University in Virginia, and Texas A&M University.
Permanent change of station is problematic for Marines who want to get an associate's degree before they get out of uniform. Most schools require a certain number of hours be completed on campus, and it is hard to squeeze in that many classes amid deployments and other duties. Marine officials are looking to build a unique program that will cater to the military's transient nature. The goal is to partner with local community colleges that will accept all PME credits in a specific degree program. When the Marine transfers to another base, he can continue to work on that degree program at a partner school in the new location, but credits will transfer back to the home school.
"Right now, we're starting with the Washington, D.C., metro area to see if there are any community colleges or universities that are interested in partnering with the Marine Corps," Yarbrough said. "We are also reaching out to schools in the [Servicemembers Opportunity Colleges]SOC program."
College degrees may not be as appealing for Marines in specialized vocational fields. But they will need licensure and certification to get a job in the civilian sector. Yarbrough strongly recommended the Credentialing Opportunities On-Line, or COOL program (www.cool.navy.mil/usmc/). It identifies certification and licenses that are related to various military occupations, eligibility requirements, and resources to prepare for exams (and most of the time, the Corps will pay for exams).
Whether academic or vocational, "you've already done the work." Yarbrough said. "Make sure you get the credit you deserve."
*     *     *     *     *
A SAMPLING OF WHAT YOUR PME IS WORTH
Enlisted PME
Course Title/Accredited Hours
Leading Marines DEP (MarineNet)/3 semester hours Leadership
Corporals Course DEP (MarineNet)/3 SH Leadership
AD Corporals Course/3 SH Leadership/3 SH Operational Risk Assessment
Reserve Corporals Course/2 SH Leadership/3 SH Operational Risk Assessment
Sergeants Course DEP (MarineNet)/3 SH Principles of Supervision
AD Sergeants Course/3 SH Leadership Principles/3 SH Human Resource Management/1 SH Military Science
Reserve Sergeants Course/3 SH Leadership
Career Course DEP (MarineNet)/3 SH Introduction to Management
AD Career Course/3 SH Leadership Principle/3 SH Communications Skills/1 SH Physical Conditioning
Reserve Career Course/2 SH Leadership Principles/3 SH Communication Skills/1 SH Physical Conditioning
Advance Course DEP/3 SH Operational Management
AD Advanced Course/3 SH Human Resource Management/3 SH Organizational Leadership/2 SH Small Group Communication/2 SH Weapons and Tactics
Reserve Advanced Course/3 SH Human Resource Management/2 SH Organizational Leadership
Distance Learning Courses
Course Title/Accredited Hours
Career Retention Specialist/1 SH Interviewing or Career Counseling
The Unit Mail Clerk/1 SH Office Procedures
Infantry Patrolling/1 SH Military Science
Field Artillery Survey by Correspondence/3 SH Basic Survey Procedures
M777A2 Howitzer Section Chief/2 SH Military Science/1 SH Land Navigation
AAV/RAMRS Crews Functions/1 SH Heavy Equipment Engine Maintenance
Motor Transport Operator: NCO/3 SH Motor Transportation Operations
Tactical Motor Vehicle Fuel and Exhausts Systems/2 SH Carburetion & Diesel Fuel Systems
Corrections/3 SH Introduction to Corrections
Share: