Marine mortarmen operating in western Iraq now have a leaner, more flexible weapon in place as they guard against terrorists from the Islamic State group.
Four new M252A2 81mm mortars were fielded to Marines with Weapons Company, 1st Battalion, 7th Marines just prior to their deployment to al Asad air base, enabling them to move faster, see farther and better more effectively carry out their force protection mission.
The Marines arrived there in October as part of the new rotation are part of the new rotational force of Special Purpose Marine Air-Ground Task Force — Crisis Response — Central Command. They're tasked with protecting providing force protection to the air base in Iraq's Anbar province as local troops take on in the middle of the fight against the Islamic State group.
The new mortar weighs in at 10 pounds less than its predecessor, the legacy M252 mortar, and incorporates an M67 sight unit with 4.0x nominal optical magnification, which allows Marines to hone in on enemies bad guys can see farther out. It also uses new heat reduction technology that which disperses heat better than its predecessor.
"With the new cooling system, the weapon's going to get hotter faster, but the heat is going to dissipate faster, so the tube itself is not going to remain as hot for nearly as long," Sgt. Colin Schafer, the 81mm mortar section leader, said. "So you won't have any malfunctions with the propellant on the round." 81mm mortar section leader Sgt. Colin Schafer said.
Although the M252A2 operates almost the same as its predecessor, he said, it performs almost exactly like a critical difference is how similar the new mortar shoots to the Corps' smaller 60mm mortar.
"With the legacy M252, it was just night and day differences between them," he said. "Now, at any time if you need to, you can take a guy using 81s and put him in 60s and he'll perform the same if not better, and the same if you want to go from 60s to 81s — mortarmen are going to be a lot more effective."
Within days of Schafer's unit arriving arrived in Iraq in October, the mortarmen put the new weapon to the test during which once set up on the ground was able to take the new weapon for a spin with live-fires training Oct. 24 at al Asad. They fired 87 rounds at Aal Asad to familiarize themselves with the mortars.
"The training opportunity encouraged our [noncommissioned officers] NCOs to do some unconventional shooting with the new system," Schafer said. "There were some nuances that come with getting used to new placement of hand wheels and things like that, but otherwise it went pretty smoothly."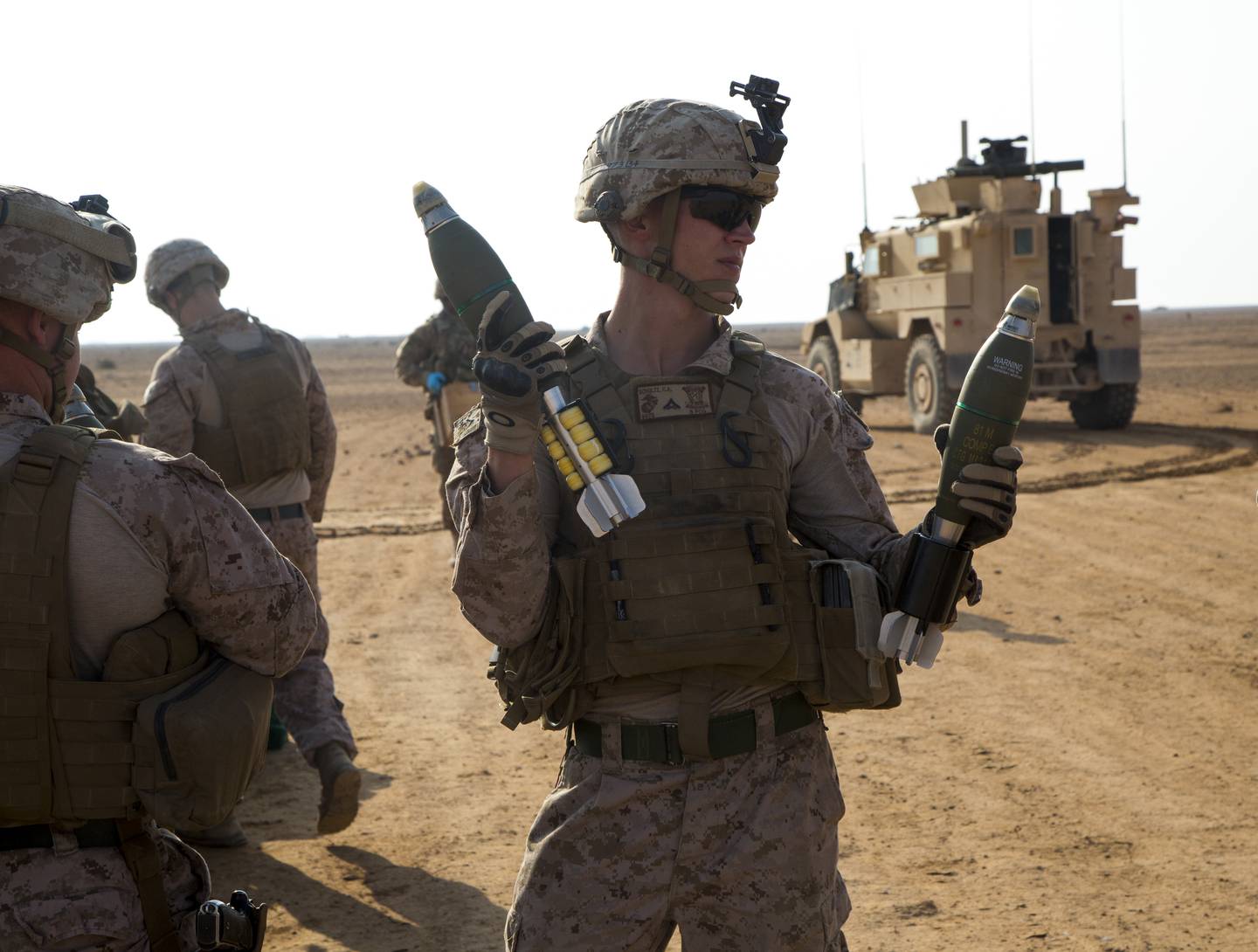 Lance Cpl. Casey A. Schultz, a mortarman with Weapons Company, 1st Battalion, 7th Marines, prepares to detonate two 81mm high explosive mortars, deemed unserviceable by an ammo technician, at al Asad air base Nov. 9.
Photo Credit: Staff Sgt. Nathan Sotelo/Marine Corps
Other than one illumination mission required to light up the Iraqi night, they've yet to engage enemy forces, but Schafer said they remain prepared.
"We do gun drills for about two to three hours every day, just keeping ourselves sharp and getting ready for whatever missions we have coming down," he said.
Share: