MARINE CORPS BASE QUANTICO, Va. — The former commander of the Marine Corps' Wounded Warrior Regiment was sentenced to 60 days confinement minus three weeks he has already spent in jail and a $10,000 fine on Friday after pleading guilty to having an inappropriate relationship with a Marine corporal at Friday court-martial.
Col. T. Shane "Rhino" Tomko also pleaded guilty to using a subordinate to secure testosterone, violating a military protective order not to contact his wife, and showing up drunk to his May 6 arraignment.
Tomko appeared to be close to a panic attack after the verdict was read. His military attorney, Maj. Geoff Shows, tried to calm him down by assuring him he would only spend a few weeks in the brig, since the time he spent in jail for violating the terms of his pretrial agreement would be counted toward his sentence.
During the court-martial, Tomko admitted to having an inappropriate relationship a female corporal in his command between May 2014 and August 2015. The two had exchanged text and Facebook messages that contained sexual content.
The relationship prompted an investigation, which led to his relief as commander of the Wounded Warrior Battalion in February 2015.
Shows told reporters after the court-martial ward that he was not satisfied with the decision and he was not sure yet if Tomko will appeal. He declined to comment on how his client is handling the verdict.
During the hearing, At sentencing on Thursday, Shows argued that post-traumatic stress disorder had turned Tomko from an exemplary leader to "a Marine officer who is so broken that he can't get out of his own way." 
Shows argued that Tomko drank after being told not to because he was distressed about being prohibited from seeing his wife. Tomko was also struggling with his recent diagnosis of later diagnosed with having low testosterone levels, which the colonel was struggling to accept.  – something he couldn't admit to.
"Colonel Tomko needs help, not confinement," Shows said.
But prosecutor Lt. Col. Pete Houtz argued that Tomko needed to be held accountable for his actions, and that the case wasn't about PTSD.
"If he's let out of confinement now … more than likely there will be more misconduct," Houtz said.
Prosecutors had asked for six months in prison, a $20,000 fine and for Tomko to be dismissed from the Marine Corps dismissal for Tomko.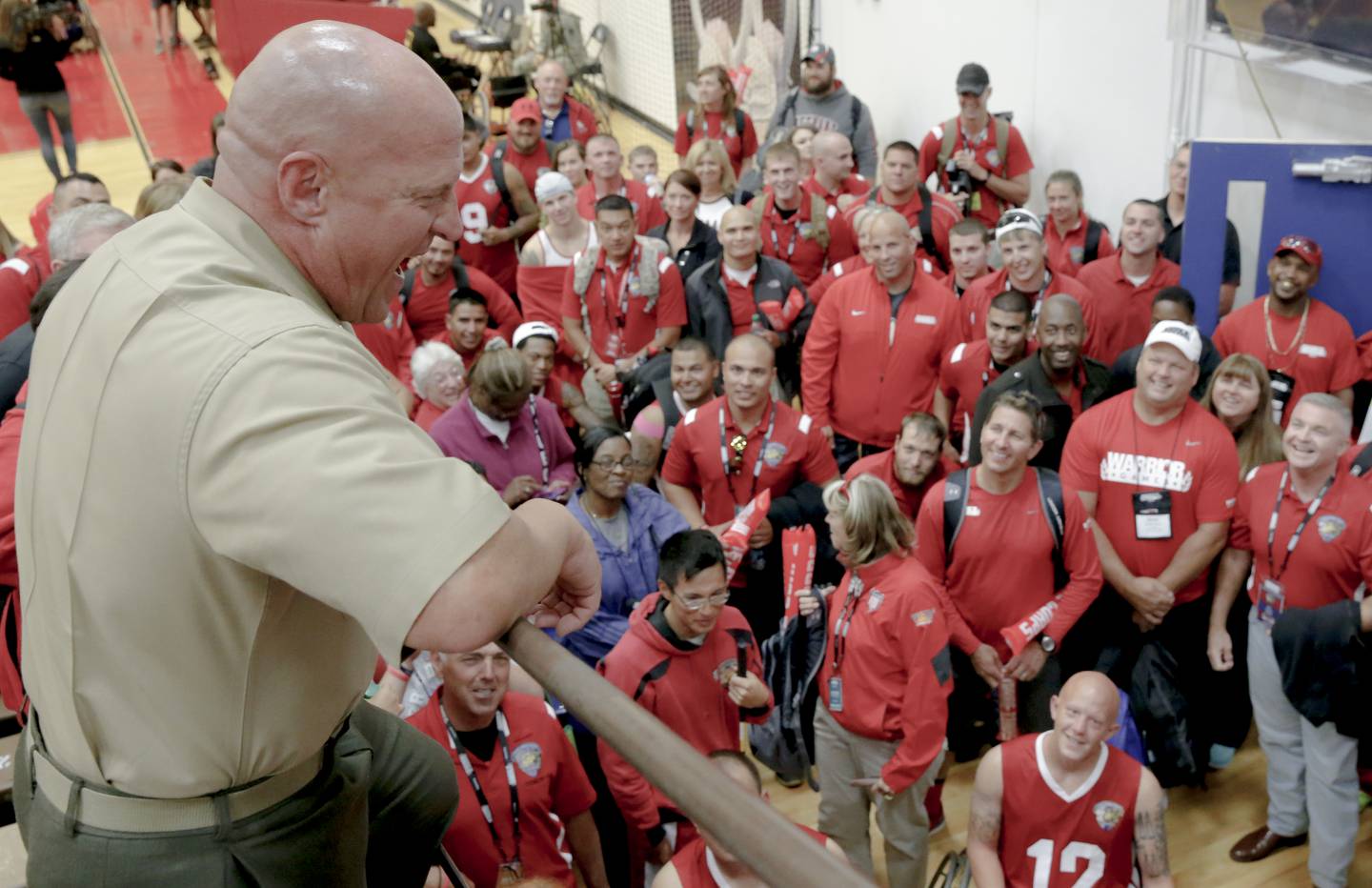 Col. Shane Tomko, the commanding officer of the Wounded Warrior Regiment addresses the Marine Corps Team following their victory over Army in wheelchair basketball at the 2014 Warrior Games in Colorado.
Photo Credit: Staff
Before the Col. Pete Rubin, a military judge sentenced him, Tomko gave a rambling statement to the court in which he said he has been close to his Marines for his entire career
"That's the only way you can know them," he said. "You know them by loving them."
Tomko also talked about suffering from nightmares and having to bury his feelings so he could deploy on combat missions. He also struggled with delivering  and also deliver next of kin notifications to the families of fallen and wounded Marines.
"You can't unsee what I've seen," Tomko said. "How do you tell your wife, 'Honey, I killed a bunch of people today?'"
He recalled remembered showing up at the home of one woman to tell her that her son was dead. He was outside the house and she was inside, but he could still hear her scream.
"Your body breaks down," Tomko said. "You just hurt."
Throughout it all, he said he told himself felt "you can't break and you can't cry" because he needed to demonstrate the power of the Marine Corps, he said.
He didn't seek help because The reason he couldn't ask for help was that he wanted to provide for his wife and children, he said, and the only way he knew how to do that was by working hard, Tomko said.
Tomko worked so hard that when his mother was dying, he waited for permission to go on leave to see her until he got a call from his father saying she was gone, he said.
"I just feel like I've been fighting my whole life," Tomko said. "I'm tired. I just want to unclench my fists. I just want to touch my wife gentle and figure out a way to get her to love me again."
Before he took command of the Wounded Warrior Battalion, Tomko served as the operations officer of the North Carolina-based 2nd Marine Division. He enlisted in the Marine Corps in 1983, and later earned his commission and became an infantry and special operations officer.
Share: