Editor's note: This story was first published at 11:04 a.m. EDT on July 1, 2016.
The Marine Corps' new fitness rules are out, and they include some revolutionary changes to the way the service measures strength and body fat.
Starting in 2017, Marines will be given the option to replace pullups with pushups when taking the annual Physical Fitness Test. And Marines who earn 285 points first-class scores on the now-tougher their physical and combat fitness tests will no longer be subject to weight and body fat limits. Body fat standards will also be loosened for those who score between 250 and 284 points on the tests. 
The flexed-arm hang will be phased out in January, and there will be all-new scoring tables for the PFT and CFT that account for a Marine's age. More points will be needed to nab a first- or second-class PFT, as well.
Effective immediately, though, are relaxed weight limits for female Marines, more precise measuring devices for anyone facing the tape test and a new system for getting body composition waivers.
The radical new plan was detailed in all-Marine message 022/16, which was released Friday July 1. It was signed by Commandant Gen. Robert Neller, who noted that "these are the biggest changes to the PFT since 1972 and the CFT since 2009." 
Neller ordered a full review to the service's fitness policies in an effort to ensure the rules were relevant. The months-long process was "a collaborative effort that drew from fitness experts and Marines," the ALMAR states.
The updates are meant to "incentivize behavior to enhance health and fitness for all Marines."
"The new PFT and CFT standards raise the bar on physical fitness for all Marines," said Maj. Gen. James Lukeman, commanding general of Training and Education Command. "Marines today are stronger, faster and fitter than ever and these changes reflect that. Bigger and stronger often means heavier, so tying performance on the PFT and CFT to changes to the Body Composition Program are improvements that we think the Marines will appreciate."
Several of the changes were previewed this spring when senior leaders presented their recommendations during an executive off-site meeting in April. The presentation, which was obtained by Marine Corps Times in April, was presented by Lt. Gen. Robert Walsh, the commanding general of Marine Corps Combat Development Command, with insight from Lukeman and other leaders.
Additional details on the final changes — including the new PFT and CFT scoring tables, PT recommendations and BCP adjustments — will be available on the Marine Corps' fitness website. Service-wide administrative messages and Marine Corps orders will also be issued and updated as needed, Neller wrote.
Here are 11 things every Marine needs to know.
The pushup/pullup hybrid event 
After years of debate about whether to require women to do pullups as part of the PFT, the flexed-arm hang era is officially coming to a close. Starting next year, all Marines, poolees and officer candidates will have two choices when it comes to flexing their upper-body might: pullups or pushups.
Brian McGuire, deputy of fitness branch for TECOM's standards division, called the flexed-arm hang an "inadequate test of upper body strength," adding that the pullup is preferred because it requires an individual to overcome his entire body weight, while a pushup requires he overcome only 70 to 80 percent. So why include pushups at all?
McGuire said it was because the Marine Corps didn't "want to create a manpower problem by having some female Marines failing."
"This is a very big change in fitness testing," he said. "One of the key principles is to ensure a greater distinction between Marines at different fitness levels. ...While it incentivizes pullups, if the individual cannot do a pullup, the individual doesn't fail."
Janna Smith, a poolee, conducts the flexed-arm hang during Recruiting Station Detroit's bi-annual female pool function. The flexed-arm hang event on the Physical Fitness Test will be eliminated in 2017.
Photo Credit: Cpl. J. R. Heins/Marine Corps
That means there's still good reason to perfect the pullup. Marines will only get a max of 70 points on the upper-body strength event if they choose pushups. And to hit 100 points, Marines will need to do more pullups than previously required.
Men in the 21-25 age group will need to complete 23 pullups for a max score under the new rules. The max drops as low as 18 for male Marines over the age of 51. Women between 26 and 30 will need 10 pullups for a max score. That requirement drops to eight pullups though age 40, and bottoms out at three when women hit age 51.
If Marines choose pushups, the best they can score is a 70. Men between the ages of 21 and 25 will need 87 pushups to earn max points. Marine women aged 26-30 would need 50 pushups to get the maximum 70 pointsfull marks. In comparison, soldiers need between 71 and 77 for a max score of 100 points on the Army's fitness test. 
Marines will soon be able to complete pushups in place of pullups during the Physical Fitness Test. The new rules start Jan. 1.
Photo Credit: Cpl. Adam B. Miller/Marine Corps
All Marines will be given the option to perform either exercise. If pullups are selected and the Marine is not able to perform the minimum number of repetitions — which is five for most men — they will then take the pushup test. If the Marine is not able to achieve the minimum, which is between 34 and 42 for most male Marines, and 14 to 19 for most womenscore on either the exercise, they'll fail the event.
Pullups are incentivized because they are "a better test of functional, dynamic upper body strength and correlate stronger to physically demanding tasks," according to the commandant's message.
Incentives for PT studs
Starting next year, Marines who bulk up but still earn top-notch scores on their fitness tests won't face the dreaded tape measure or Body Composition Program.
Marines who score at least 285 on both the PFT and CFT will be exempt from weight and body fat limits. The Corps expects that up to 15 percent of Marines will meet this mark, McGuire saidBrian McGuire, deputy of fitness branch for TECOM's standards division.
Marines who earn a 250 or higher on both tests will be afforded an additional 1 percent body fat.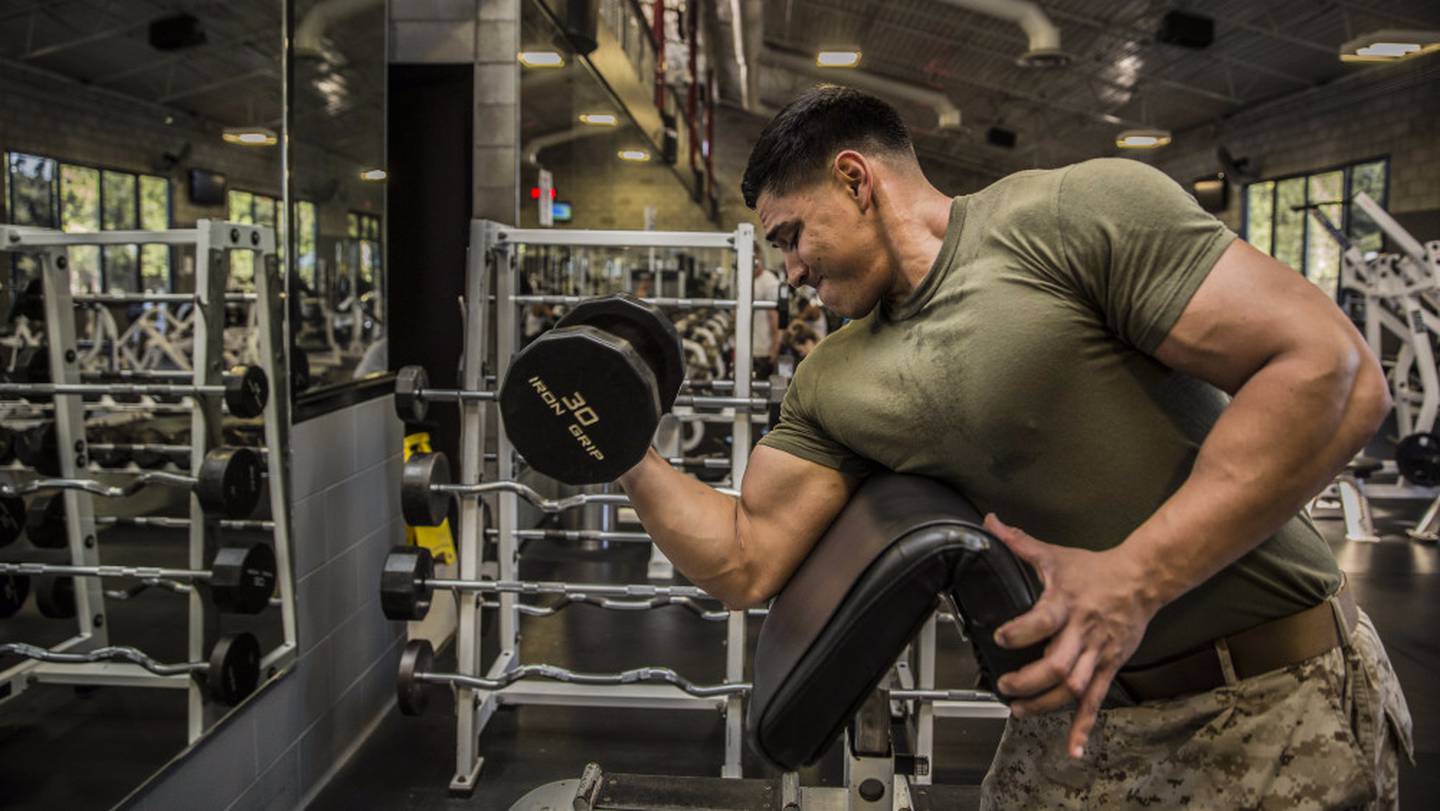 Cpl. Freddy Cantu pushes his body to its physical limitations during a workout session aboard Camp Pendleton, Calif. Starting in January, Marines who earn first-class physical or combat fitness tests will be exempt from weight and body fat limits.
Photo Credit: Sgt. Emmanuel Ramos/Marine Corps
Still, all Marines will be subject to "the requirements of the military appearance program," the ALMAR states.
"The commandant was clear that Marines come in all shapes and sizes, and a static body fat measurement or weight on a scale shouldn't be the only determining factor in body composition program decisions," said McGuire, a retired colonel who is an exercise scientist in sports medicine. "When you look at physical performance as we measure on our PFT and CFT, and those static measurements, performance wins.
"There will be Marines who exceed weight, some exceed body fat, but are able to physically perform in a high manner."
TECOM had recommended waiver of height/weight and body fat measurements for 300 PFT/CFT scores (top 10% of Marines)
New height and weight rules
Men in certain heights are going to have to lose a pound if they're already tipping the scale at their max weights. Women will see a break when it comes to weight rules — most will be able to carry 5 to 7 more pounds than current requirements, though, with those in and some heights will see a 9-pound increaseallowed to weight as much as 9 pounds more than current requirements. 
The changes were driven by science and input from Marines, according to McGuire. When muscle adapts to strength training stimulus, it gets heavier. Male weight tables reflected that idea, but female weight tables needed some adjustments. Neller himself has expressed concern that many female Marines, who have bulked up in preparation for pullups, have put on muscle weight.
Similarly, body-fat standards are loosening a bit for a few different age groups for both men and women. Instead of limiting age groups to four categories, Marines will now fall into one of eight new age brackets.
That will allow women in their late 30s, for example, to have 28 percent body fat instead of 27. And men aged 36 can now have 20 percent body fat, which wasn't allowed under the old rules until they were 40 years old.
These new standards take effect immediatelyJuly 1.  All Marines assigned to the Body Composition Program, or are in the process of being discharged due to BCP failure, will be reevaluated right away. If Marines meet the new standard, they will be removed from BCP.
PFT scoring overhaul
Marines hoping to earn a perfect PFT will need to do more to earn a max score.
In addition to performing more pullups, male Marines could also need additional crunches, depending on their age. Those between 26 and 35 will need 115 to get the max points on that event — up 15 from current requirements. Women between 26 and 30 in that same age group will need 110 instead of 100. 
Marines in North Carolina do pullups. Marine fitness leaders say pullups are still the best measurement of upper-body strength.
Photo Credit: Lance Cpl. Jason Jimenez/Marine Corps
An 18-minute run time will still net a max score for men. However, Marines 25 and under must now finish the 3 miles in 27:40, which cuts 20 seconds off the current standard. An additional 20 seconds is added for each five-year age group through 40, and maxes out at 33 minutes after a Marine reaches 51 years of age.
Women 40 and under will need a 21-minute run time to get a max score. The run must be completed in 30:50 for those under the age of 25. An additional 20 seconds is added for each five-year age group through age 40, and maxes out at 36 minutes after a female Marine turns 51.
CFT gets tougher
About seven years after the Combat Fitness Test was developed, data showed that Marines had clearly mastered the sprint, ammo-can lift and maneuver-under-fire events.
About 90 percent of Marines were scoring a first class on the CFT, Lukeman told Marine Corps Times last fall.
"The standards may have been too low when we established them to begin with," he said.
Now things are about to get harder.
For example, male Marines through the age of 25 currently need to lift the 30-pound ammunition can overhead from shoulder height at least 45 times in two minutes to pass, and need 91 reps for a max score. The minimum requirement has more than doubled to at least 67 lifts, and between 106 and 120 reps will be needed for a max score, depending on age.
First Sgt. Jose Guerreiro completes the Combat Fitness Test in Bahrain. Marines will face tougher scoring tables on the CFT starting in January.
Photo Credit: Cpl. Lauren Falk/Marine Corps
Most female Marines, who currently need at least 20 or 21 reps, will be required to belt out 30 and anywhere from 66 to 75 reps for the max score — a 42-percent increase for women in their late 20s.
 
In addition, roughly 10 seconds was cut from the time needed to get max score in the 300-yard maneuver under fire event, and 5 seconds in the 880-yard movement to contact.
Earning first- and second-class scores
Earning a first-class score on the PFT or CFT will now require 235 points.
That could mean Marines taking the PFT need to do eight more crunches, three more pullups or cut 30 seconds off their run times. Similarly, the points needed for a second-class score will jump from 175 to 200. While the points needed for third class drops from 135 to 120, McGuire warned that Marines should not see this as an easing of standards.
"It will be harder to get a 120 on the new test than it was to get a 135 on the old," he said.
For example, a Marine between the ages of 26 and 30 has to cut his maneuver-under-fire time on the CFT from 3:58 to 3:22 in order to get the minimum points. On the PFT, the Marine can do four fewer pullups and still pass, but would need to increase from 45 to 70 crunches.
Accounting for age
Current age groups of 17 to 26 and 27 to 39 originated in 1956. The 40 to 45 age group was added in 1972, and the 46+ in 1997.
But Training and Education Command officials said there was no scientific basis behind those age groups, according to the spring recommendations. TECOM suggested recommended breaking the four age groups into eight.
The new categories star with Marines 17 to 20, then hit new groups every five years after that until the Marine turns 51.
A better tape test
Starting now, anyone facing the tape test will be measured by more precise devices.
Marines have long complained that the tape test was subjective, and that the results could fluctuate depending on the person doing the measuring. Now the Marine Corps will use "self-tensioning" measuring devices that can be used with one hand — which senior leaders recommended this spring. The new tools will leave less room for error.
Cpl. Jose G. Valadez, left, a physical fitness test monitor assigned to Marine Wing Headquarters Squadron 2, measures a Marine's neck for a body mass index. Some Marines say the tape test is not an accurate way to measure body fat.
Photo Credit: Lance Cpl. Jodson Graves/Marine Corps
"With these self-tensioning devices, one end of the tape measure hooks into the other end," McGuire said. "This helps ensure the circumference measurement is more precise because it eliminates the different ways operators take measurements."
The tools are widely available at low cost, so Marines can expect to see them in the very near future if they have not already.
Fitness instructors at every unit 
The commandant is continuing his push for nearly 1,000 new "force fitness instructors," McGuire said. Officials in the spring said they were looking for 1,000 in total.
There is no clear timeline on when this designated military occupational specialty change might be implemented. However, TECOM officials have urged this program coincide with the establishment of a Fitness Center of Excellence.
The force fitness instructor Marines will be used to institutionalize a professional approach to fitness and hone the "warrior athlete" mentality through focused fitness and readiness for deployment.
New waiver process 
In April, officials recommend that the authority to grant Body Composition Program waivers rest with the first general officer in a Marine's chain of command rather than personnel officials at Manpower Management Division in Quantico, Virginia.
That change has now been implemented. Effective immediately, any Marine seeking a BCP waiver can handle the process within their unit.
A 2-year review
Marine officials will spend the next couple of years monitoring the effects of these fitness changes to ensure they got it right. That means there could be more changes ahead if leaders find a need to course correct.
"We will monitor the effects of these adjustments for two years," Neller wrote, "and then adjust if required to ensure our standards continue to contribute to the effectiveness of our force and enhance our ability to respond when our nation calls."
Marines in North Carolina do pullups. Marine fitness leaders say pullups are still the best measurement of upper-body strength.
Photo Credit: Lance Cpl. Jason Jimenez/Marine Corps
Officials will monitor and adjust the program in much the same way it has monitored the implementation of new MOS-specific, gender-neutral physical standards, McGuire said.
It will be a collaborative effort between TECOM, which will have the lead, and Manpower and Reserve Affairs. Other agencies at Marine headquarters will have a say, and leadership will rely heavily on feedback from the troops.
Lance M. Bacon is senior reporter for Marine Corps Times. He covers Marine Corps Combat Development Command, Marine Corps Forces Command, personnel / career issues, Marine Corps Logistics Command, II MEF, and Marine Forces North. He can be reached at lbacon@marinecorpstimes.com.
Gina Harkins is the editor of Marine Corps Times. She oversees reporting on Marine Corps leadership, personnel and operations. She can be reached at gharkins@marinecorpstimes.com. 
Share: