About 170 Marines in Norway just took a bone-chilling plunge into a frozen pond. 

This wasn't your typical Polar Bear Plunge, but a military exercise to show Marines how to survive falling through the ice.
"The purpose of that is not just figuring out how to get out of the ice but how to take care of yourself once you get out of the ice," said Maj. Kevin Newport, commander of the Combined Arms Company currently in Norway for cold weather training.
Earlier this month, the Marines jumped into a hole cut into the ice of a frozen pond and then climbed out, Newport told Marine Corps Times on Friday. Once Marines emerged from the icy water, other members of their team were responsible for getting them dry, making sure they changed into new clothing and monitoring them for hypothermia, he said.
"It's amazing what your body will do when you jump into the ice," Newport said in a phone interview. "Your body naturally pushes everything to your core so you don't feel as cold as you mentally thought you would feel walking up to the ice."


The company of Marines has been training in Norway since Oct. 26, Newport said. They are spending two months in the country as part of the Black Sea Rotational Force.

In January, about 330 Marines are expected to begin a six-month rotation in Norway. 


For Staff Sgt. Jason Detwiler, jumping into the frozen pond was an eye-opening experience.
"You jump in and it kind of takes your breath away for a moment just because of the pure shock that your body goes through," Detwiler said Friday. "Once you regain your breath and you remember what the fundamentals were – working your way out of the ice and back up to the warmth – I don't know the best way to describe it, but I could say it's unlike anything I've done thus far, that's for sure."
One way the Marines warmed up after changing out of their soaking uniforms was to run a little bit, which got their blood flowing, Detwiler said.
"You notice a slight difference as far feeling in your feet, but once you start moving and the blood starts pumping and all that warm blood gets to where it needs to go," he said. "It sounds like it would be difficult but it wasn't that bad at all, from my perspective."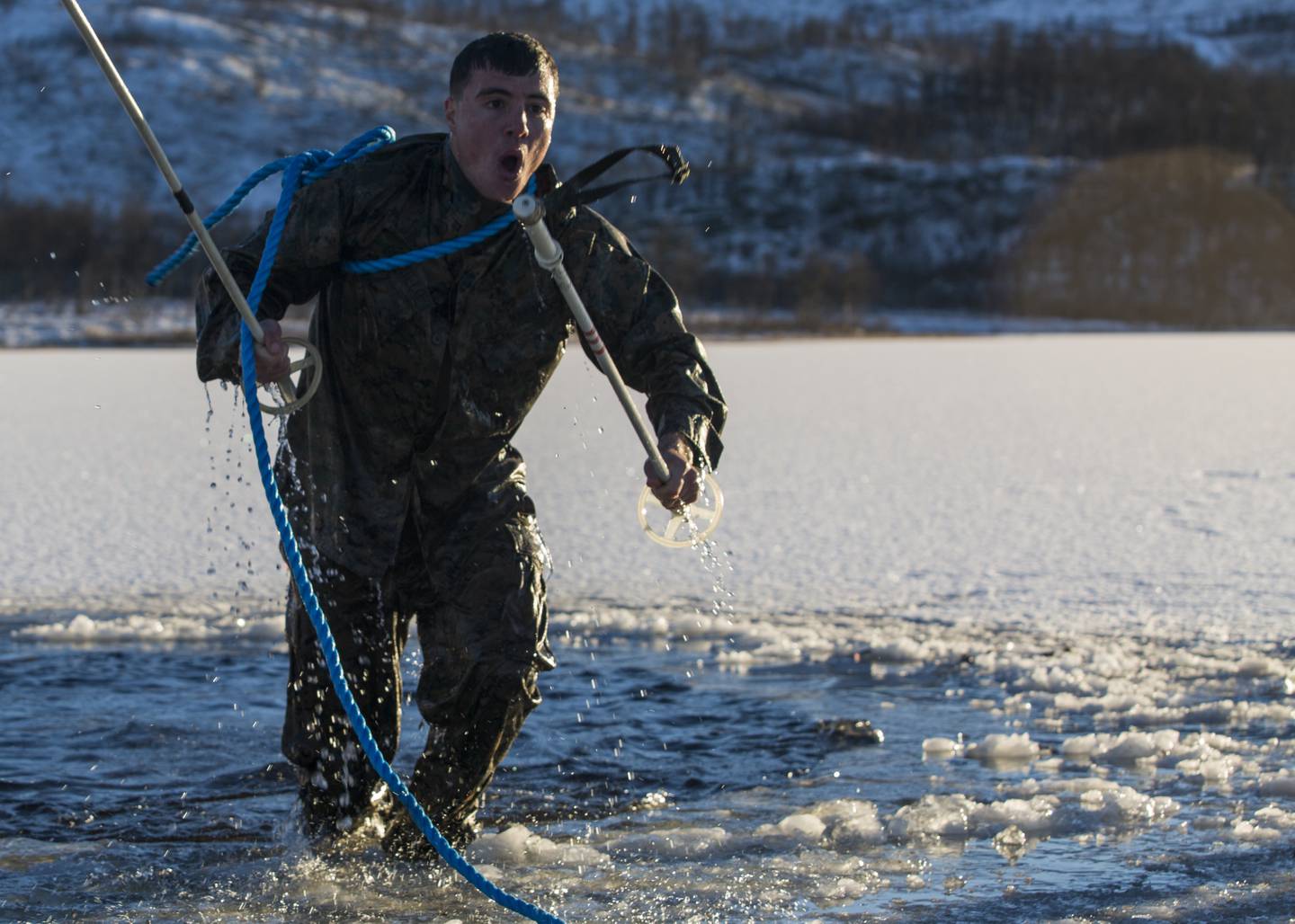 Marines train with the Norwegian army Cold Weather and Mountain Training Instructors in Blåtind, Norway, 27 Oct. to 4 Nov., 2016, to improve their ability to operate in mountainous and extreme cold weather environments.
Photo Credit: Sgt. Michelle Reif.
While in Norway, the Marines have learned how to keep warm by building shelters and making fires using dry wood instead of wet, rotten wood, Detwiler said. The Norwegians have also taught the Marines how to layer their clothing so that sweat does not make them cold.

Being in the Arctic is a new experience for both young and old Marines, who are more used to training in desert conditions, such as at Twentynine Palms, California, he said.
"With the heat, you can always find a way to cool down.  There's numerous little tricks you can use to cool down – water is your biggest ally," Detwiler said. "Whereas here, with the temperatures everything runs slower and you yourself run slower."
The cold weather makes the Marines' equipment, including their weapons, more sluggish and less responsive, he said. Keeping vehicles running is especially challenging because oils do not move like they do in warm weather.


"The temperature in general doesn't make anybody move faster, so it's a physical challenge when you're moving through the hills and things like that for the Marines themselves," Detwiler said.
Marines have learned a lot about how to survive in Arctic conditions, but Detwiler has no plans to take another plunge into icy water.
"This will, honestly, probably be the first and last time I ever jump in to something like that, unless it's absolutely needed," he said. "I'd have to be pretty passionate to do that again."
Share: