The Marine Corps is considering a new plan to arm the MV-22 Osprey fleet and is now thinking of putting rockets, missiles or other forward-firing weapons on the tilt-rotor aircraft.
A more capable and heavily armed Osprey will be able to provide its own escort protection, a development the Corps has been pursuing for several years now from lessons learned in Iraq and Afghanistan, Marine officials say.
The Corps' latest plans to put forward-firing weapons on the Osprey comes at a time when the Marines are rethinking their long-standing hopes for a reliable all-quadrant weapon system that can shoot in many directions.
Efforts to build and deploy an all-quadrant weapon have faltered in recent years.
In the long run, the additional guns on the Osprey would be a somewhat temporary stopgap measure while the Corps continues to develop a massive futuristic sea drone. The future expeditionary sea drone program is known as the MUX.
Over the next decade, the Corps wants to develop a serious-heatpacking expeditionary armed sea drone that can complement the long-range capabilities of newer aircraft like the F-35B/C, CH-53K and MV-22.
But it's going to be years before the Corps can field that, so new modifications for the MV-22 could fill the void in the meantime.
"We may find that initially, forward-firing weapons could bridge the escort gap until we get a new rotary wing or tilt-rotor attack platform, with comparable range and speed to the Osprey," said Col. Romin Dasmalchi, Headquarters Marine Corps Aviation.
For now, the official Marine Corps requirement remains an all-quadrant weapons system, but Marine Corps officials are rethinking that, Dasmalchi said.
Several years ago, the Ospreys were armed with the Defense Weapon System made by BAE Systems ― in essence an underbelly-mounted 7.62mm chain gun.
BAE describes the Defense Weapon System as an all-quadrant weapon, but officials at Naval Air Systems Command claim the chain gun does "not provide adequate all-quadrant capability due to restricted zones of fire to protect the aircraft."
The Defense Weapon System has gone through a slew of testing and has been operational with the Osprey. But past reports have been critical of the system's overall quality and capability. After testing of the Defense Weapon System in 2015, the Corps found damage to the fuselage on several test aircraft.
BAE officials did not respond for comment.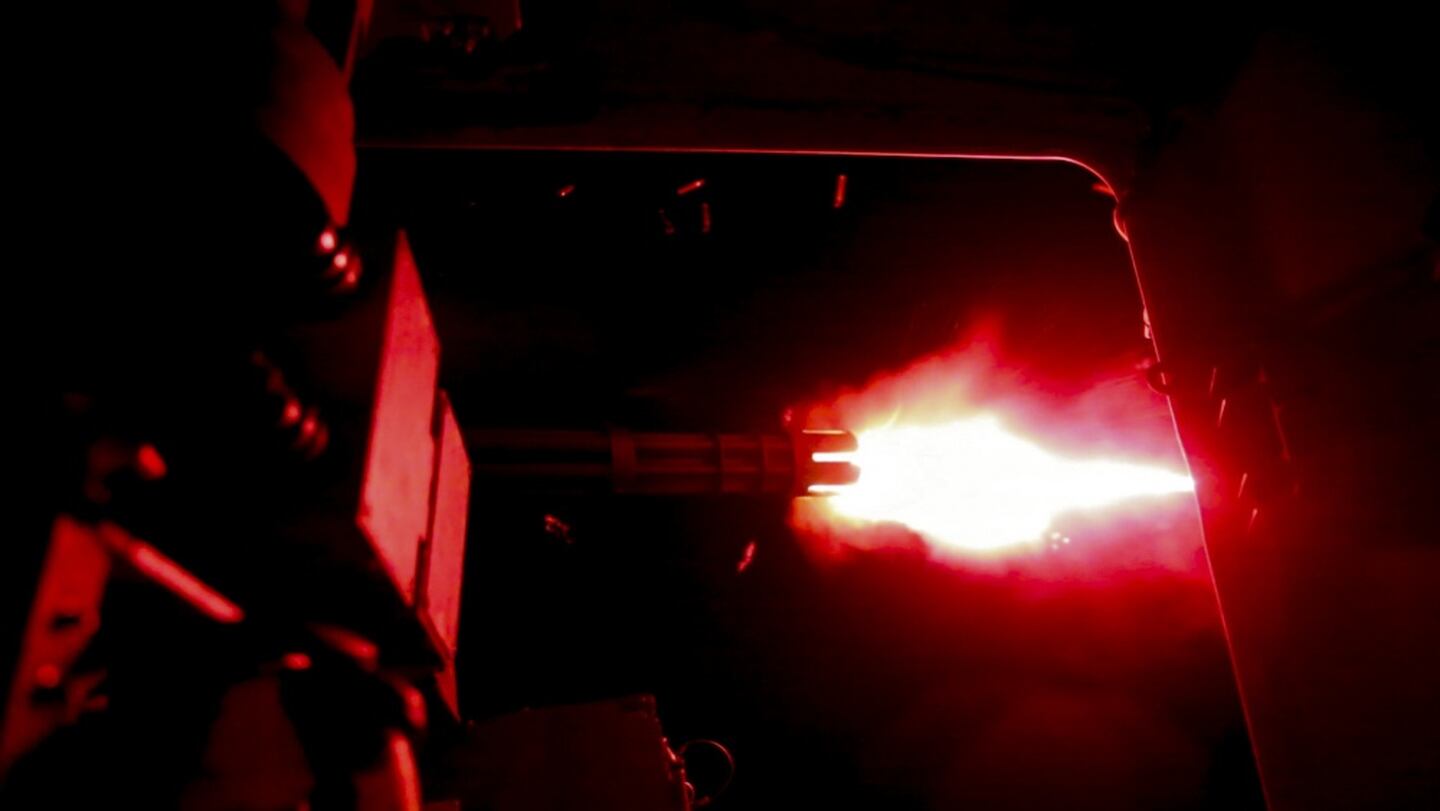 The MV-22 is also armed with the GAU-21 .50-caliber machine gun or an on ramp GAU-18 7.62mm machine gun.
The Corps has looked at several options for forward-firing rockets and missiles to bridge the escort gap, including the Advanced Precision Kill Weapon System, or APKWS, which turns 2.75-inch rockets into precision-guided munitions, and Hellfires.
But the Navy and Marine Corps have slowly been trying to phase out its Hellfires with the Joint Air-to-Ground Missile.
The fiscal year 2019 budget does invest heavily into the APKWS system, with a request of nearly $153 million for all types of rockets and $91 million of that slated for the APKWS guidance kits.
But the Corps is also looking at other forward-firing weapons beyond rockets and missiles, Marine officials tell Marine Corps Times.
The Marines are in the early stages of developing a helmet-mounted display with enhanced night vision to aid pilots in landing in degraded visual environments, according Dasmalchi at Headquarters Marine Corps Aviation. That new helmet will complement whatever armaments the Corps chooses for the Osprey.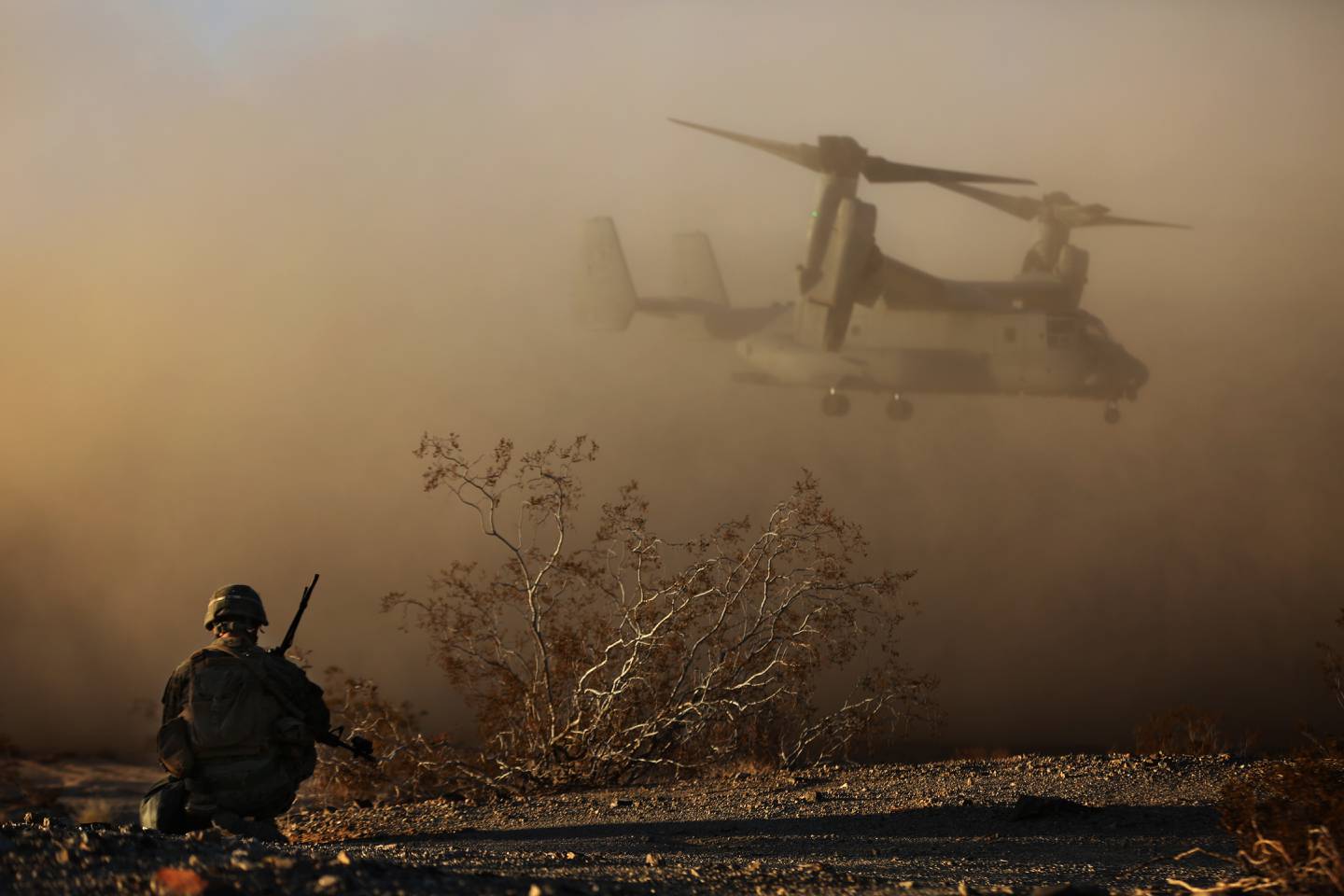 FUTURE SEA DRONE
The new drone concept has been in the works for a couple years, but on March 9, the Corps finally released some specifications in a request for information, first reported by Military.com.
The drone should be able to fly roughly 700 nautical miles, carry a payload of nearly 9,500 lbs., take off and land from L class amphibious ships, and have the ability to maintain a minimum time on station of 8-12 hours.
And the MUX will be packing some serious heat. According the request for information, the MUX may be armed with Hellfires, APKWS rockets, AIM-120 Advanced Medium-Range Air-to-Air Missile, anti-radiation missiles for taking out enemy air defense sites, and a small expendable drone equipped with electronic attack and early warning sensors.
The Corps also wants its new long-range drone to provide strike capabilities, command and control functions, communications relay for ground forces, surveillance and electronic warfare, and early warning to detect enemy aircraft or incoming cruise missiles.
One of the companies competing to fill the Corps' desire for the MUX is Bell with its V-247 Vigilant tiltrotor.
The Corps wants an initial land-based vertical takeoff and landing MUX by 2025, an initial sea-based vertical takeoff and landing drone by 2028, and a fully operational MUX by 2034.
"Recognizing our current recapitalization toward a more diverse, lethal, amphibious and middleweight expeditionary force, the Marine Corps requires a UAS (unmanned aircraft system) that is network-enabled, digitally interoperable and built to execute responsive, persistent, lethal and adaptive full-spectrum operations," Marine spokeswoman Capt. Sarah Burns told Marine Corps Times.
Shawn Snow is the senior reporter for Marine Corps Times and a Marine Corps veteran.
Share: