A third former Marine recruit has sued a food services provider to the service's West Coast boot camp, alleging undercooked meat served to recruits gave him permanent brain and kidney damage, which led to his early discharge from the Corps.
Tristan Abbott, 19, of Saline County, Arkansas, filed the federal civil lawsuit against Sodexo Inc. on Aug. 24, making him the third former recruit thus far to sue the Maryland-based company in connection with exposure to undercooked beef last year at Marine Corps Recruit Depot, San Diego, California.
Vincent Grano, 19, was the first to sue this summer, followed in early August by Michael Baker Jr., 21. All three have made similar claims in court documents that they were exposed to the tainted food served by Sodexo, later developed E. coli-related symptoms and were hospitalized and later discharged early from the Marine Corps as a result.
RELATED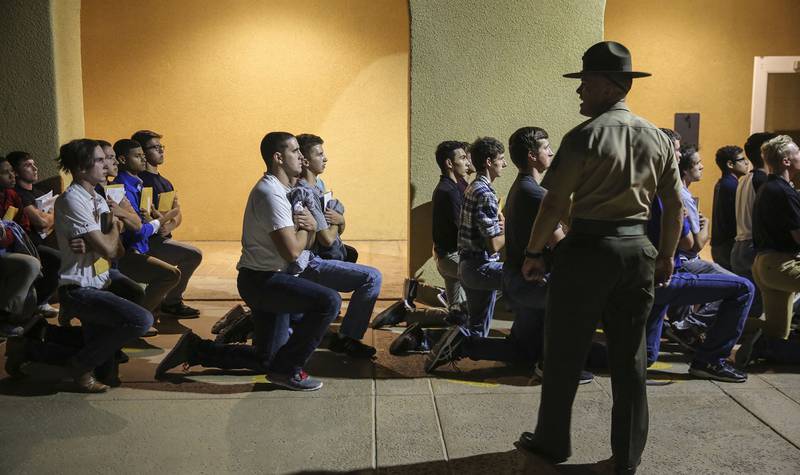 The trio are part of a group of at least 302 Marine recruits treated for E. coli exposure at both MCRD San Diego and Camp Pendleton, California, in late October 2017.
Though only three former recruits have filed lawsuits so far and the MCRD spokesman confirmed three had been discharged, an estimated 15 recruits developed a potentially deadly syndrome because of their exposure, and six of those became critically ill, according to the lawsuit.
A Centers for Disease Control and Prevention investigation identified two strains of E. coli present and traced the exposure to undercooked ground beef served to recruits at the dining facilities.
Steven Posy, an MCRD San Diego spokesman, previously told Marine Corps Times that three recruits were discharged "based on medical conditions that may be associated with E. coli."
Enrico Dinges, Sodexo's spokesman, responded to an earlier Marine Corps Times request for comment that the CDC report "did not conclusively determine or identify the source of the E. coli."
Posy said that after the incident and investigation, he said officials increased medical inspections of the dining facilities and reinforced recruit hygiene practices. But officials did not modify the Sodexo food service contract.
Abbott alleges that he was discharged from the Marine Corps on April 27 after having developed Hemolytic uremic syndrome, or HUS, from the E. coli-contaminated beef and continues to suffer medical consequences from contracting HUS.
He had arrived at recruit training only a few weeks before the incident, on Sept. 27, 2017. He and other recruits were exposed to E. coli in about a month later. He fell ill on Oct. 24, 2017, suffering from bloody diarrhea, vomiting, abdominal cramps and other symptoms, according to the lawsuit.
Days later, while at Camp Pendleton for training, his symptoms worsened. He was hospitalized on Oct. 29 and was put on dialysis for HUS-related kidney failure within days. He remained hospitalized until the end of November.
Abbott suffered permanent brain and kidney damage as a result, he alleges. The scenario of his medical injuries and discharge closely mirror those of fellow plaintiffs Baker and Grano.
Todd South has written about crime, courts, government and the military for multiple publications since 2004 and was named a 2014 Pulitzer finalist for a co-written project on witness intimidation. Todd is a Marine veteran of the Iraq War.
Share: