A D.C.-area credit union is sponsoring a military appreciation section at Nationals Park for the next few years, which means 8,000 free tickets available to service members, veterans and Defense Department civilians.
Pentagon Federal Credit Union's Free Tickets for Troops program has sold out almost every night in the first of its three-year deal, president and CEO James Schenck told Military Times on Monday, as Schenck prepared to throw out the first pitch at the Washington Nationals game.
"A lot of them are always deployed on the holidays and throughout the year, so it's nice to be able to give them something for free to show that we care, and they can have a nice day with their families," he said.
If you're assigned near D.C., spending a few days on temporary duty or just visiting for fun from April through September, there's a free baseball game in it for you.
"The entire Nationals organization has been amazing for our veterans and our active duty families, so we're really excited about their support of what we're doing," Schenck said.
At every home game, the West Point graduate said, PenFed offers up 100 seats in a shaded section overlooking right field. Active duty and Reserve service members, as well as veterans, retirees, DoD civilians and dependents can sign up for tickets using a GovX account as verification.
"We give them PenFed swag and towels and blankets and gloves, and they're always waving it ― but they're so appreciative," he said. "What they really want ― as a veteran, as an active duty soldier ― is that their hard work and sacrifice is not forgotten."
But the partnership is not meant to be an ongoing advertisement for the credit union, one of several who specifically serve Defense Department employees.
"This is really less for the business side," Schenck said. "PenFed tries to be a community leader, and our field of membership is the nation's defenders. So this is something right in our own backyard, to do something in our national capital to honor the men and women who serve."
RELATED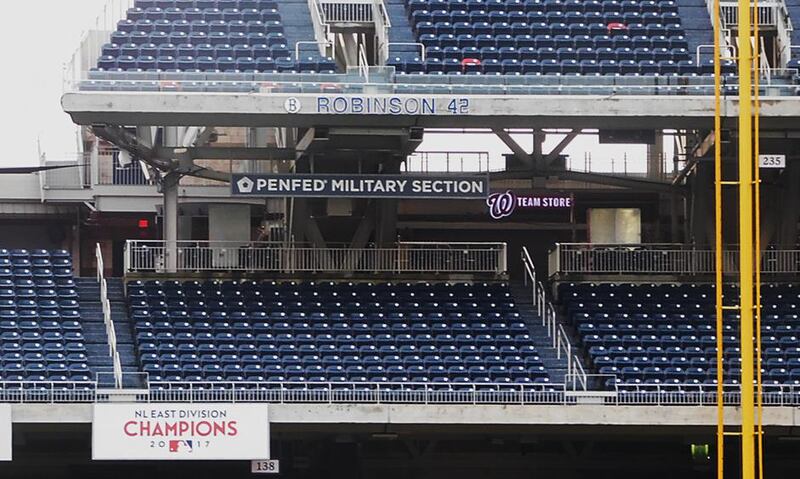 PenFed is taking their partnership three years at a time, he said, but will continue to explore ways to give back.
"My mom used to say, 'many hands make the load light,' " he said. "Other organizations can step up. There's so many things we do to step up in the communities in which we serve to say thank you to the men and women who volunteer to defend our freedom."
Meghann Myers is the Pentagon bureau chief at Military Times. She covers operations, policy, personnel, leadership and other issues affecting service members. Follow on Twitter @Meghann_MT
Share: