The legacy of Smoke the donkey, beloved mascot of 1st Marine Logistics Group, lives on in a new book.
"Smoke the Donkey: A Marine's Unlikely Friend" recounts Smoke's time in Iraq at Camp Taqaddum and his journey to the United States.
Now-retired Col. John Folsom, then-camp commandant, bonded with Smoke after a sergeant tied him outside Folsom's tent in 2008.
Smoke quickly became more than just a camp pet — he provided a distraction in an otherwise tedious environment. After Folsom returned to the U.S., he started reflecting on his time in Iraq and began a months-long process of trying to get Smoke back; he succeeded in 2011.
Smoke spent the next year of his life in Nebraska near Folsom and his family as a therapy animal until the little donkey died of natural causes in 2012.
While on vacation that same year, Folsom received a call from a book agent who had read some of the news coverage and suggested he write a book about Smoke.
"I can sit in a bar and tell you a story, but I'm not a writer," he said.
So his wife, Cate, who works at the Omaha World-Herald, helped him out.
She said she spent the first six months just compiling background material and outlining the story, mostly working on weekends since she had a full-time job. Her husband sent her every email related to Smoke and suggested people for her to interview.
"Luckily, he was a real pack rat about emails," Cate Folsom said. "It was very helpful to have so many people contribute and also to have that paper record."
John Folsom recalled there were probably eight binders of material.
"There are things I had forgotten that she had uncovered in her research," he said.
The book was published in April and can be found at local bookstores and online.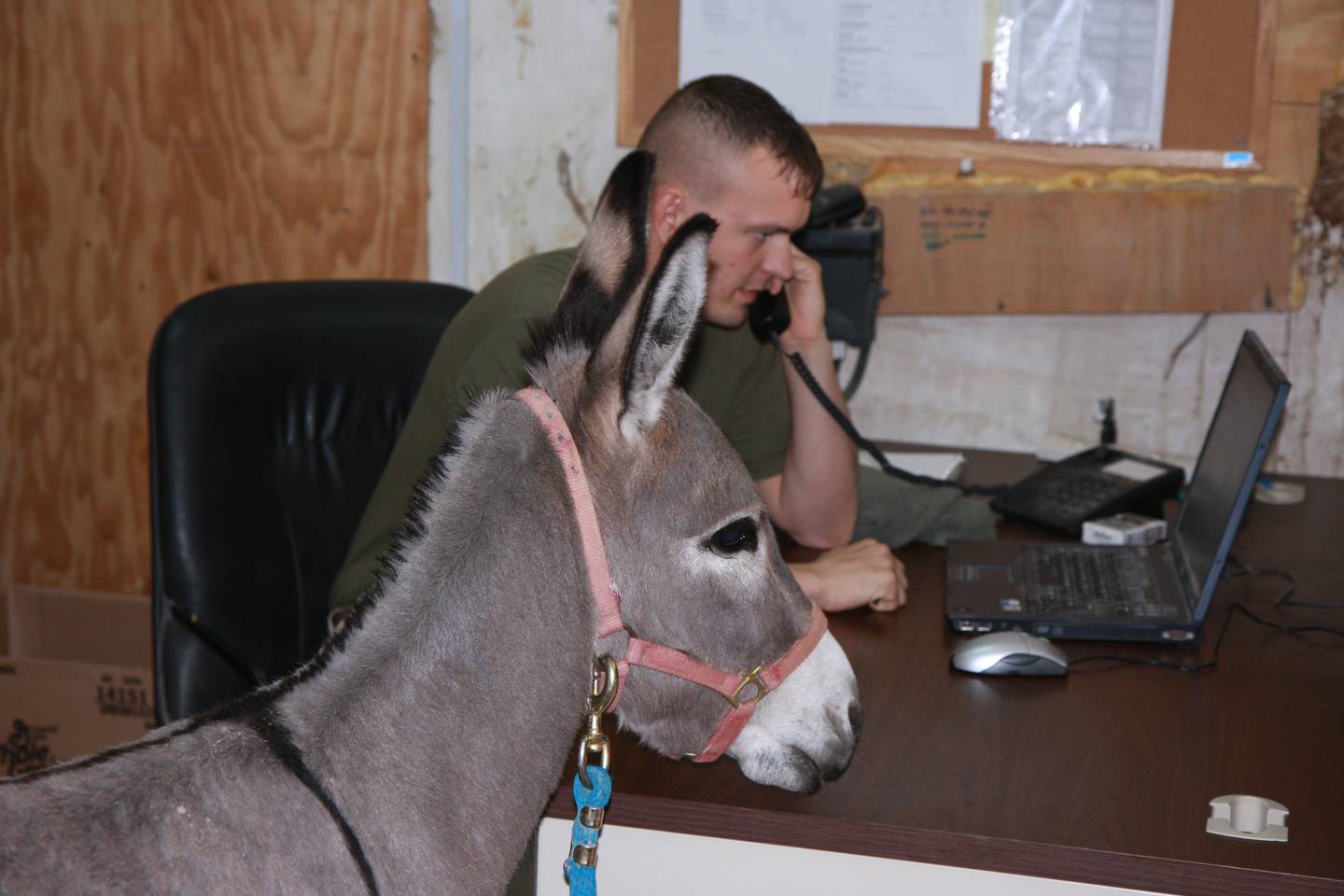 Smoke visits Sgt. Lonnie Forrest.
Photo Credit: Courtesy of John Folsom
Cate Folsom said the book is a mix of stories about Smoke and the day-to-day life of the Marines at Camp Taqaddum.
"It talks about … the relationship that developed between [Smoke] and Marines and soldiers and everybody else," she said. "And it gets into the tedium of life on a huge base when you're inside the wire."
People tend to forget about the men and women who don't get to venture outside the wire and aren't involved in direct combat, John Folsom said.
"Cate addresses the importance of those soldiers, sailors, airmen and Marines who aren't going to be basking in glory because, quite frankly, what they have to perform isn't glamorous," he said.
Nevertheless, he said, they serve an important function.
Not everyone thinks about the truck drivers, mechanics and clerks, "but without them, the war fighter can't perform his job," he said.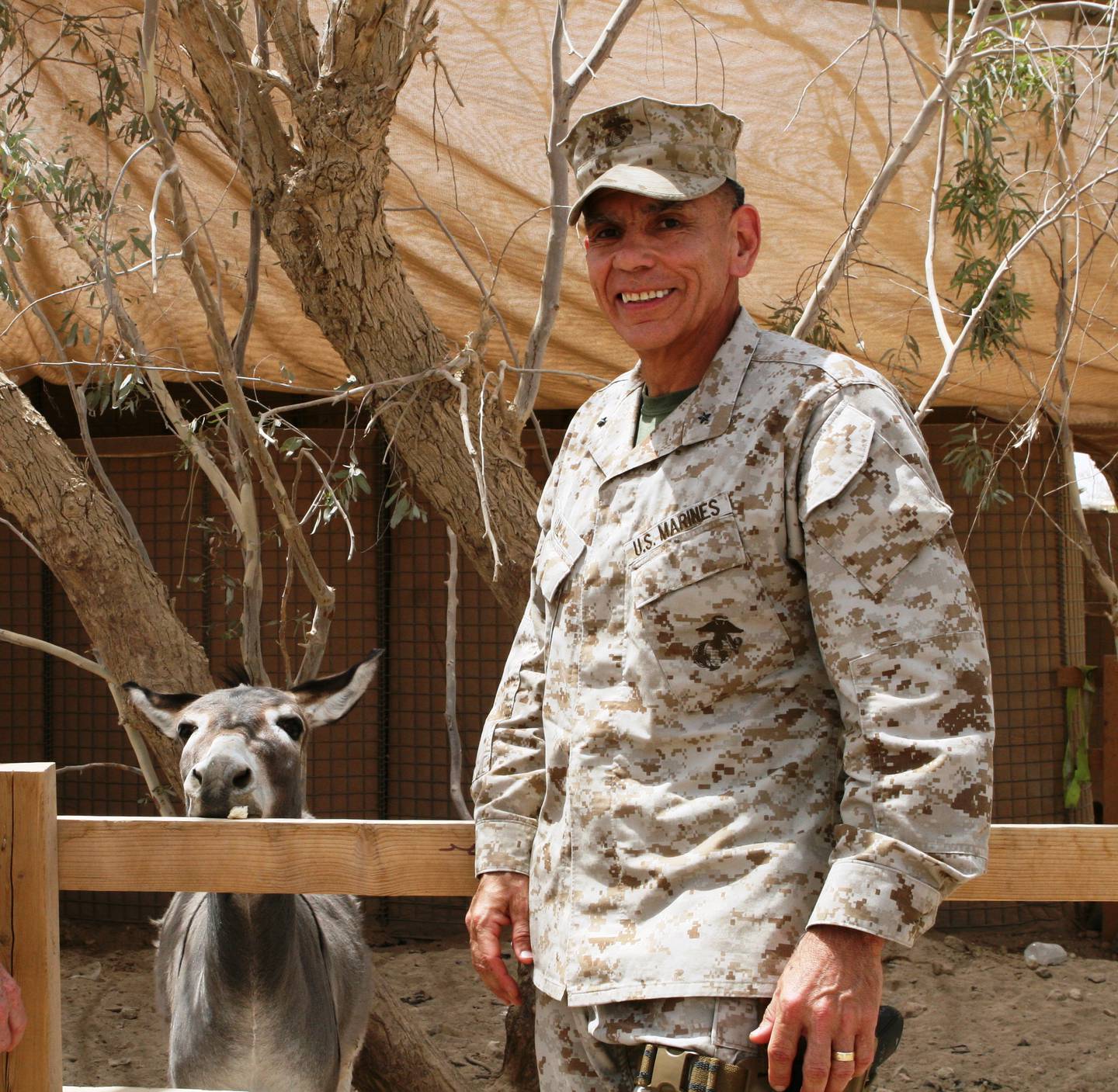 Smoke with then-Brig. Gen. Juan Ayala, then-commanding general, 2nd Marine Logistics Group.
Photo Credit: Courtesy of Cate Folsom
Cate Folsom likens Smoke to troops who serve a vital function in combat operations but who aren't going to have movies made about them.
In the Korean War, a horse named Sgt. Reckless was adopted by a Marine unit and carried ammunition for the recoilless rifle they used. Cate Folsom said this horse performed amazing tasks on the battlefield, whereas Smoke was more of an inside-the-wire morale-booster.
"He didn't go out and save lives," she said. "But he really added to the quality of life for these thousands of men and women who were at the camp or traveling through the camp."
Those whose jobs were more mundane were able to relate to Smoke, who also provided a way for the service members to relate to their families and friends back home.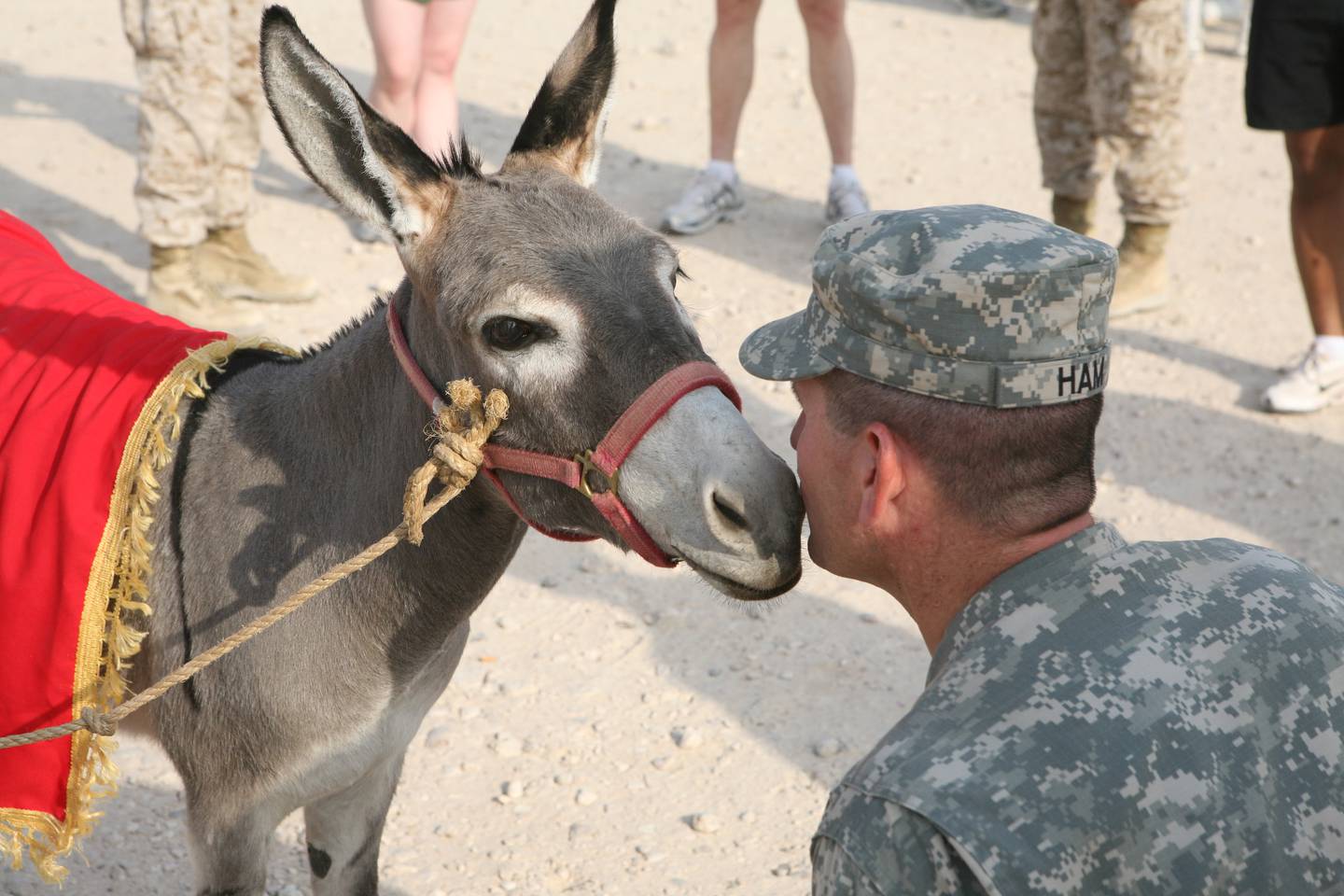 Smoke bonds with a service member during the Freedom Walk at Camp Taqaddum, Iraq, in 2008.
Photo Credit: Marine Corps
John Folsom said the day-to-day existence was like being on a treadmill, which didn't provide many stories for parents to tell their children in the U.S. What do you do to stay engaged with your kids or wives? he said.
"'So what did you do today, daddy?' Folsom said. "'I changed the tires on the Humvees, and tomorrow I'll do the same thing.'"
When Smoke came along, it gave those deployed overseas a topic of conversation to write home about, he said.
People would even send cards and packages — including treats and a bridle — to Smoke, Cate Folsom said.
A new hope
The Folsoms were devastated when Smoke died, just 15 months after settling in Nebraska.
A lot of people around the world were invested in the little donkey, and his death in 2012 left a void, John Folsom said.
After grieving for months, Folsom adopted another donkey to help ease the pain he felt and to bring another therapy donkey to Nebraska. This donkey's name: Hope.
"She's my girl," Folsom said. "When I go out to see her, she knows I'm out there, and boy she comes running."
Hope, who will turn 4 on Sept. 11, stays with a friend of Folsom's, but he plans on moving from the city to the country so he can keep Hope with his family.
Cate said the National Museum of the Marine Corps requested memorabilia related to Smoke.
Charlsy is a Reporter and Engagement Manager for Military Times. Email her at cpanzino@militarytimes.com.
Share: