Former Sergeant Major of the Marine Corps Micheal Barrett entered retired life in style with a one-of-a-kind gift commemorating his time as the Corps' top enlisted leader.
At a private ceremony following his Feb. 20 relief and appointment, Barrett was presented with a hand-upholstered chair clad in a detailed set of enlisted dress blues — complete with the distinctive sergeant major of the Marine Corps SMMC chevrons on the side and a matching pillow featuring the buckle of the white dress blues belt.
A gift devised by two public affairs officers, the chair was a seven-month labor of love that required quite a bit of creativity.
Barrett's public affairs officer, Gunnery Sgt. Chanin Nuntavong, had the idea for a dress blues-inspired chair during a visit to the Marine Shop in Quantico, Virginia, last spring, where he was assisting retired Marine Cpl. Kyle Carpenter with a uniform fitting ahead of his June 19 Medal of Honor ceremony.
Inside the shop was a chair upholstered in an officer dress blues theme. Nuntavong offered to buy the chair, but the shop owners declined to sell. So he talked to Capt. Kendra Motz, the primary public affairs officer working with Carpenter, about creating a personalized version from scratch.
Motz owns an antiques refinishing company, Twenty-One Redone LLC, and has worked on projects in her spare time for the company since 2013. She offered to donate her time and labor, and take this project on pro bono. After that, the pieces slowly began to falling into place.
"I found a chair that I thought would be appropriate for [Barrett's] size. The Marine Shop donated the material," Motz said.
She experimented with incorporating different uniform elements, such as the red piping and brass buttons on the cuff, before settling on a design that included a "blood stripe," brass studs on the arms, and a white band that wrapped around the back. Because she wanted to incorporate the dress belt buckle, she decided to make a matching throw pillow mounted with a buckle from a donated uniform.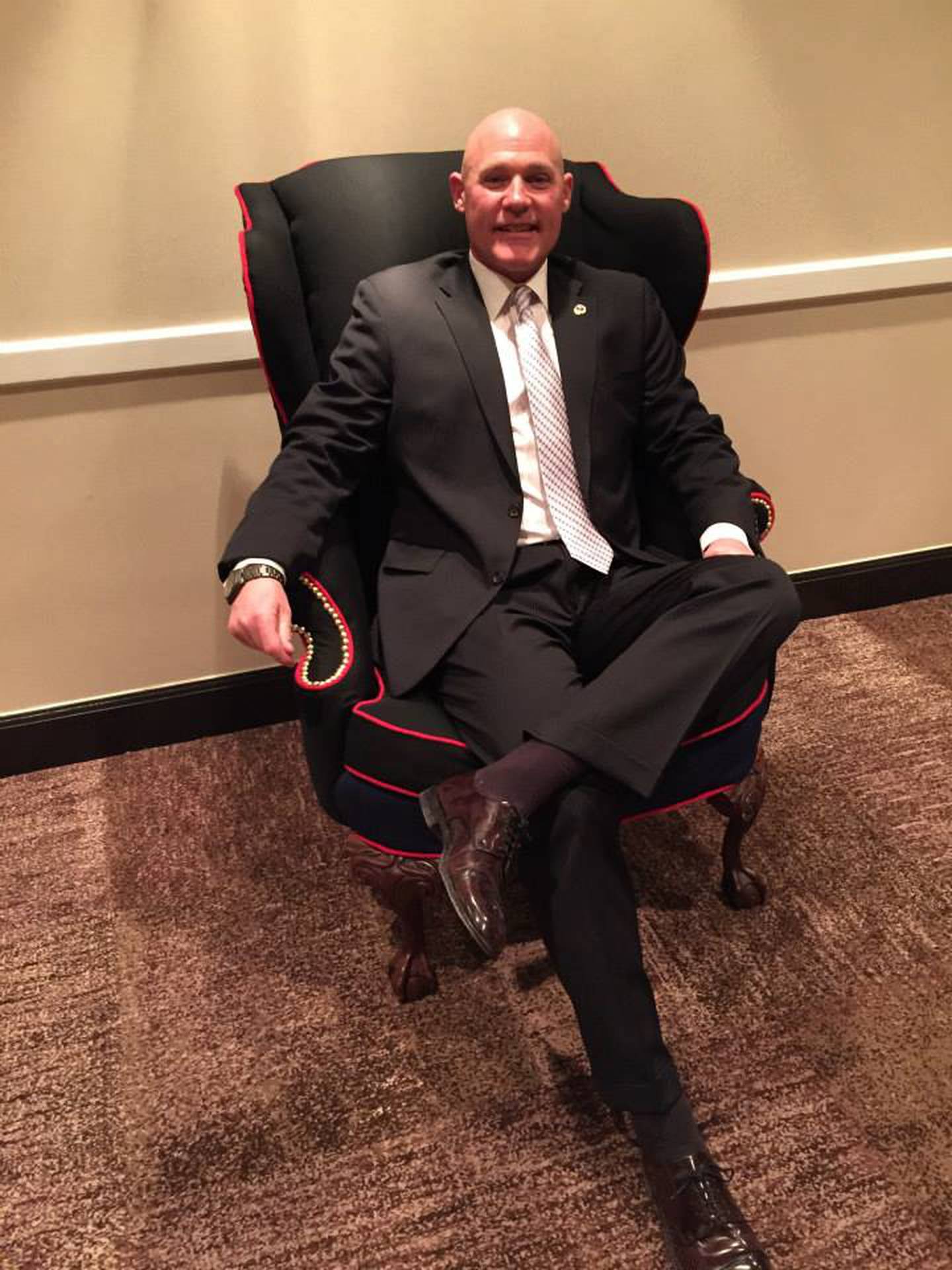 Former Sergeant Major of the Marine Corps Micheal Barrett was presented with a hand-upholstered chair clad in a detailed set of enlisted dress blues.
Photo Credit: courtesy Capt. Kendra Motz
Motz was in California, where she's completing a master's degree, when Barrett's presentation ceremony took place.
"I was definitely a nervous wreck the whole day," she said.
But the chair arrived in one piece, and Barrett's reaction, captured on video by Nuntavong, who presented the gift, was thrilling.
"Said something to the effect of, 'that is definitely the captain's chair,'" she said. "He was definitely very pleased with it."
After posting pictures of the finished project to her company's Facebook page, Motz said she received about 10ten new requests for similar chairs. While she's not prepared to accommodate that kind of demand surge, she said she's not ruling out similar projects in the future.
"Definitely on a case-by-case basis I'd be willing to do it again," she said.
Share: