Presidential hopeful Hillary Clinton said at an event this week that she once considered becoming a Marine, but a recruiter turned her away over her age, gender and poor eyesight. Time and time again presidential candidates come to face the gauntlet if they evoke a prior military service record. The latest? Hillary Clinton marching to "The Halls of Montezuma".
Presidential candidates often face questions about their military record — or lack thereof. But Clinton told constituents at a breakfast in New Hampshire on Tuesday that she had considered becoming one of the few and the proud, until a Marine recruiter discouraged it. At a recent New Hampshire breakfast with constituents, Clinton recalled her desire to serve in the Marine Corps, one which didn't pan out. 
"He looks at me and goes, 'Um, how old are you?' And I said, 'Well I am 26, I will be 27,'" Clinton said. "And he goes, 'Well, that is kind of old for us.'"
"And then he says to me, and this is what gets me, 'maybe the dogs will take you,' meaning the Army," she continued went onto say, possibly referring to "dogfaces," which is the Army's slang for soldiers.  
The exchange can be seen at the 1:35 minute mark in this video.
It wasn't But it's not the first time Clinton has she shared the story about her visit with the Marine recruiter. the Marines' justification to dump her attempts.In 1994, Clinton told a panel of female troops military women about the exchange with the Marine. 
She told them that she walked into the Arkansas recruiting center in 1975, the as documented by The Associated Press reported. But it wasn't a very encouraging conversation, she said, after the Clinton was discouraged when the 21-year-old recruiter gave Clinton — who was wearing thick glasses at the time — a once over. . said she was
"You're too old, you can't see and you're a woman," Clinton said in 1994 recalled.  
Nick Merrill, a spokesman for Clinton's campaign, said that Clinton "visited a Marine recruiter shortly after moving to Arkansas because she was interested in exploring options for serving in the military."
"She did not pursue the idea further and her sole reason for visiting the recruitment center was to determine if there was a suitable opportunity for her to serve in some capacity," Merrill said in a statement. "Her interest was sincere and it is insulting, but not surprising, that Republicans would attack her for this, too."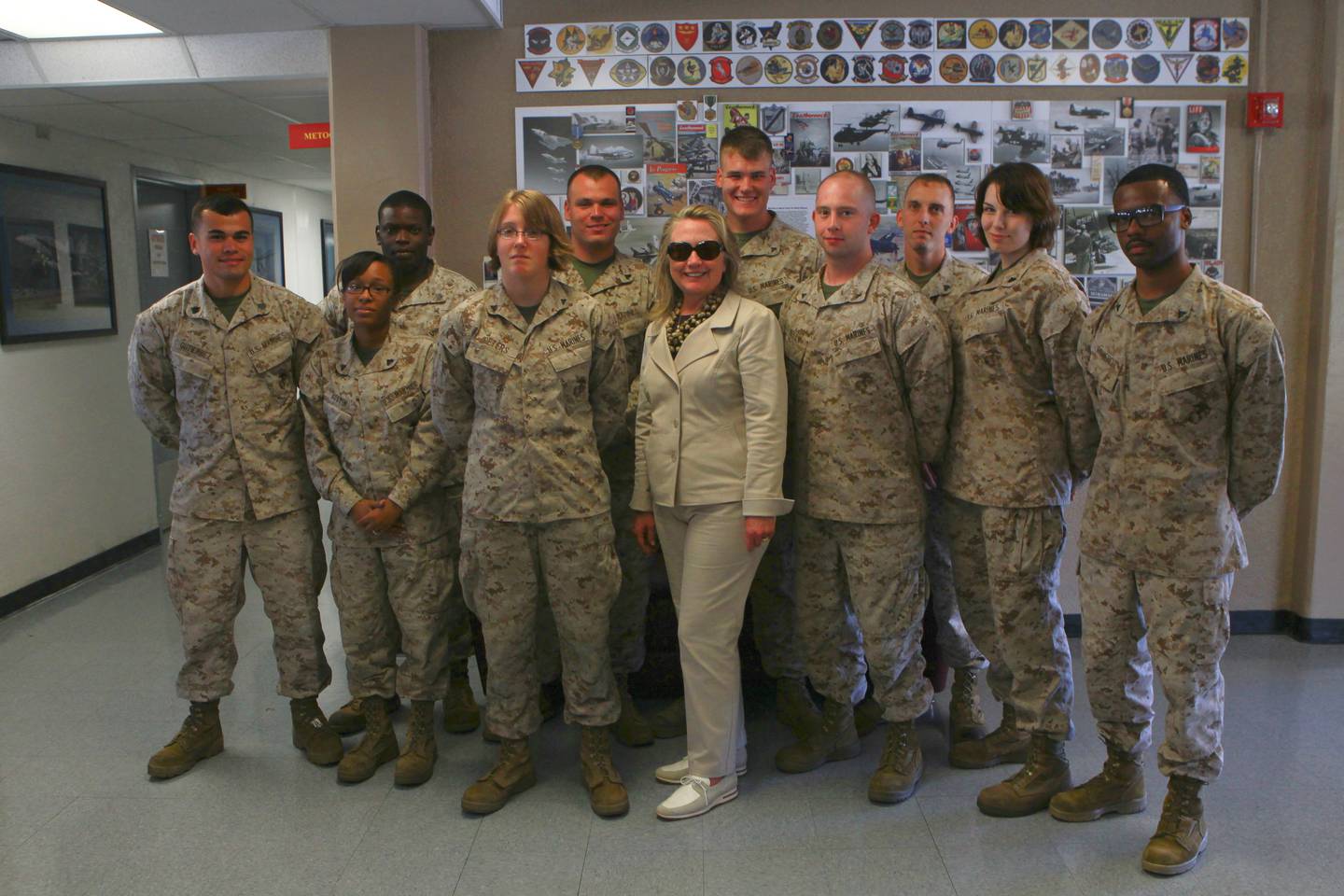 Then-Secretary of State Hillary Clinton poses for a group photo on Aug. 30, 2012, with U.S. Marines stationed on Marine Corps Air Station (MCAS) Miramar, Calif.
Photo Credit: Cpl. Jamean Berry/Marine Corps
A spokesman for the former secretary of state did not immediately respond to questions about Clinton's claims, but oOver the years, Clinton's her story has remained consistent. The Washington Post, which also tried to confirm Clinton's story, reported that a Marine spokesman responded to then-first lady Clinton's remarks in 1994. the story remains as consistent as could be (Clinton may have meant "dogfaces", referring to the Army's slang for soldiers), although confirmation remains to be seen.  
"We won't attempt to dispute the first lady's recollection," a Marine Corps spokesperson said then in 1994. "But if she was ill-treated by a Marine recruiter in 1975, it certainly is unfortunate, unprofessional and a mistake we regret."
A report from tThe New York Times also tried to confirm Clinton's remarks in 1994, raising questions about why at the time also raised eyebrows. Why would an up-and-coming attorney — who in 1974 1993 the previous year served as an adviser to the impeachment inquiry staff during the Watergate scandal in Washington — would be interested in joining the military. donning Dress Blues?
She had just moved to Fayetteville, Arkansas, as Bill Clinton pursued his rise to Arkansas Aattorney Ggeneral. She also didn't have a track record as a steadfast military supporter: While at Wellesley College, she protested the Vietnam War with casual teaching events, and worked on anti-war presidential campaigns for Eugene J. McCarthy and George McGovern at Yale, The New York Times noted. 
Neal Lattimore, Clinton's her spokesman in the 1990s, said guessed she may have been interested in becoming a staff judge advocate. 
Clinton's old friend and then-University of Arkansas professor Ann Henry has another possible explanationmay be the only one who knows for sure. Henry told the Washington Post recently she and female faculty members, including Clinton, "went out to conduct 'tests' of access to various careers seemingly closed to women."
But the Corps not only was open to women, it was desperate for lawyers during that period, according to several recruiters quoted by the Post.
Editor's note: Were you the Marine recruiter who spoke with Hillary Clinton in the 1970s? We want to hear from you. Email Oriana Pawlyk at: opawlyk@militarytimes.com.
Clinton's old friend and then-University of Arkansas professor Ann Henry may be the only one who knows for sure. Henry told the Washington Post recently she and female faculty members "went out to conduct 'tests' of access to various careers seemingly closed to women," one Clinton was a part of.
Yet the Marine Corps began accepting women in its ranks in 1918. Still, the efforts may have been contested. Even today, Pentagon leadership awaits a larger decision before the Jan. 1 deadline to open all jobs to female Marines.
In all, two things remain unclear: How far, or for what reasons, Clinton pursued her ambition to join the Marines and whether the Corps will once again make history by opening all military occupational specialties to women.
Share: