Male and female poolees interested in taking combat-related jobs face a tougher initial strength test.
Since Jan. 1, poolees who have indicated they want to train to become infantrymen, Recon Marines, combat engineers and the Marine Corps' other most demanding military occupational specialties have been required to pass MOS-specific standards.
The new initial strength test requires poolees to complete three pullups, a 1.5-mile run within 13 minutes and 30 seconds, 44 crunches within two minutes  and 45 ammo-can lifts within two minutes before they can ship to boot camp.
Poolees not training for load-bearing MOSs have to pass a different initial strength test that requires men to do two pullups and women to hold a flexed-arm hang for at least 12 seconds. Men have to complete a 1.5-mile run in 13 minutes and 30 seconds, women have 15 minutes. Both men and women must do 44 crunches in two minutes.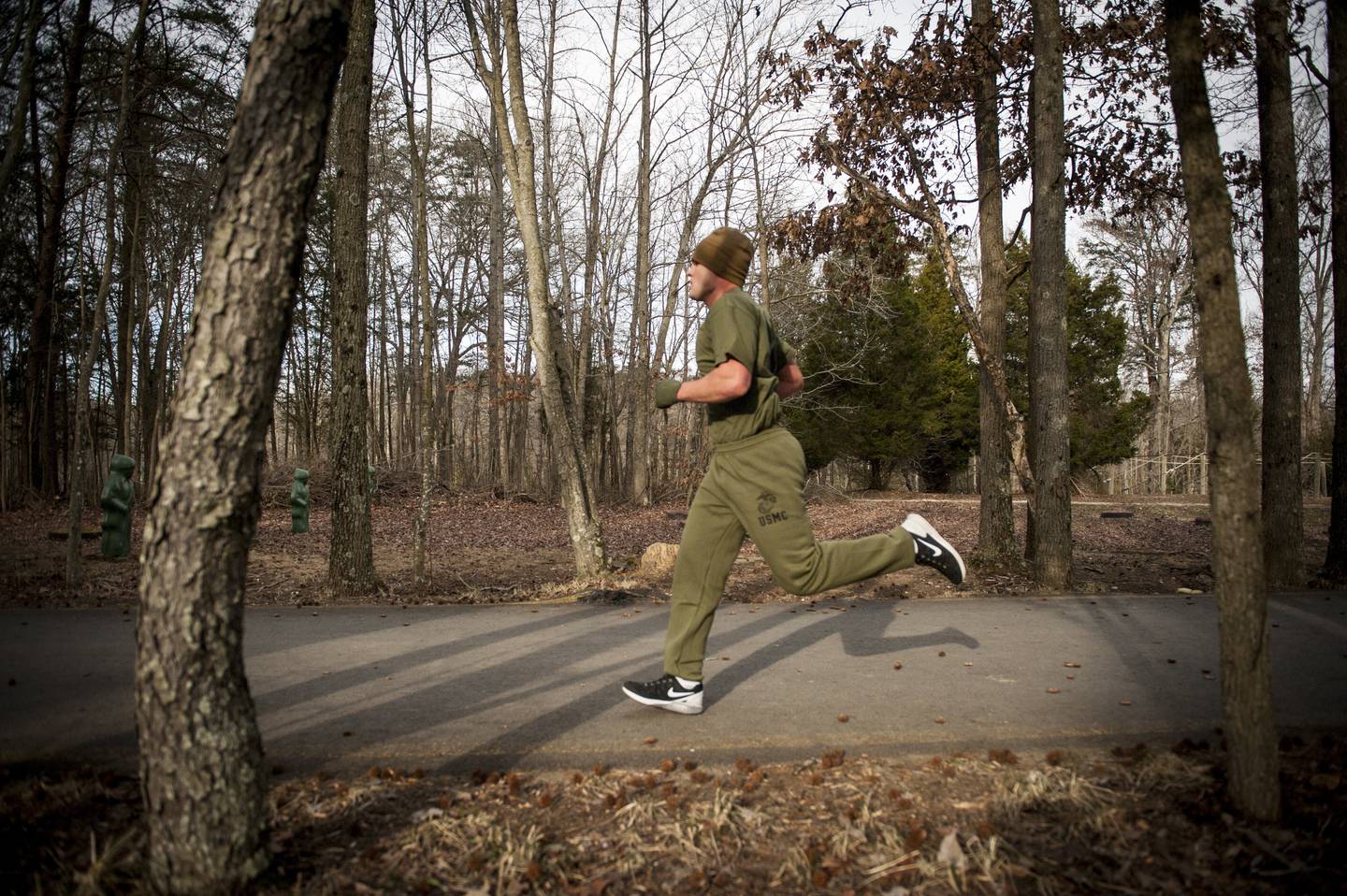 All poolees must be able to run 1.5 miles in 13.5 minutes. Here, Marine officer candidates complete their initial Physical Fitness Test aboard Marine Corps Base Quantico, Va., in January.
Photo Credit: Cpl. Patrick Owens/Marine Corps
Most of the poolees eligible for the MOSs that require the new test have been men,  but some women have also passed the test to train to for MOSs that now require the tougher test, said Maj. Garron Garn, a spokesman for Marine Corps Recruiting Command.
When Defense Secretary Ashton Carter approves the Marine Corps' gender integration plan, the service can begin contracting women into all of the MOSs that require the new test, Garn said.
One of Marine Corps Recruiting Command's tasks is to make sure all poolees improve their overall body strength while they are in the delayed entry program, regardless of the MOS for which they ultimately train, Garn said.
In order to make sure poolees are ready for recruit training, recruiting station commanders have the authority to require poolees to meet standards even higher than the new initial strength test, said Master Sgt. Bryce Piper, public affairs chief for Marine Corps Recruiting Command.
For example, a recruiting station commander can require poolees to do four pullups before leaving for recruit training in case they have a bad day when they arrive at Marine Corps Recruit Depot Parris Island or San Diego, Piper said.
"When newly arrived recruits take their Initial Strength Test at recruit training, they are in a state of culture shock and often still tired from travel," Piper said. "Knowing a recruit can do at least four pull ups helps ensure he or she gets the three required. Commanders cannot lower the standards below the minimum."
Staff Sgt. Diana Wallace is the staff NCO at Recruiting Substation Waldorf, Maryland. She said she has not seen any changes in the success rate for her poolees since the tougher initial strength test was adopted because she has always held all of her poolees to a higher standard.
Marines with 5th Marine Expeditionary Brigade take the Combat Fitness Test aboard Naval Support Activity Bahrain in November.
Photo Credit: Cpl. Lauren Falk/Marine Corps
"We don't just train to the minimum standards," Wallace told Marine Corps Times on Tuesday.  "We have to build them up to actually endure the rigorous training of recruit training."
Wallace said she typically gives poolees an initial strength test within 48 hours of them contracting to join the Marine Corps. Then she develops an individualized exercise and diet program for each poolee. If they want to join a combat arms MOS, she lets them know what progress they need to make in order to train for that job at recruit training.
"We have to make sure that they are physically and mentally prepared," she said. "They are not going to go to recruit training for a MOS. They have to pass recruit training, go to Marine Corps Combat Training, School of Infantry before they can actually get that job assigned to them. My job is to train them up to that so they can come back a Marine after they've done 13 weeks of recruit training."
Wallace said she makes sure that all of her male poolees and any female poolees assigned to an MOS that requires pullups can exceed the new initial strength training test's pullup requirement, she said.
"We train them before they leave the recruiting substation to get at least five to six pullups – male or female," Wallace said. "We train them to push for 100 crunches within a two minute time frame and we train them to get below a 13 minute run time."
The tougher initial strength test is not the only new hurdle. Recruits training for the most physically demanding MOSs also have to pass an MOS Classification Standard about eight weeks into training, for which they must complete six pullups; a three-mile run within 24 minutes and 51 seconds; 60 ammo-can lifts in two minutes; movement to contact within 3 minutes and 26 seconds; and maneuver under fire within 3 minutes and 12 seconds, officials said.
Both recruit depots expect to implement the MCS by the end of March, said 1st Lt. Matt Rojo, a spokesman for Training and Education Command.
Marine officer candidates complete their initial Physical Fitness Test aboard Marine Corps Base Quantico, Va., Jan. 20.
Photo Credit: Cpl. Patrick Owens/Marine Corps
Share: