Who says there are no U.S. combat troops in Iraq?
From their newly established firebase at Makhmour, Marines are providing artillery support for both U.S. and Iraqi forces in the run up to the Iraqi offensive to retake Mosul from Islamic State terrorists.
About 700 Marines are serving in Iraq, of which between 100 and 200 Marines and sailors from the 26th Marine Expeditionary Unit are assigned to Task Force Spartan at Firebase Bell, according to the task force in charge of the war against the Islamic State group.
The base has come under attack at least twice. Staff Sgt. Louis Cardin was killed by a Katyusha rocket March 19. Two days later, devil dogs at the firebase repelled an attack from a squad-sized element of Islamic State terrorists.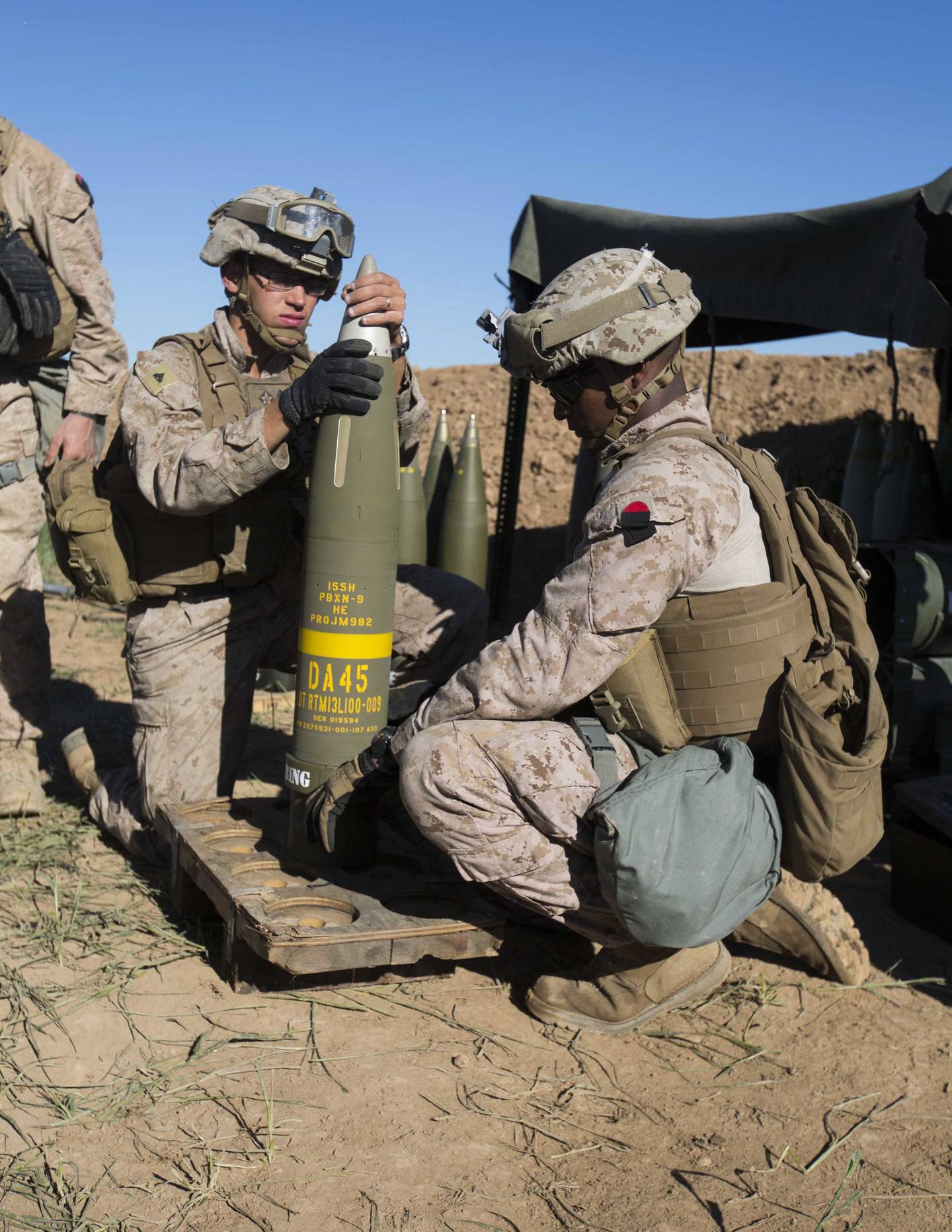 Cpl. Jordan Crupper, an artilleryman, and Sgt. Onesimos Utey, an artillery section chief, both with Task Force Spartan, 26th Marine Expeditionary Unit, prepare an Excalibur 155mm round.
Photo Credit: Marine Corps
"Two enemy killed in that operation, the rest ran away in fear," Army Col. Steve Warren, a spokesman for Combined Joint Task Force Operation Inherent Resolve, told reporters March 21.
The Marine Corps has released pictures of members of Task Force Spartan firing an M777A2 howitzer at an Islamic State infiltration route March 18.
"The Marines fired upon the enemy infiltration routes in order to disrupt their freedom of movement and ability to attack Kurdish and Peshmerga forces," the picture's caption said.
Marine Gen. Joseph Dunford, chairman of the Joint Chiefs of Staff, repeatedly brushed aside on Friday questions from reporters who asked if Marines are now engaged in combat with the Islamic State group.
"From my perspective, this is no different than aviation fires we've been delivering," Dunford said at a news conference at the Pentagon. "This happens to be surface fires, or artillery, but certainly no different conceptually from the fire support we've provided to the Iraqis all along."
U.S. Marines with Task Force Spartan, exit a CH-47 Chinook helicopter during their insert into Kara Soar, while conducting their mission in support of Operation Inherent Resolve, on March 17.
Photo Credit: Cpl. Andre Dakis/Marine Corps
When one reporter said the Marines' mission at Firebase Bell appeared to be more of a ground combat role than the U.S. has engaged in thus far in Iraq, Dunford replied: "No it's not. We have surface fires in Al Asad [Air Base] and other places, as an example, and we've used those in the past. So this is not a fundamental shift in our approach to support the Iraqi forces. This happens to be what was the most appropriate tool that the commander assessed needed to be in that particular location."
The base's location was selected to support forces in Makhmour, Dunford explained. The artillery needed to be located separately from the Iraqis in order to provide effective fire support to ground forces, he said.
"This position is behind what's known as the 'forward line of troops,' for the Peshmerga and the Kurds," Dunford said. "So it's by no means out in front on its own."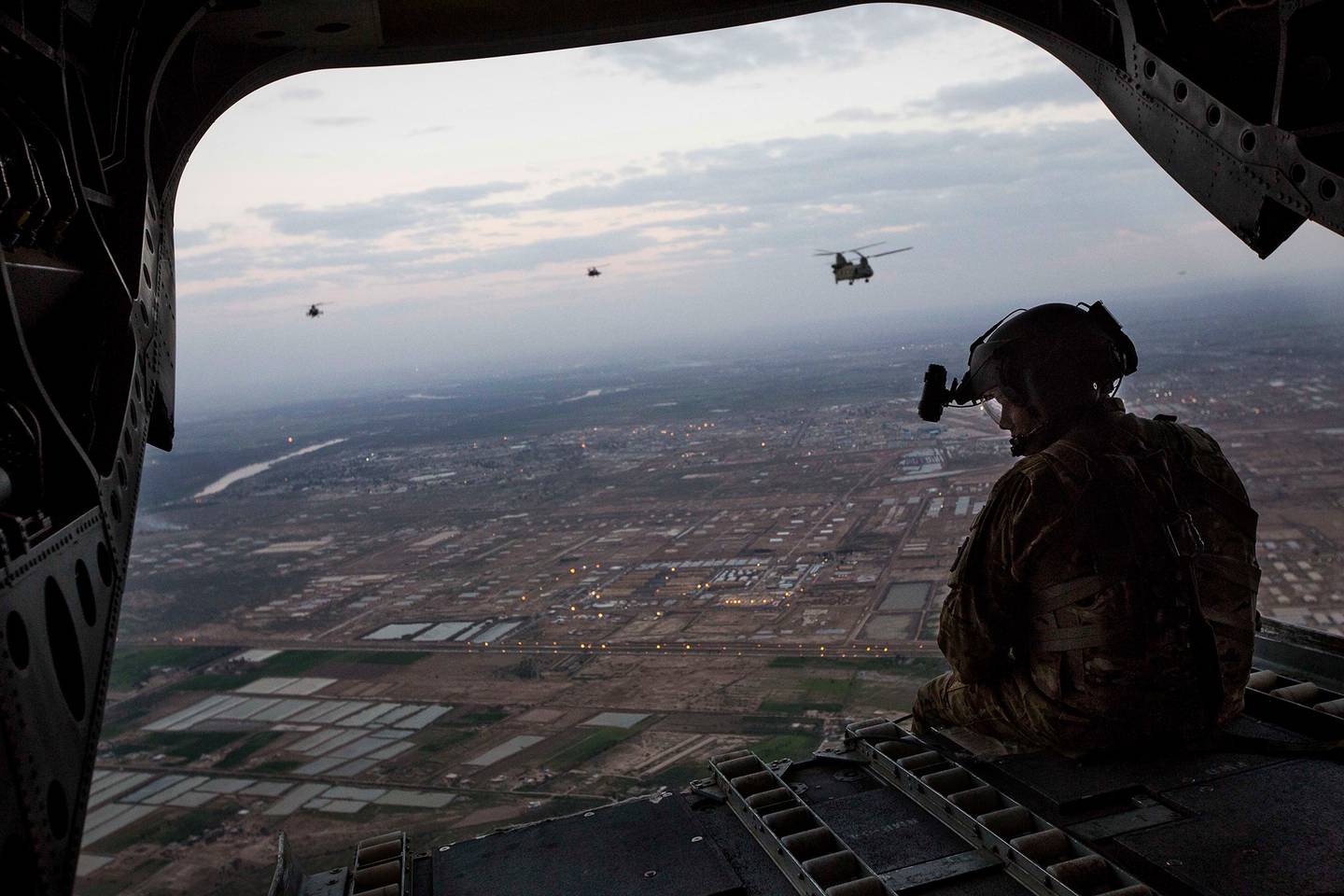 U.S. Army AH-64D Apache Longbow helicopters escort two CH-47 Chinook helicopters carrying Marines over Taji, Iraq, as they head to Kara Soar for their mission in support of Operation Inherent Resolve on March 17.
Photo Credit: Cpl. Andre Dakis/Marine Corps
Dunford said that both he and Defense Secretary Ash Carter expect that the U.S. will provide the Iraqis with "increased capabilities ... to set the conditions for their operations in Mosul," but he declined to say what type of assistance the Iraqis might receive.
"Those decisions haven't been made yet, but we certainly do expect more of the kinds of things that we saw in Ramadi, albeit a bit different,  tailored for operations in Mosul, but again, the primary force fighting in Mosul will be Iraqi security forces and we'll be in a position to provide advise-and-assist and enabling capabilities to make them successful."
Share: