"Use the weight" is a philosophy that Marine veteran Rob Jones lives by.
It's not only the name of his podcast, but it's a perspective that has pushed him to bike across America, run 31 marathons in 31 days, medal in the Paralympics and Warrior Games, and secure an invite to this year's Invictus Games — all on a pair of prosthetic legs.
His credo is akin to a weightlifter's mentality: The harder you lift, the stronger you'll become. But this is more about life's triumphs than pushing pounds.
"It's about using challenges and tragedies to your advantage instead of being destroyed by them," Jones told Military Times.
And Jones knows a bit about fighting tragedies: The now-retired Marine Corps sergeant stepped on an improvised explosive device in Afghanistan in 2010, losing the bottom of both of his legs.
Jones' post-accident positivity, impressive athletic accomplishments and role as an encourager for vets and civilians alike have earned him recognition as the first-ever Military Times Veteran of the Year.
Jones says he always has had a personal mission to enjoy each day and live a meaningful life. That mission propelled him to join the Marine Corps Reserve during his junior year of college at Virginia Tech, and onto deployments to Iraq and Afghanistan as a combat engineer.
RELATED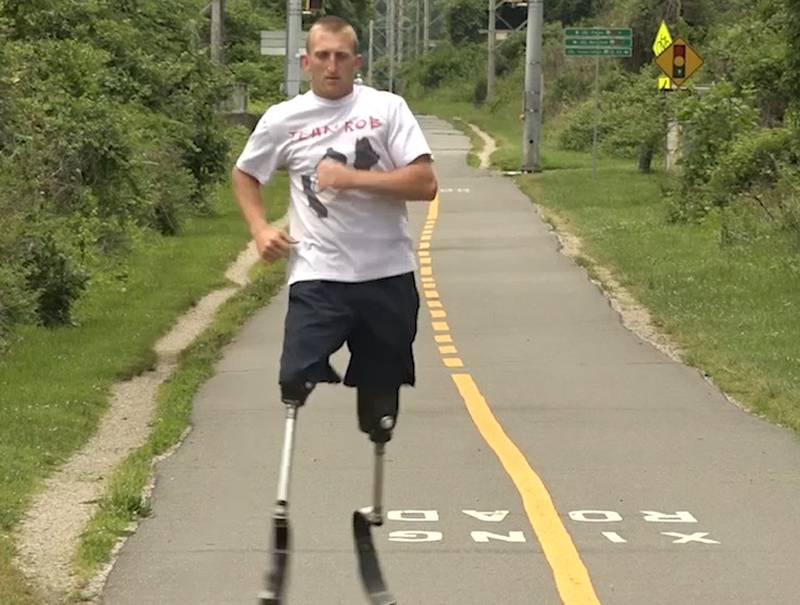 In Sangin, Afghanistan, Jones stepped on an IED when clearing a path. It was a calamity that could have crushed him, but Jones decided he wanted to turn any propensity toward despondence on its head.
'I saw an opportunity'
After months of painstaking recovery, Jones learned to walk on two bionic knees, and, eventually, to run on blades. He'd dabbled in a few sports in high school, but it was after losing his limbs that he dived headfirst into the athletic arena.
"I saw an opportunity for myself to be an athlete in a way that I couldn't have before," Jones said during a 2017 training run near his home in Virginia.
He started by doing pullups on a triangle bar in his bed. He saw rowing was a Paralympic sport, so he found a partner and a place to train — and ended up taking bronze in the mixed double skulls at the 2012 London Paralympic Games.
He met Pamela Relph in London, where she was rowing for England. They got married in 2017.
In 2013, Jones rode his bike 5,180 miles across the U.S. to raise awareness and money for wounded vets.
In 2017, he took on the challenge of running 31 marathons in 31 days in 31 cities across the U.S., U.K. and Canada, which he says was a success.
In June, he participated in his first Marine Corps Trials and Warrior Games, competing in track, rowing and swimming. He came away with multiple gold medals, and even "beat a few able-bodied guys."
The veteran will be running track and rowing at the Invictus Games in Sydney this October. Until then, he'll continue traveling the country speaking to vets and drafting a fiction book about veterans.
"I want to show other vets who have experienced trauma that there's a path," he said. "A reason to continue fighting."
It's important for service members past and present to be unguarded with aspects of their experience, Jones said, to close a civilian gap of understanding, and to help each other.
"We all have to be willing to share our story."
Get more of that story, including Jones' podcast, at www.robjonesjourney.com.
Andrea Scott is editor of Marine Corps Times.
Share: