Certain grunts will trade in their aging night vision for an advanced binocular version with a thermal clip on device.
The Squad Binocular Night Vision Goggle will add better depth perception that Marines outside of the Special Operations Forces don't have in their kit.
The device will also come with a clip-on thermal imager to help in extreme low light and inclement weather conditions.
Officials at Marine Corps Systems Command will continue testing in January and February with a timeline to begin fielding by summer 2020, said Emanuel "Manny" Pacheco, director of public affairs at the command.
RELATED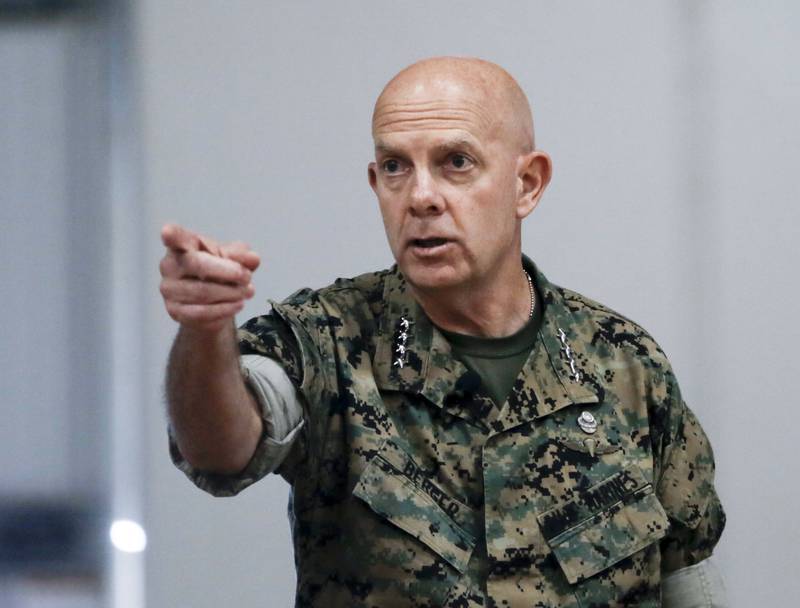 The Corps expects to procure up to 14,000 devices, aimed at infantry squads.
And the user will see an immediate difference beyond the binocular as the new device uses white phosphorous rather than the traditional green glow of night vision that's been common for decades.
That allows for better detailed vision and contrasts for picking up silhouettes and identifying targets.
But this won't be the first delivery. To test out ­whether the Corps wanted to equip all of its grunts with the device, it first bought 1,300 systems and ­fielded them to two infantry battalions over the past year to get testing and use feedback, said Roberto Gonzalez, team lead for combat optics at SysCom.
That included Marines with 2nd Battalion, 8th Marines, embarked with the 26th Marine ­Expeditionary Unit.
Not all infantry will get the goggles this year; the 14,000 devices are expected to roll out to units through 2024.
The Army began fielding its own binocular night ­vision goggle in 2019, called the Enhanced Night Vision Goggle-Binocular. That version also includes a Rapid Target Acquisition software that connects the goggle to a camera mounted on the weapon for multiple weapon sight views.
Todd South has written about crime, courts, government and the military for multiple publications since 2004 and was named a 2014 Pulitzer finalist for a co-written project on witness intimidation. Todd is a Marine veteran of the Iraq War.
Share: