ANNAPOLIS, Md. — Quarterback Malcolm Perry ran for 223 yards with three touchdowns and Navy renewed its rivalry with Lehigh by rolling to a 51-21 victory Saturday.
Perry spent the afternoon dodging and spinning around defenders in the Midshipmen's triple-option offense that amassed 629 total yards. The junior set the tone with touchdown runs from 5 and 24 yards in the opening quarter. He had another deft 30-yard scoring run in the third quarter.
Perry also threw a 49-yard pass to slotback CJ Williams that set up a 1-yard run by Zach Abey, who has six touchdowns. Williams has three receptions for 104 yards.
Sophomore Myles Fells had a 52-yard score on his first career carry that provided a 28-7 lead with 10:39 left in the half.
The Mountain Hawks (1-2) played without tailback Dominick Bragalone, who is the school's all-time leading rusher with 3,722 career yards. He suffered a head injury last week against Villanova.
Freshman tailback Rashawn Allen replaced Bragalone and ran for 147 yards on 16 carries, including a 75-yard touchdown run on Lehigh's first play from scrimmage and another 26-yard score in the fourth quarter.
Mountain Hawks quarterback Brad Mayes was 19 of 31 for 158 yards with three interceptions.
Navy (2-1) starting safety and defensive captain Sean Williams was out with a head injury suffered last week against Memphis. Navy safety Jacob Springer started in his place and had a first-quarter interception that set up a touchdown.
Lehigh, a member of the Football Championship Subdivision, and Navy first met in 1889. The teams had not played since 1987. The Midshipmen lead the all-time series 15-6-1.
THE TAKEAWAY
Lehigh: The Mountain Hawks are the two-time defending Patriot League champions and should be battled tested for conference play. The emergence of Allen and the return Bragalone could give Lehigh one of the most dominant running attacks in the FCS.
Navy: The Midshipmen have allowed seven touchdowns of 30 yards or more in three games, but they forced five turnovers against Lehigh. Navy is also difficult to stop once its triple-option gets rolling.
RELATED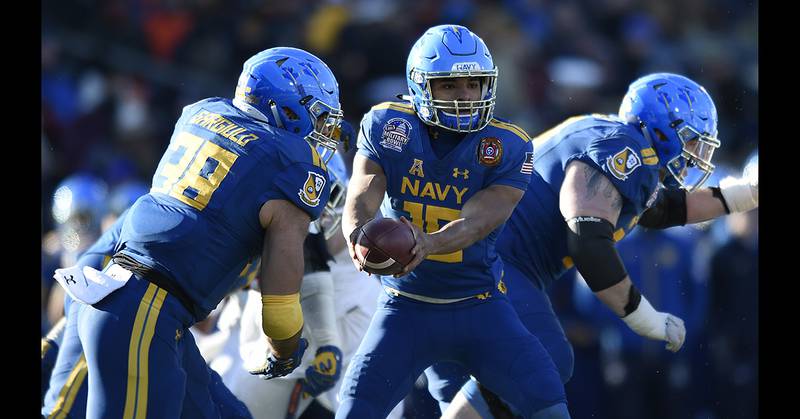 UP NEXT
Lehigh: The Mountain Hawks play Pennsylvania in the the second of three consecutive non-conference road games Sept. 22.
Navy: The Midshipmen resume their American Athletic Conference schedule at SMU on Sept. 22.
Share: