The iconic over-the-ear style headsets worn by the Corps' special operations Raiders will soon be in the hands of conventional Marines.
The Marine Corps is ordering 4,519 headsets produced by INVISIO to the tune of $4,800,340.89, according to Manny Pacheco, a spokesman with Marine Corps Systems Command.
INVISIO is expected to deliver those headsets between this November and March 2020, with the first order going to artillery and recon Marines, according to Pacheco.
Pacheco explained that infantry Marines will be fielded new headsets on another contract.
RELATED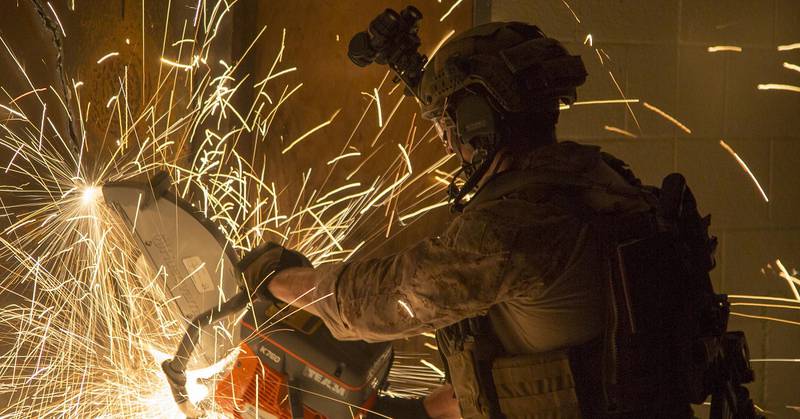 Marines will be getting two versions of INVISIO's T5 headset, according to Ray Clarke, a spokesman for INVISIO.
One headset will be a stand-alone to provide hearing protection, while the other will interface with Marine Corps radio systems allowing for hearing protection and communications, Clarke said.
INVISIO said in a press release that the headsets being delivered to the Corps would be compatible with the enhanced combat helmet.
"Infantry, artillery, reconnaissance and combat engineer Marines decided on INVISIO systems based on fit, form, function and comfort," the release said.
Marines will also be getting the V50 controller that will serve as a communications hub and allow Marines to better operate their radio systems.
The Marine Corps announced in September that it was ready to order thousands of new headsets and was looking at a range of systems.
As part of that effort, the Corps also kicked off testing of various mid to high cut versions of the enhanced combat helmet to gauge the best ballistic and hearing protection fit.
For that testing, the Corps ordered nearly 200 ECH helmets from Gentex Corp., the maker of the iconic Ops-Core helmets worn by special operators.
The Corps also announced in June that it was also pursuing a new lightweight integrated helmet system for grunts that can better work with the slew of cables and electronic devices carried by infantry Marines.
"With the increased number of battery powered optics and other attachments to the helmet, the amount of exposed/unsecure wires and battery packs are increasing," a June posting on the government's business opportunities website reads.
"The Marine Corps is looking for an optimized configuration to allow power and/or data to flow to the attachments while minimizing bulk," the posting reads.
Clarke said INVISIO also provides Marine Raiders with the Maritime Communications Accessory Suite that comes with the V60 controller and X5 in-the ear headset.
Shawn Snow is the senior reporter for Marine Corps Times and a Marine Corps veteran.
Share: